I am sure everyone has seen this pin on Pinterest. I remember it being one of my early pins and I was excited to give it a try. I did make a meat version of it a couple of years ago, and like many of the reviewers, I did not get my potatoes as crispy looking as the picture. Nonetheless, Mr. TCW loved it and I was happy with the results. I decided to revisit this recipe recently and try for a vegan version (as I was making lentil tacos quite frequently.) I was so impressed with the outcome! Maybe because the mashed potatoes were made with no cream or butter they had a better time drying out and producing a golden brown quality about them. Or I just got lucky, who knows! I will say that I did not use leftover mashed potatoes and instead made them fresh.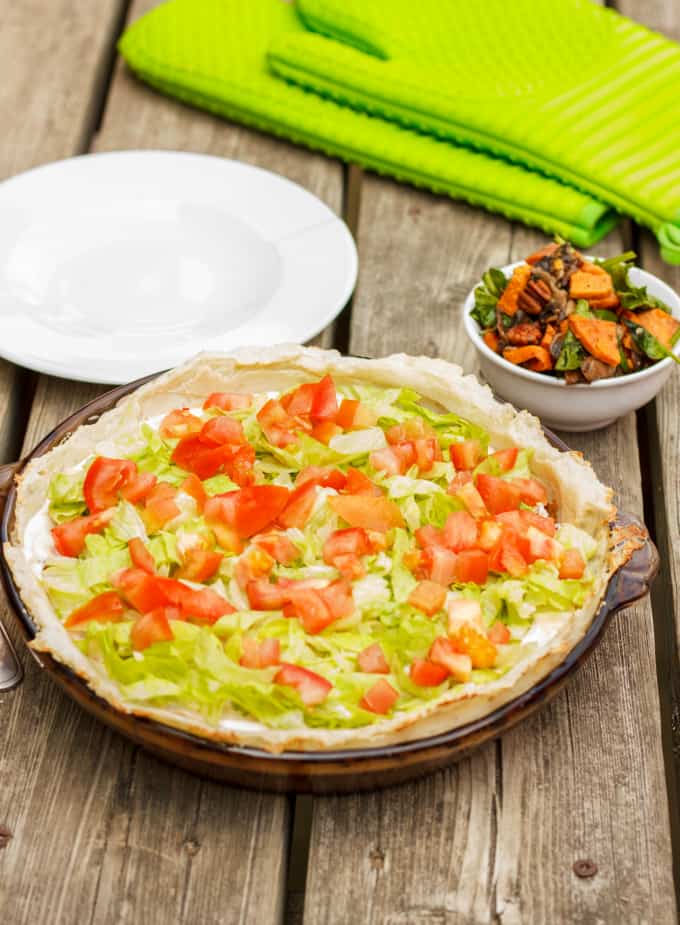 Now, yes this recipe is vegan. I am sure I have scared off some people already. However, you can easily accommodate this recipe to your liking. I don't tend to carry vegan sour cream in our fridge, so subbing in regular sour cream is suitable for my vegetarian lifestyle. If you don't have to worry about a gluten-free diet, feel free to use an actual pie crust. The results would probably be tender, flaky, and oh-so delicious! What I am trying to say is, make this recipe your own. My husband doesn't like lettuce so he would omit it and add cheese instead.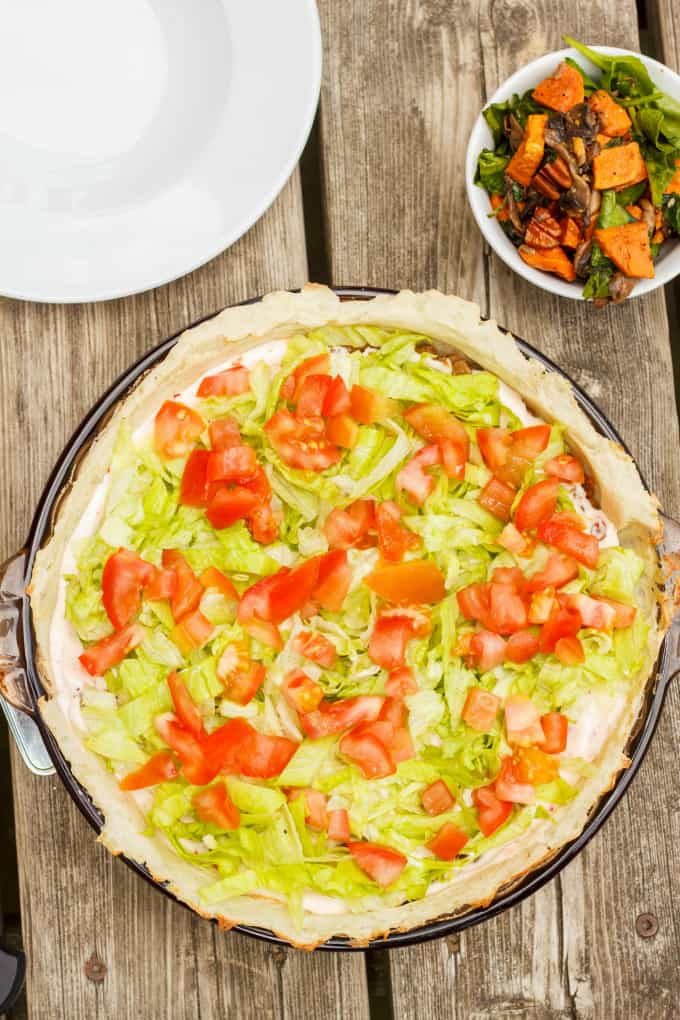 📖 Recipe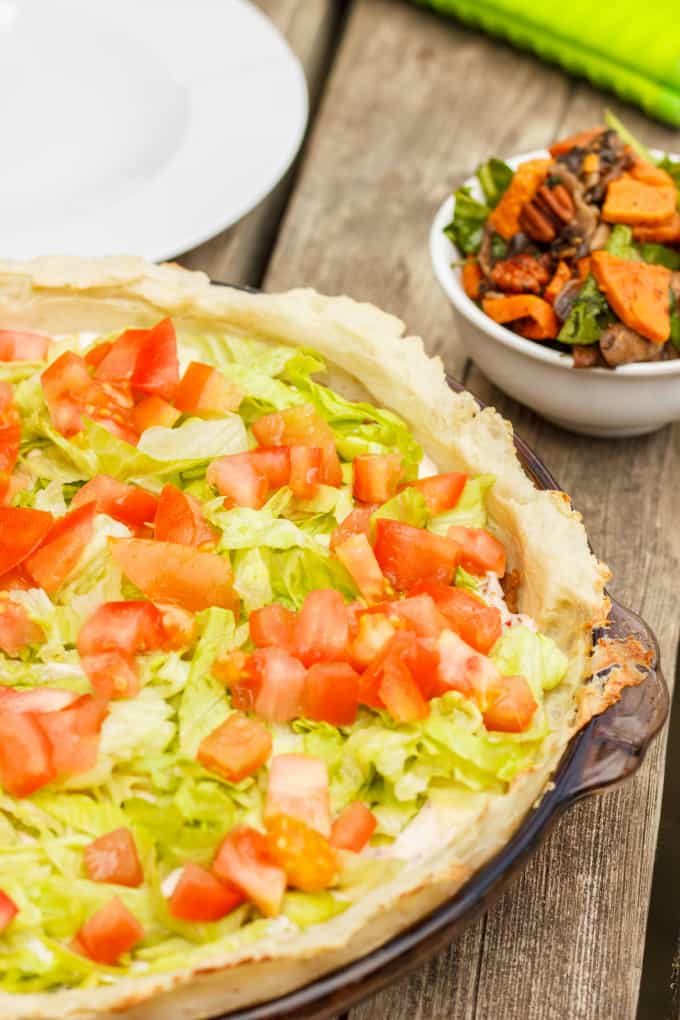 Vegan Taco Pie
Total Time:
1 hour
15 minutes
Craving tacos but not feeling all the hassles of making homemade tortillas? Try this gluten-free and vegan taco pie made with a mashed potato crust.
Ingredients
1 cup lentils
4 cups water
Salt
1 tbsp. homemade taco seasoning *see below
½ cup salsa
2 cups leftover mashed potatoes (I cooked up 5 small potatoes and mashed them with apple cider vinegar, nutmeg, and some almond milk.)
1 tomato, diced
Lettuce, ripped or sliced
½ cup vegan sour cream (or use regular sour cream for non-vegan)
1 tsp. chili garlic sauce
Homemade Taco Seasoning:
1 tbsp. chili powder
½ tsp. garlic powder
¼ tsp. red chili flakes
½ tsp. dried oregano
½ tsp. paprika
1 tsp. cumin
1 tsp. kosher salt
½ tsp. black pepper
Instructions
To make the taco seasoning, combined all the seasoning ingredients and combine. Store in an airtight container.
Mix together your sour cream and the chili garlic sauce. Set aside,
Add the lentils, some salt, and water to a medium-sized saucepan. Place over high heat and bring to a boil. Reduce heat and simmer, uncovered, for about 15-20 minutes, or until tender. Drain any leftover liquid in the pot. *I tend to not overcook my lentils as I like them whole and a bit of texture to them. Up to you though. Add he taco seasoning and salsa. Adjust ratios accordingly if you feel as though you want a stronger taco seasoning flavor.
Preheat oven to 350F.
Take your leftover mashed potatoes and press them into a 9 or 10-inch pie pan. Try to get the potatoes up the side and push them firmly to create a "crust." Pop into the oven and bake for 15 minutes, or until lightly golden.) Remove from oven and pour in the lentils. Top with the sour cream mixture and try and spread it out nicely. Pop into the oven and bake for another 10-15 minutes or until the pie is nice and hot. Remove from oven and allow to cool slightly. Top with lettuce and tomatoes (and any other topping you see fit.)
*For non-vegans, feel free to add cheese and use regular sour cream. You would be surprised though at how tasty this dish is as a vegan meal. I didn't even miss the cheese!
Nutrition Information:
Yield:

1
Serving Size:

1
Amount Per Serving:
Calories:

1306
Total Fat:

53g
Saturated Fat:

28g
Trans Fat:

3g
Unsaturated Fat:

18g
Cholesterol:

30mg
Sodium:

5849mg
Carbohydrates:

170g
Fiber:

36g
Sugar:

30g
Protein:

45g
I cannot wait to make this again! I am going to dice up some onions and mushrooms to mix in with the lentils. You can never have enough veggies!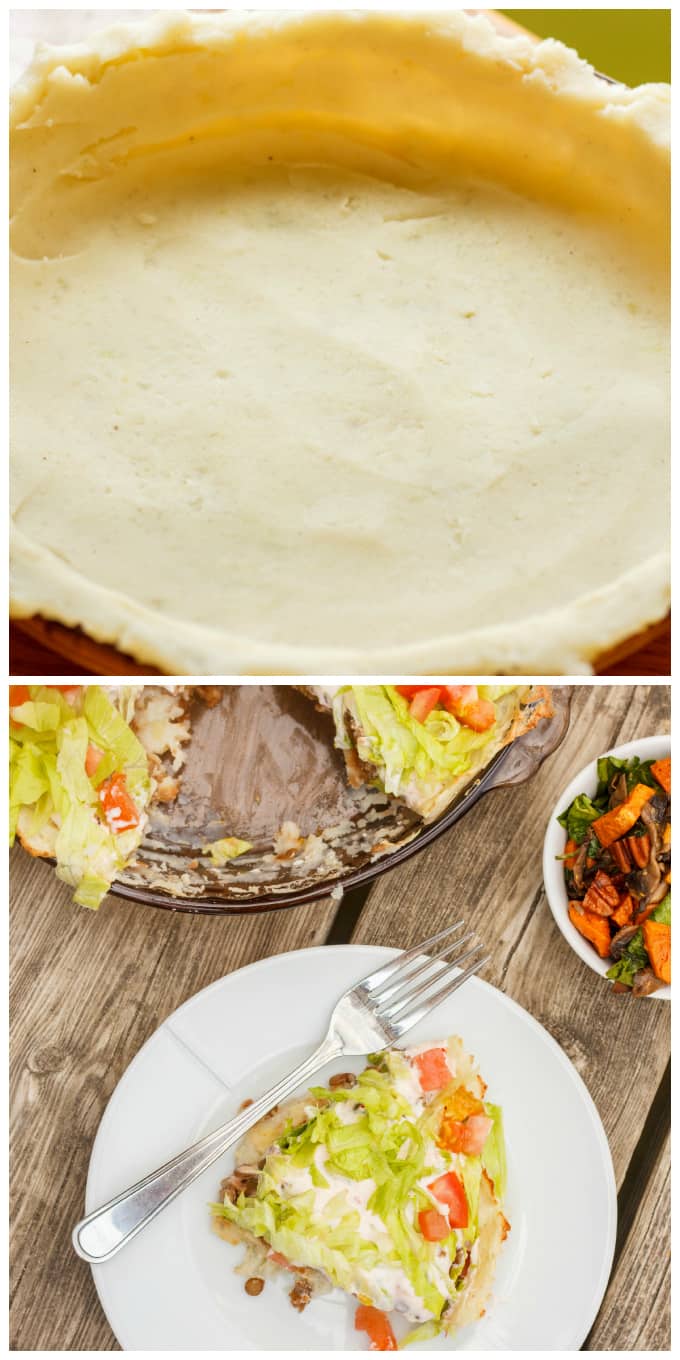 As for how many the pie serves, it all depends. I found I could eat quite a bit but I think it is because I liked the meal so much. I would easily say 4-6 people. If you have a side with it, you maybe able to get a bit more out of it. But to be safe, assume your guests are big eaters. Also, the salad featured in this post is also vegan and you can find the Sweet Potato and Mushroom Salad by clicking on the link.