These cold temperatures! I am telling you, I do love winter, but even I am getting sick of shoveling snow every day along with walking the dog in super cold and windy temperatures. The amount of snow on either side of my driveway is so high, I have to walk around to dump the snow from the driveway elsewhere. True Canadian winter this year.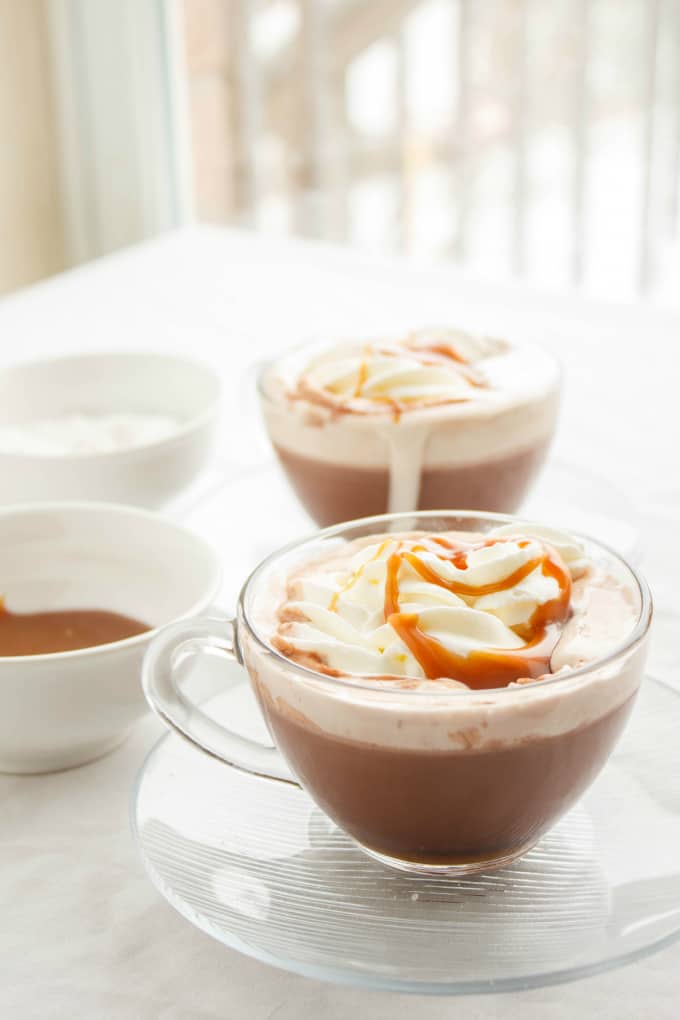 After our walk, kiddo and I decided we wanted some hot cocoa. I love making homemade hot cocoa, but sometimes, let's admit it, I can be lazy and cheat. She basically knows how to run the Keurig on her own now, but I digress, she wants hot cocoa ALL the time where as I can go without. That is when the instant cocoa comes in handy.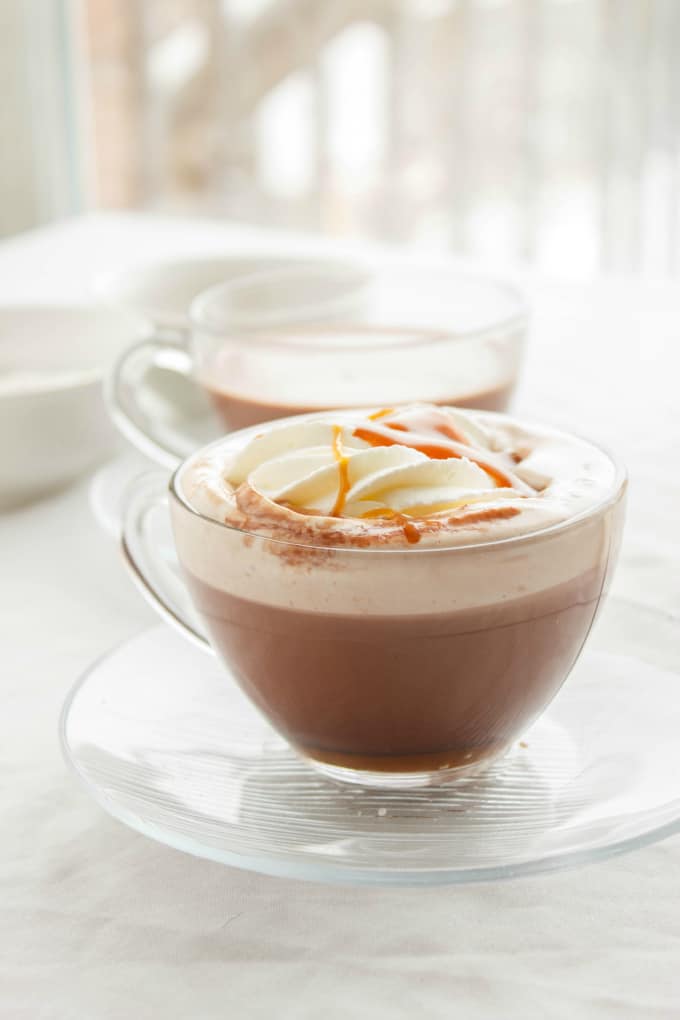 However, homemade hot cocoa is the way to go! So easy and tasty, you will wonder why you ever use those instant packages (okay, I know we can all be lazy at some point!) I have a weakness for caramel sauce and whipped cream, so often times I skip hot chocolates or cocoas altogether because I find they need these ingredients (and as crazy as it seems, I don't always have these on hand.) Which brings us to today's recipe: salted caramel hot cocoa!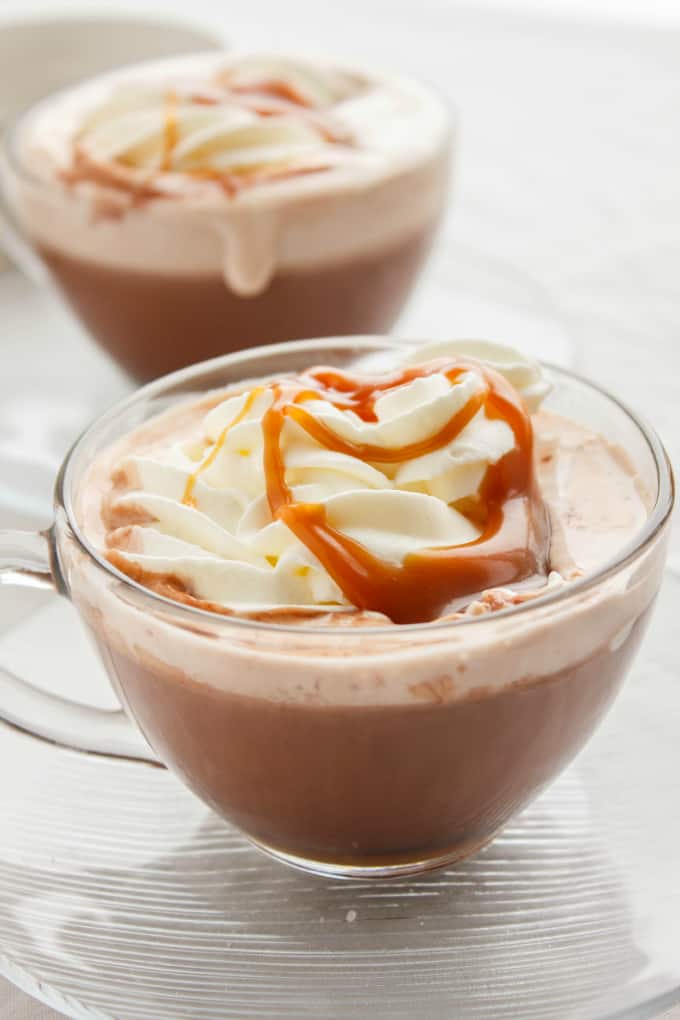 I really love the addition of salt to an ordinary hot cocoa recipe. I add a bit of homemade caramel sauce to the bottom of each cup, pour the hot cocoa, top with whipped cream, and finish with some more caramel sauce.Then you top it off with coarse salt or sea salt! That is it! And trust me, the addition of salt with the sweet is fantastic. Nom, nom, nom.
And while we are on this topic of salted caramel hot cocoa, do you want to know the difference between a hot chocolate and a hot cocoa? Simple: hot chocolate is made with actual chocolate that is melted down. Hot cocoa is made with cocoa powder. Many people use the terms interchangeably, but I noticed when I make this beverage, I tell kiddo the correct term (have to start her off young!)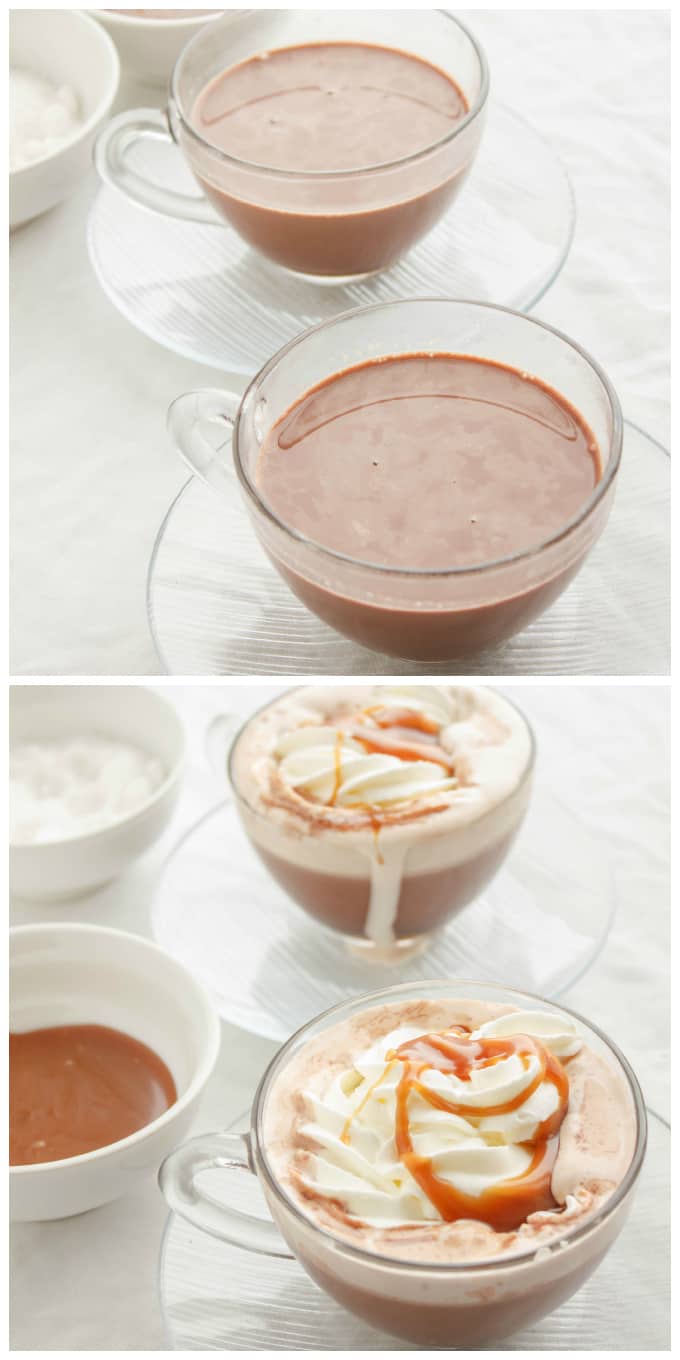 📖 Recipe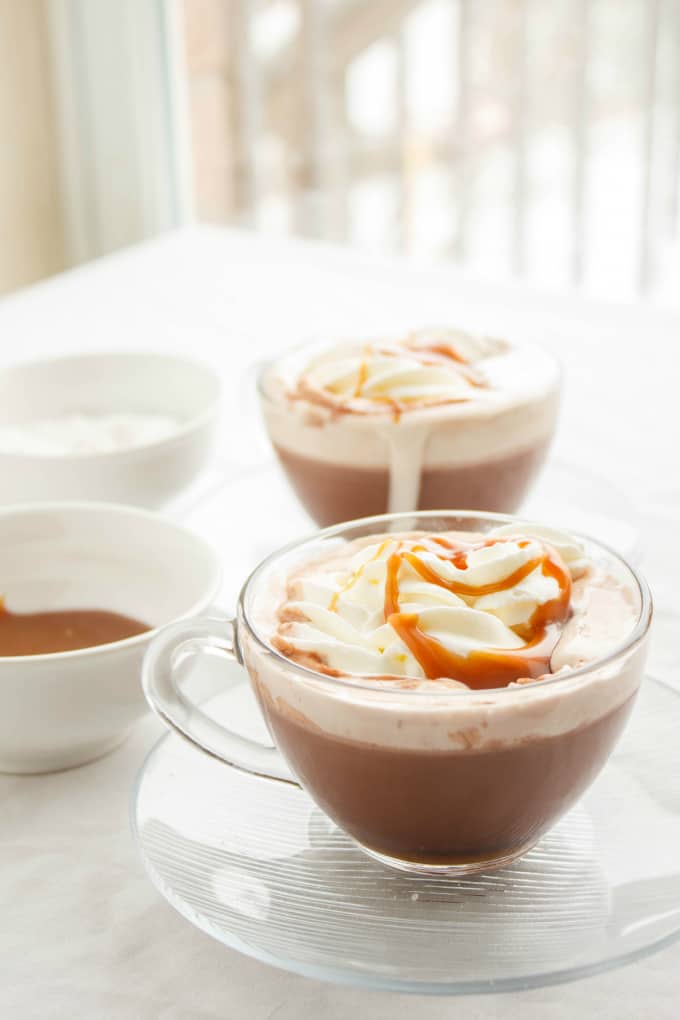 Salted Caramel Hot Cocoa
During these cold winter months, salted caramel hot cocoa is the one true beverage to warm up the heart and soul!
Ingredients
2 tbsp. unsweetened cocoa powder
3 tbsp. sugar
1 ½ cups milk
¼ cup heavy whipping cream
2 tbsp. boiling water
¼ tsp. vanilla
Pinch of salt
Whipped Cream:
½ cup heavy whipping cream
1 tbsp. sugar
Caramel sauce
Coarse salt or sea salt for garnish
Instructions
In a small saucepan, add the cocoa powder, sugar, and salt. Pour in boiling water and heat over medium-low, allowing the mixture to come to a simmer. Simmer for a minute, stirring constantly.
Add the milk and ¼ cup heavy whipping cream. Stir and raise the heat, bringing it to just before a boil.
When hot, remove from heat and add vanilla.
Whipped cream:
Add ½ cup heavy whipping cream to a chilled kitchen aid mixing bowl.
With the whisk attachment, begin the mixer on slow and raise the speed to medium. Keep an eye on the cream as you want it thick and creamy, not over-whipped. When you achieve soft peaks, continue mixing for another minute and then add in the sugar.
Continue mixing until stiff peaks form.
Assembly:
Add a bit of caramel to the bottom of each up. Pour in the hot cocoa. Top with whipped cream and drizzle on additional caramel sauce. Finish with a garnish of salt!
Nutrition Information:
Yield:

2
Serving Size:

1
Amount Per Serving:
Calories:

558
Total Fat:

36g
Saturated Fat:

23g
Trans Fat:

1g
Unsaturated Fat:

11g
Cholesterol:

115mg
Sodium:

828mg
Carbohydrates:

51g
Fiber:

1g
Sugar:

49g
Protein:

10g
As much as I wanted to enjoy a second cup of salted caramel hot cocoa, I realize this drink is super rich, especially if you put mounds of whipped cream and caramel on it like I did. Big mistake. I felt so full afterwards and thought I would have a sugar overdose! So basically, my word of advice? Resist adding too much whipped cream and caramel sauce or you may find yourself in a bad place (don't be greedy like me!)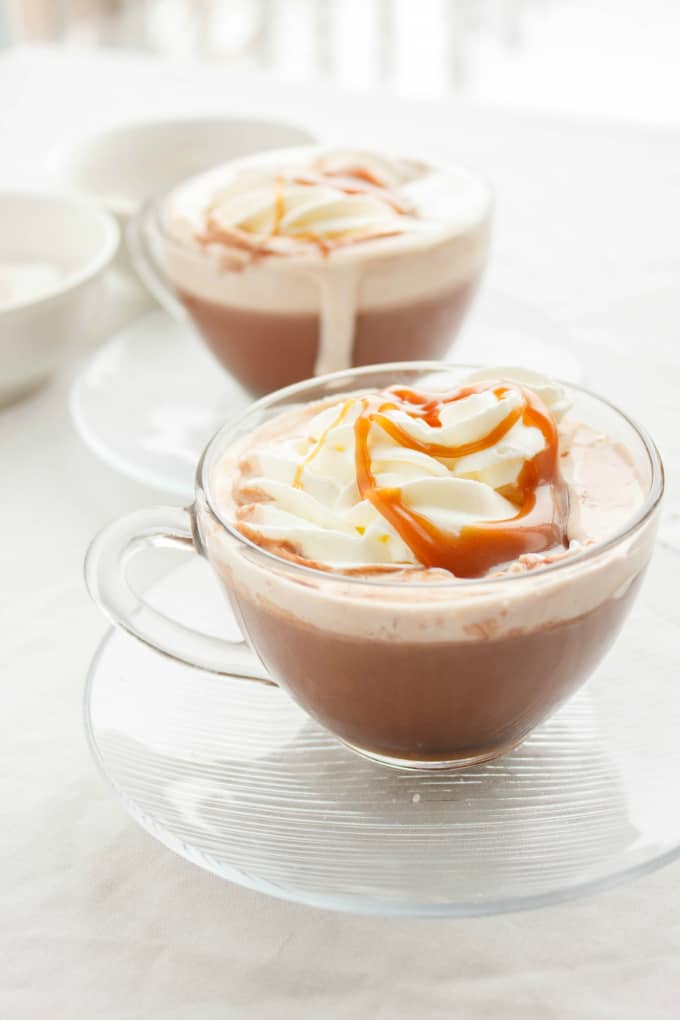 As I write this post, I am beginning to see just how many recipes I have created using caramel sauce... I swear, we don't always have a batch of the stuff on hand! Ever since trying the dry method for making caramel sauce, I cannot stop making it. I even got around to taking photos for a tutorial on how to create the easiest caramel sauce out there! And then I created a salted caramel cheesecake for my sister's boyfriend... I will let you know how that turns out next week 🙂