Looking back on previous posts, especially my very early entries, the pictures are dated. I figured it was time to revisit the recipes and give them makeovers in the process.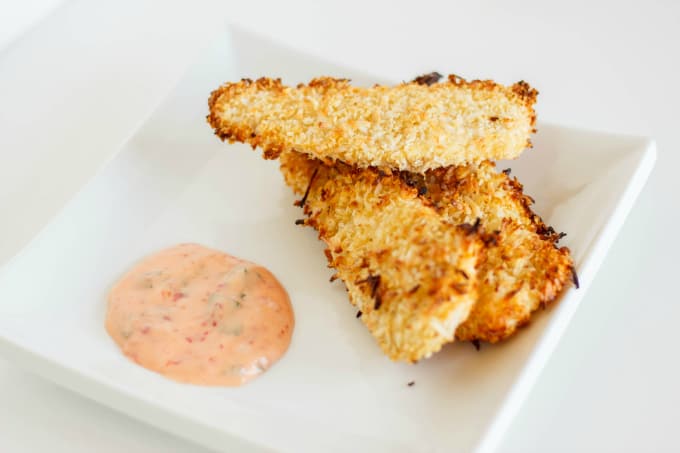 Since chicken breasts were on sale, the first recipe I wanted to revisit was the breaded coconut chicken bites. They were easy to make, and quite delicious, according to Mr. TCW. I knew I did not want to deep-fry the chicken because they did not need to be. You can get a very similar crispiness by baking at a higher temperature. Much healthier than frying, but that is not the reason why I decided to bake them. It is so much easier to throw a meal into the oven rather than standing over a stove top, babysitting a hot pan of oil. Plus, safer with little ones running around (I am looking at a certain small child!)

📖 Recipe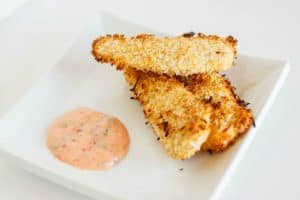 Coconut Breaded Chicken with Chili Garlic Dipping Sauce
Quick, easy, and baked coconut breaded chicken. Perfect chicken strips for kids and adults!
Ingredients
2 lbs boneless, skinless chicken breasts
⅓ cup all-purpose flour
¼ tsp. salt
¼ tsp. red chili flakes
¼ tsp. ground ginger
¼ tsp. black pepper
1 egg
½ cup coconut milk
1 cup Panko breadcrumbs
1 ½ cups sweetened shredded coconut
Sauce:
2 tsp. honey
2 tsp. chili garlic sauce
½ cup mayonnaise
1-2 tsp. fresh cilantro, roughly chopped
Instructions
Cut the chicken breasts into long strips. Try to keep them uniform in size. My 2 lbs of chicken equaled 5 pieces of breasts.
Preheat the oven to 400F. Line a baking sheet with parchment paper and set aside.
Create your breading station by laying out three bowls or Tupperware containers. Place flour into bowl one; coconut milk, egg, black pepper, ground ginger, salt, and red chili flakes into bowl two; Panko breadcrumbs and shredded coconut in bowl three. Stir each bowl to combine.
Dip the chicken into the flour, followed by the egg mixture, and finally, finish off in the breadcrumbs. Repeat until all the chicken is coated. Lay out all the pieces onto the baking sheet (work in two batches if necessary) and place into the oven. Bake for 10 minutes and flip the chicken, cooking for another 10 minutes or until chicken is cooked thoroughly. Remember, cooking time is based on the thickness of your chicken strips.
While the chicken is baking, combine mayonnaise, honey, chili garlic sauce, and fresh cilantro in a small bowl. Serve alongside the chicken strips.
Nutrition Information:
Yield:

4
Serving Size:

1
Amount Per Serving:
Calories:

938
Total Fat:

46g
Saturated Fat:

20g
Trans Fat:

0g
Unsaturated Fat:

24g
Cholesterol:

251mg
Sodium:

845mg
Carbohydrates:

48g
Fiber:

5g
Sugar:

17g
Protein:

79g
This recipe was a hit for both my husband and daughter. As you can see, she was all too happy to eat my prepared plate (I am lucky I got any food photography in!)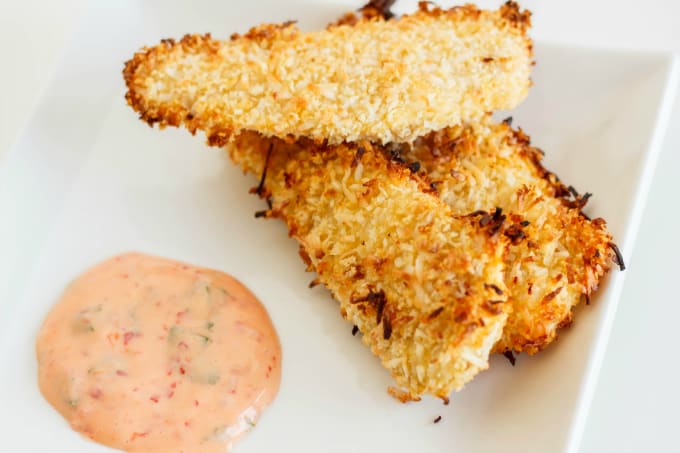 The sauce... It was out of this world! I wanted something simple to pair with the chicken strips, but nothing too overpowering. I used mayonnaise for the base of the sauce because it was all I had on hand. But I think Greek yogurt would work well here, too. Something to try in the future.
It was fun revisiting this recipe. There are still many more to go, but I plan to leave the original pictures up as reference to how much my perspective, and photography, has changed since I began the blog.