The Cookie Writer was given sample products to review for this post. All opinions are my own.
There are so many creative ways to produce recipes that are animal free. I love using lentils and beans, but tofu is another popular source. I know tofu isn't for everyone, but my rule of thumb when it comes to tofu is the idea that "it takes on the flavours of whatever it is cooked with." Therefore, if your sauce or ingredients are lacking, so will your tofu.
When I was approached to review a unique array of sauces and marinade from Pulo (Philippine Cuisine), I knew immediately I wanted to work with a vegan recipe because ALL 5 sauces are vegan. I mean, we could take the easy route and work with chicken because let's face it, all 5 flavours would work perfectly with chicken. But that is a little too easy.
What are the flavours you ask?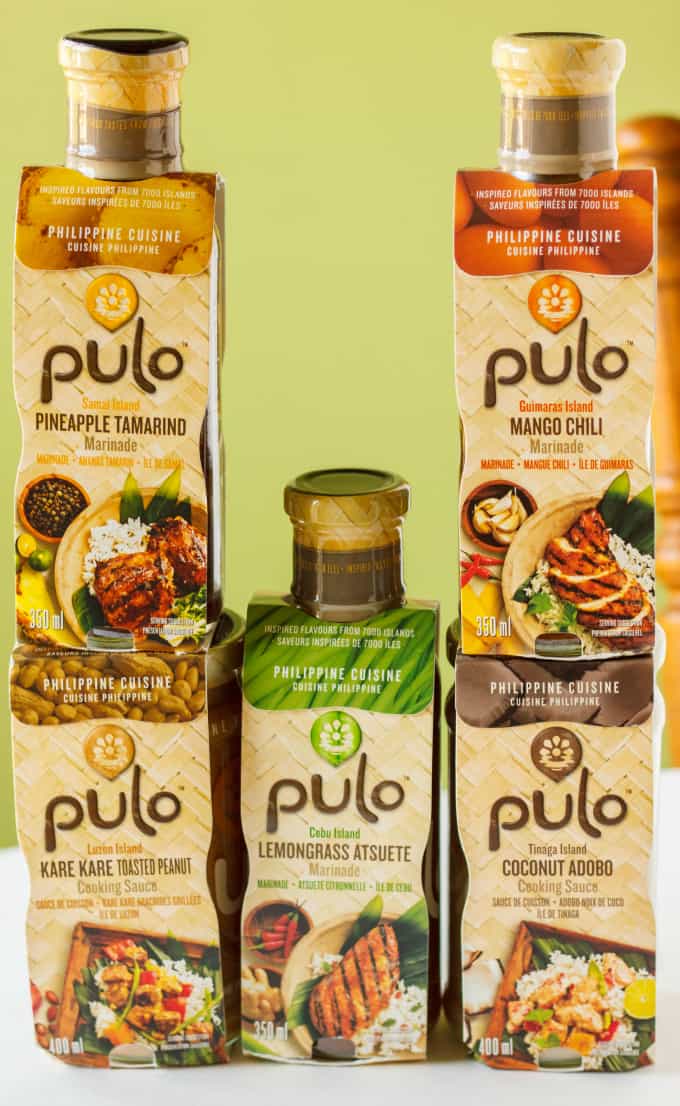 Mango Chili
Pineapple Tamarind
Lemongrass Atsuete
Coconut Adobo
Kare Kare Toasted Peanut (the only gluten-free sauce.)
 The first three are marinades, while the last two are cooking sauces. They all sounded delicious and I wanted to open every single bottle when they arrived. However, I thought to myself "whoa, whoa, calm yourself. You don't need 5 open jars in the refrigerator." It was hard to resist, but I went down the list and eliminated them one by one for this particular recipe. I really wanted to try the coconut adobo, but for vegan sloppy Joes, the sauce didn't sound right. I wanted something sweet and tangy, with a bit of kick. I finally decided on the mango chili and I am happy I did.
Pulo Mango Chili Marinade= Awesome Vegan Sloppy Joes!
Seriously, as soon as I finished my photo shoot, I didn't even get up off the floor. I literally ate the sloppy Joe right where I sat, on the floor, next to my parrot's cage and being starred at by my daughter and dog. I did not care. One bite and I was hooked! Plus, using this bottle of marinade made the meal fast and easy to make, allowing me to get about with my chores for the day.
Vegan Sloppy Joes using Pulo Mango Chili
---
Kacey
Yields 4-6
Sloppy Joe's are usually made with ground beef and a tomato-based sauce. But trust me, these vegan sloppy Joes are unique and flavourful!
15 minPrep Time
25 minCook Time
40 minTotal Time
Ingredients
4-6 buns
1 lb firm tofu, drained and squeezed of as much liquid as possible.
1 large onion, diced
1 red pepper, diced
8 oz mushrooms, chopped small
2 garlic cloves, minced
1/2 - 3/4 cup Pulo Cuisine Mango Chili Marinade (3/4 cup will help keep the leftovers flavourful!)
1 cup fresh spinach
1/4 tsp. red chili flakes
Salt and pepper
Instructions
Add 1 tbsp. of olive oil to a large frying pan over medium heat. When hot, add the onions. Cook for 5 minutes, or until beginning to soften. Stir in the mushrooms and cook for another 5 minutes. Add in the red peppers and garlic, followed by the red chili flakes, salt, and pepper. Cook for another 5 minutes, or until red peppers begin to soften.
While the vegetables come together, crumble the tofu into small pieces. Pour into frying pan and cook for 5 minutes. Stir in the sauce, adding more if necessary. Cook until heated through. Turn off heat and stir in spinach. Once wilted, get your buns ready and top each bun with the sloppy Joe mixture.
Serve immediately.
*Note: For an even wilder experience, crumble the tofu ahead of time and marinade in the Mango Chili sauce. When ready, just pour into the frying pan.
7.6.4
152
https://thecookiewriter.com/vegan-sloppy-joes/
I know traditional sloppy Joes are made with a tomato-based sauce (which is my usual route.) However, this mango chili marinade from Pulo was the perfect pairing for the tofu. These vegan sloppy joes did not last. I had one for lunch and one for dinner, followed by my husband taking the rest. Yeah… self control was not a feat here with this recipe.
I have made vegan sloppy joes with a tomato-based sauce, and plan to post it in the future. But for now, give these Pulo marinades and sauces a try and see for yourself how well they work with this recipe!
All views are my own. I was contacted by Pulo Philippine Cuisine to write my honest review about their products. The Cookie Writer was not paid to write this post.