Halloween has come and gone, and not surprisingly, with the terrible cold, wet rain we got that evening, we are left with a lot of leftover candy. So, before I go into making some crazy leftover Halloween desserts with all the candy and chocolate, I thought I would try something healthy.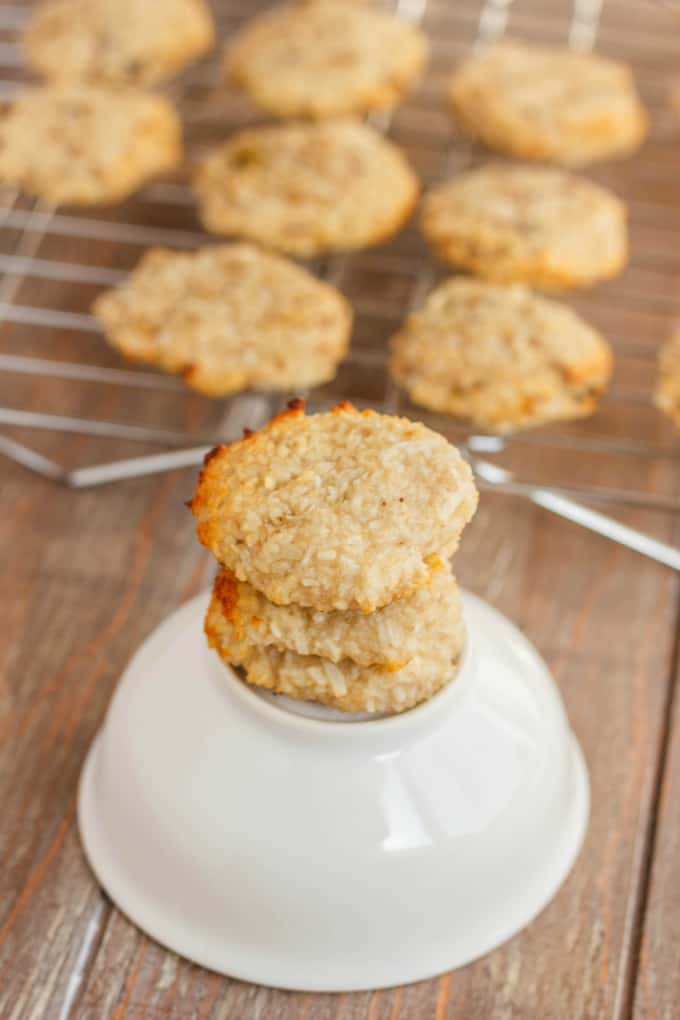 The neat thing about these two-ingredient coconut and banana cookies, is that they are exactly that. Two ingredients. I made two versions, one simple, and the other with some mix-ins. Much like the other two-ingredient cookies that use oats, these ones contain the staple ingredient: bananas. And since I am not a banana fan, I am always hesitant trying recipes such as these because the banana is the star ingredient. Yet, it works. I especially like this variant with the coconut because it is crunchy and tasty, and definitely makes the cookies gluten-free (I always see debates about whether or not oats are actually gluten-free.)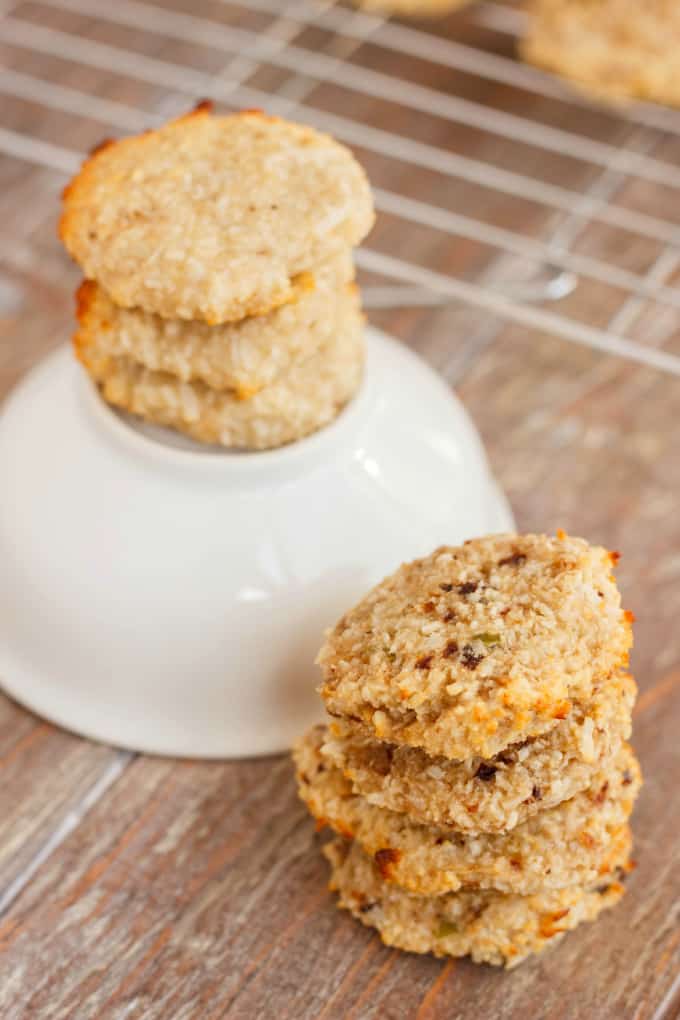 For the mix-ins, add anything you like. I had some dates, pumpkin seeds, and sunflower seeds on hand. To blend them altogether, I placed the ingredients into a food processor and lightly chopped them (you do not want a paste.) These were definitely my favourite, as well as my daughter, who kept asking for more. Sure! Eat more! Little do you know how healthy they are for you…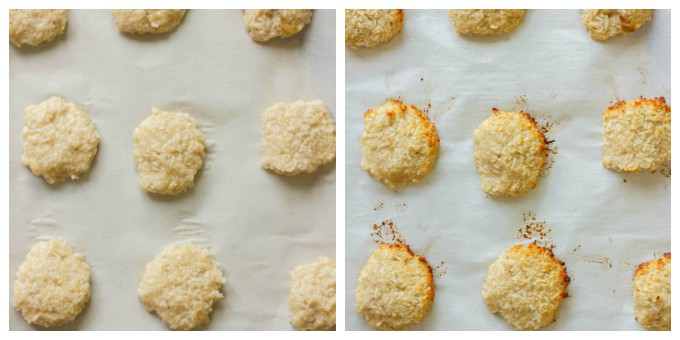 Two-Ingredient Coconut and Banana Cookies
---
Kacey
Yields 9
10 minPrep Time
15 minCook Time
25 minTotal Time
Ingredients
1 cup unsweetened shredded coconut
1 medium-large ripe banana
Mix-ins:
2 dates
2 tsp. sunflower seeds (I used unsalted.)
2 tsp. pumpkin seeds
Instructions
Preheat oven to 350F. Line a baking sheet with parchment paper.
Mash the banana in a medium-sized bowl. Stir in the coconut and toss until combined. If your mixture seems too wet, add more coconut as necessary.
Measure out one tablespoon-sized portions and place onto baking sheet. Bake for 15 minutes, or until lightly golden. Allow to cool for 5 minutes and then move to cooling racks.
Mix in variant:
Place the banana, coconut, dates, sunflower seeds, and pumpkin seeds into a food processor. Pulse a couple of times until blended, but not smooth (you do not want mush, basically looking for the dates to be cut into small pieces.) Follow baking steps as stated above.
7.8.1.2
179
https://thecookiewriter.com/two-ingredient-coconut-and-banana-cookies/
(Adapted from
Grok Grub
)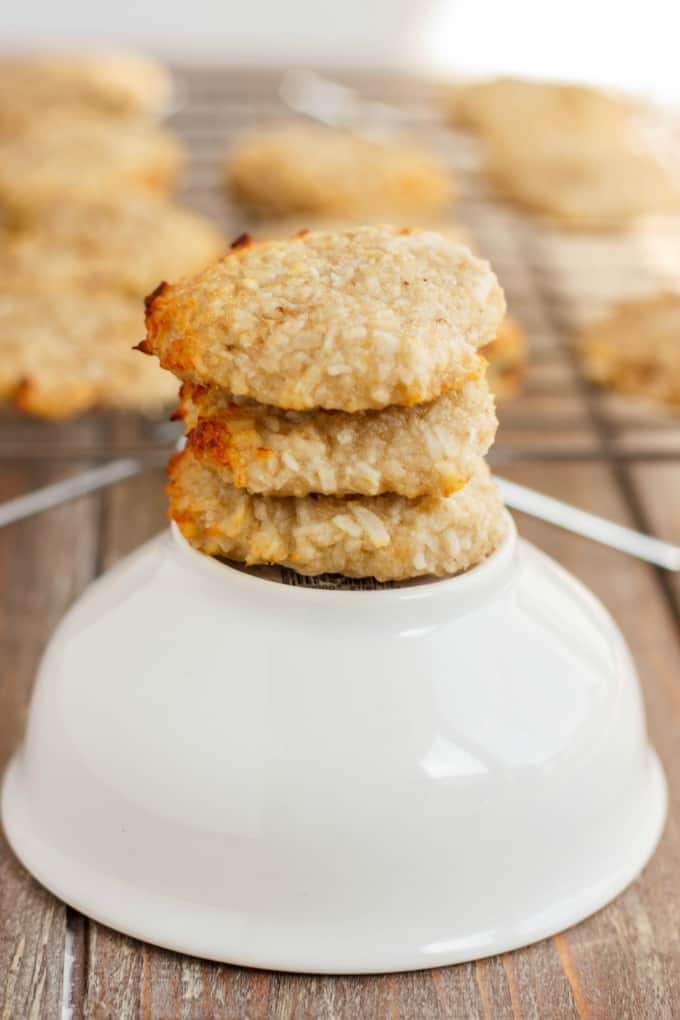 The health season is coming up on us pretty quick. You know what I am talking about. January 1st, resolutions, and a whole lot of gym memberships! While I am not big on working out (but I am really trying to motivate myself) I do enjoy healthy meals. We cook at home a lot and while every meal is not healthy, we do enjoy some good meals. I live by the motto of "everything is good in moderation." So we enjoy our chocolate treats, and some salty snacks here and there. But at the same time, sometimes you want something good for you, and these two-ingredient coconut and banana cookies are just that!