Slow cookers are perfect for any season (especially winter and summer where you just don't want to be stressing over meals!) This slow cooker orange ginger whole chicken is bound to warm you up (or cool you down when placed on the perfect sandwich!)
The photos and recipe for this slow cooker orange ginger whole chicken have been updated as of January 5th, 2017!
You know what slow cookers are great for?
Making a meal while you are busy doing other things such as cleaning, hanging with friends, or shopping! What they aren't good for is when you totally forgot to put your slow cooker on while you are out all day!
Thankfully I didn't actually have anything sitting out all day rotting away. I forgot to transfer everything over before I went to Ikea with my mother-in-law. We were back by 2PM so I was able to throw everything together by 3 (once I remembered!) and cooked this slow cooker orange ginger whole chicken on high. We all had alternative meals that night and Dan took some of the chicken for lunch the following day. My mistake! I could have cooked it in the oven but at that point I was really wanting to use my slow cooker since it had been sitting in storage for ages.
The slow cooker orange ginger whole chicken turned out moist and tender: no dryness to be seen. I love my Hamilton Beach 6 Quart Set 'N Forget(TM) Programmable Slow Cooker (no affiliation!) that I purchased at Canadian Tire for 50% off. I was not paid to advertise or review this product. These are my own thoughts and I greatly appreciate this product!
The one feature I really love is the meat probe thermometer which I had never used until today. Actually, I did not use it until halfway through the cooking time but hey, I still used it! All you have to do is set your meat into the slow cooker, close the lid, and stick the probe through the little insert on the lid. You then set the button on your display to whatever temperature you are looking for internally (I did 160F) and leave it be. Your slow cooker will alert you when your meat is cooked! So easy and super handy!
Can this slow cooker orange ginger whole chicken be made in the oven? Of course! Follow the cooking directions of your favourite chicken recipe and you shall have soft, moist chicken in no time (I really need to make this recipe again in the oven!)
Whole Chicken in the Crock-Pot or Slow Cooker
---
Kacey
For an easy dinner you can forget about through the day, try this whole chicken in the slow cooker.
20 minPrep Time
5 hrCook Time
5 hr, 20 Total Time
Ingredients
1 (3 or 4 lb) whole chicken, insides removed
1 tbsp. freshly minced ginger
2 garlic cloves, minced
1/2 cup freshly squeezed orange juice (about 1 large orange.)
1 tbsp. orange zest
1/8 cup honey
Salt and pepper
1 apple, diced
2 carrots, diced
1 onion, chopped
2 celery, diced
1 potato, peeled and diced
Instructions
Place the carrots, celery, onion, apple, potato, and garlic into the bottom of your 6 quart slow cooker. Season with salt and pepper, and toss to combine.
Combine ginger, orange juice, zest, honey, salt, and pepper. Whisk until well combined. Place chicken on top of veggies. Season with salt and pepper, and pour liquid over top. I stuck my spent oranges into the chicken cavity.
Cook on high for 3-4 hours or until meat probe registers 160-165F. You can also cook on low for 5-6 hours.
To get a crispy skin, move the chicken when it is finished cooking to a baking sheet and place under your oven's broiler for about 5 minutes or until nicely browned. Cover and allow to rest before slicing.
Notes
Times are just a GUIDELINE. Every slow cooker is different. My meat probe helps greatly here. Cut your veggies small or they won't cook fast enough (you can always leave them in the slow cooker to cook longer while your chicken rests.)
7.8.1.2
93
https://thecookiewriter.com/slow-cooker-orange-ginger-whole-chicken/
To gain more fullness to our meals and create a lot of leftovers, we will often make a side of rice to go with our main course. In this case, placing some pieces of chicken onto the rice rewards you with more, as the rest of the chicken can be used to make salads, soups, sandwiches, etc. Of course, if you are looking for a healthy alternative, I say skip the rice and make a fantastic chicken salad. And don't waste that carcass! You can make homemade soup or broth with it.
Love this slow cooker orange ginger whole chicken?! Try some of these recipes: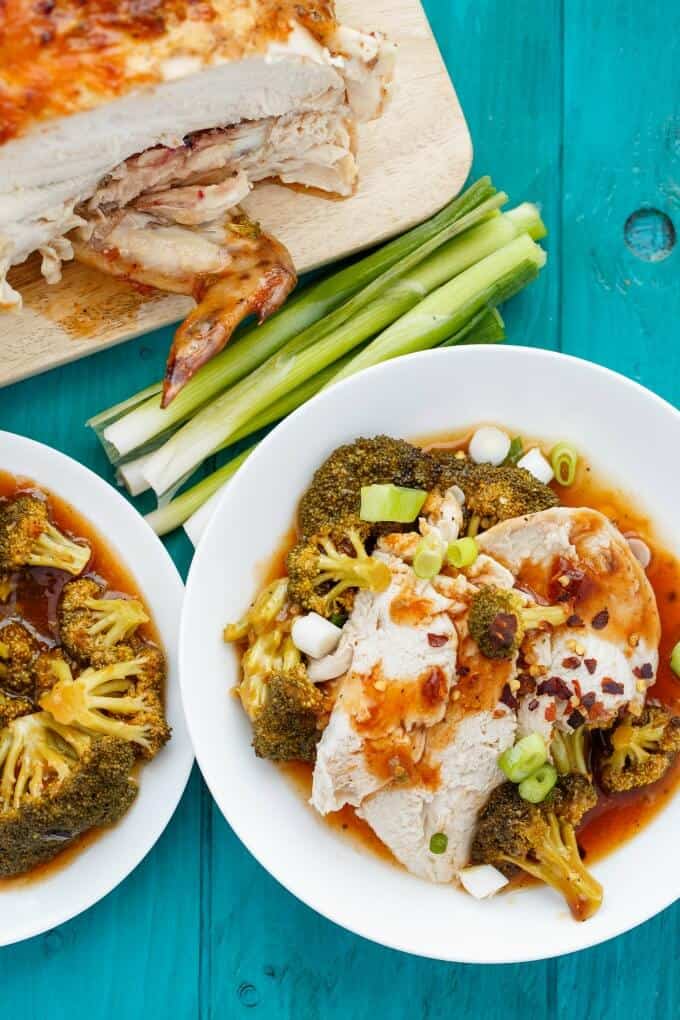 General Tso's Whole Chicken in the Slow Cooker