Quick, easy, and perfect for any occasion (and season for that matter,) this slow cooker bacon-wrapped pork loin is the ultimate dinner! Just keep an eye on it as pork is very easy to overcook!
Going to be totally honest with this one and state it is a remake of my very popular bacon-wrapped pork loin recipe!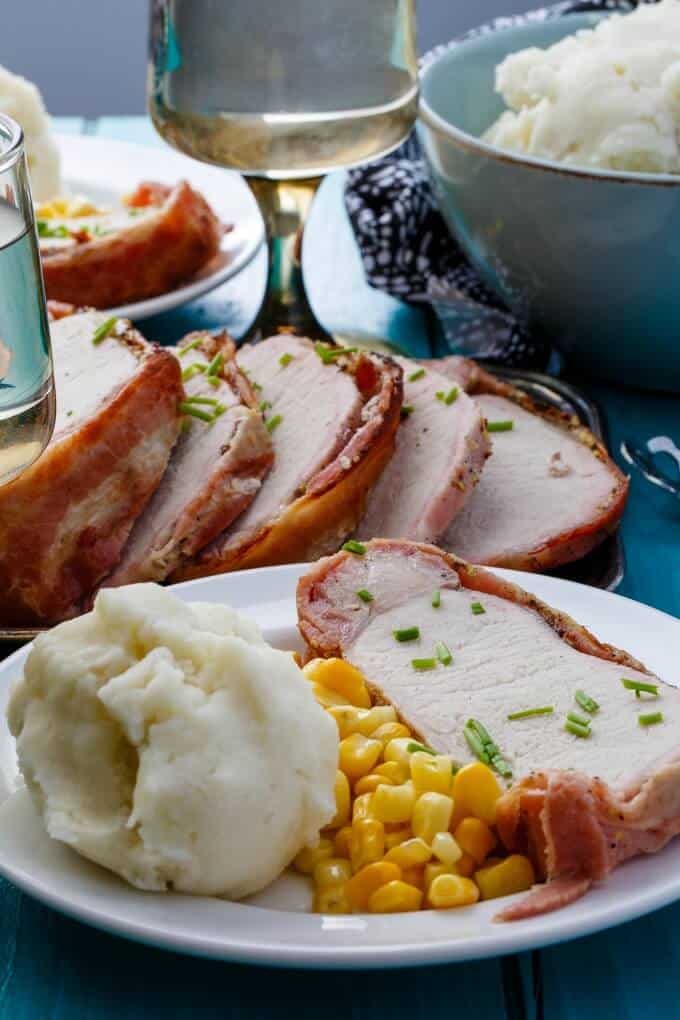 There have been many questions asking if the recipe can be made in the slow cooker. I figured it would be simple, and quick, but wanted to test it myself. I am happy to state it worked perfectly! The only issue would be the non-crispy bacon, which I knew would happen. Just throw that meat under the broiler for a few minutes and you have some crispy bacon!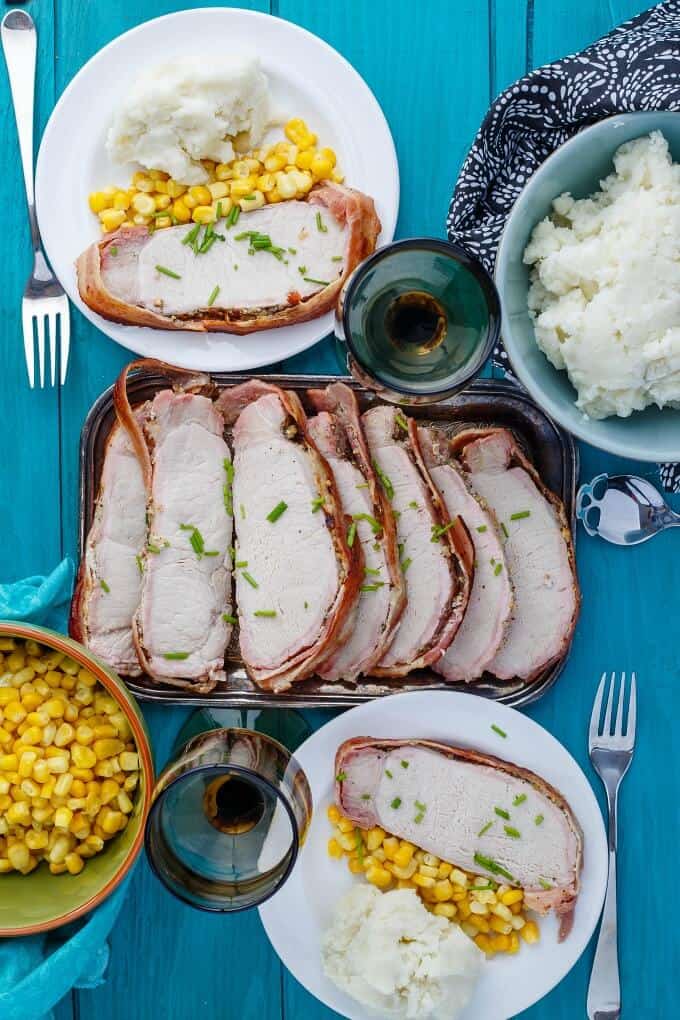 But please be aware that pork loin is super easy to overcook. My slow cooker has a built in thermometer so it stops cooking when it reaches my desired internal temperature. Which is incredibly handy since all slow cookers are different and meat thickness can vary.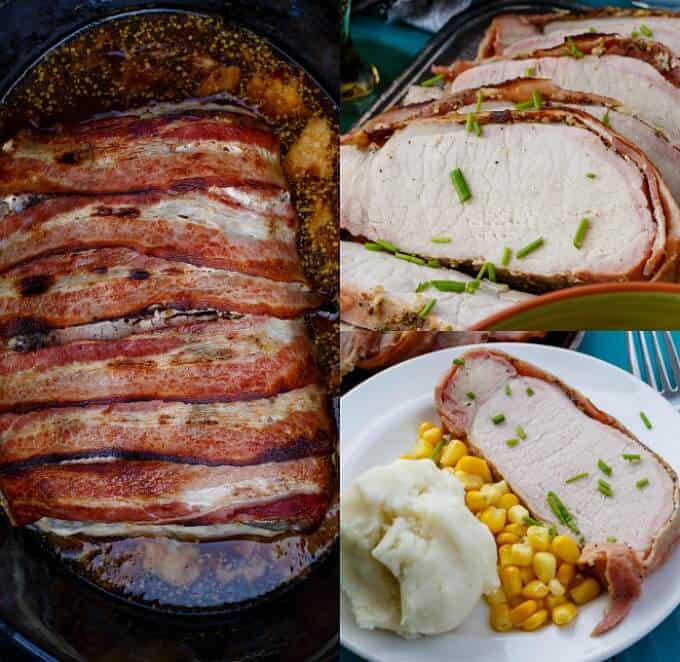 Which brings me to another point in this slow cooker bacon-wrapped pork loin recipe: my 3 lb pork loin may take longer to cook than yours depending on shape and thickness. Yes, we both have the same cut of meat weighing the same amount. However, it all has to do with preparation.
Ever bought a huge pack of chicken breasts and weighed each individual piece? They can range from 3 oz to 10 oz! In one pack! So most people will pound that breasts so they are equal in thickness. There was no pounding of the pork loin here, however I noticed right away that even though the pork loin weighed the same amount as my previous recipe, the two pieces were completely different in thickness! Just watch your meat and adjust time accordingly 🙂

Slow Cooker Bacon-Wrapped Pork Loin
---
Pork loin is really easy to overcook, so while this slow cooker recipe saves you time and effort, you still need to keep an eye on it!
10 minPrep Time
3 hrCook Time
3 hr, 10 Total Time
Ingredients
3 lb pork loin, fat removed
8 slices of bacon
Black pepper
3 garlic cloves, minced
1 tsp. freshly chopped ginger
1/4 tsp. crushed red pepper flakes
1/4 cup soy sauce (use GF sauce for gluten-free.)
1 tbsp. coarse whole grain mustard
1 tbsp. rice wine vinegar
2 tbsp. honey
Instructions
Place pork loin in slow cooker. Season with black pepper.
Combine the garlic, ginger, chili flakes, soy sauce, mustard, vinegar, and honey into a small bowl. Whisk together until combined, seasoning with pepper. Pour half the mixture over the pork loin. Take your bacon slices and wrap them around the pork. Pour on remaining sauce.
Cover and cook on low heat for 3-4 hours, or until internal temperatures reaches 145F.
Move to broiler for crispy bacon (your slow cooker will not achieve crispy bacon!) Cover and allow to rest before slicing.
Notes
My slow cooker has a built in thermometer probe so 3 hours is an estimate (keep an eye on your meat!)
7.8.1.2
517
https://thecookiewriter.com/slow-cooker-bacon-wrapped-pork-loin/
I know I keep bringing up my slow cooker's thermometer probe but it really, really helps! No more overcooked (or under-cooked) meat. Yes, my slow cooker bacon-wrapped pork loin may finish in 3 hours on low, but in another slow cooker it could take longer! You know your slow cooker best so work around it accordingly 🙂
Love this slow cooker bacon-wrapped pork loin?! Try some of these recipes: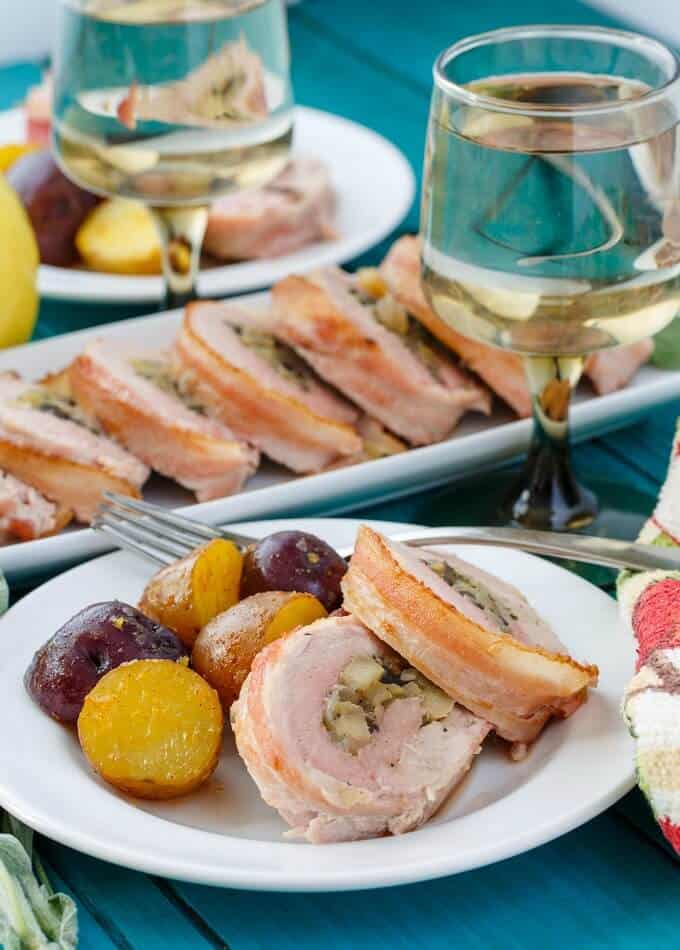 Bacon-Wrapped Apple Stuffed Pork Tenderloin