We are huge miso lovers here but there are more ways to enjoy it than just miso soup! These sesame-miso roasted carrots are so pretty and delicious, they should be on your holiday dinner table!
Who loves carrots?!
They are such a fantastic vegetable and so versatile, too!
However, I am not crazy about them raw. Sure, with some dip, and in baby form, I can enjoy them, but eating them Bugs Bunny style? No way! I still believe the carrots he is eating are cooked because I was sure disappointed as a kid when I attempted to eat a giant carrot like him (spoiler: it was not tasty!)
Carrots are always found on our holiday table, and this year I am showcasing these sesame-miso roasted carrots! Nom nom nom!
I tend to buy "ugly" carrots from the grocery store. You know those really thick ones that come in bags with the tops already removed? And nothing against them!! I use them all the time. However, for this recipe, and this sauce, they would be way too thick. You can easily cut them into matchsticks instead if you cannot find traditional carrots. I have a huge bag of "ugly" carrots right now and plan to make this recipe again matchstick-style (I'll let you know how it goes!)
Any honey-based sauce can be iffy. I know there isn't much in here, but I do always worry about burning. I like my carrots tender-crisp so this recipes work perfectly for that consistency. If you like your carrots softer, I would lower the temperature and cook longer. You can also pre-cook your carrots slightly before roasting them (steam or boil!) I like using this method with potatoes because potatoes always taste better when twice-cooked 🙂
Now that Christmas is sneaking up I really want to focus on desserts! I haven't had time and that makes me so sad 🙁 Even if I revisit some previous recipes I will be happy 🙂 It's my goal over the next few weeks so stay (kind of) tuned!
Sesame-Miso Roasted Carrots
---
A fun twist on a classic vegetable, these sesame-miso roasted carrots are sure to be a hit!
10 minPrep Time
30 minCook Time
40 minTotal Time
Ingredients
1 bunch thin carrots, tops trimmed (I left mine on for pretty pictures but they sure make a mess after cooking!)
2 tbsp. miso paste
1 tbsp. seasoned rice vinegar
1 garlic clove, minced
2 tsp. honey
1 tsp. sesame oil
2 tbsp. sunflower oil (or another flavourless oil)
Instructions
Preheat oven to 400F.
Combine all ingredients except carrots until blended.
Place carrots onto a baking sheet lined with parchment paper or silicone liner. Rub carrots with paste until evenly coated.
Bake for 40 minutes, or until tender-crisp, turning occasionally if browning too fast for your liking.
Serve with toasted sesame seeds if desired!
Notes
Honey always burns so easily, so be aware of these carrots in the oven. If you prefer your carrots softer than tender-crisp, I suggest baking these carrots at a lower temperature (375F) for a longer time, flipping occasionally.)
7.8.1.2
584
https://thecookiewriter.com/sesame-miso-roasted-carrots/
Love these sesame-miso roasted carrots?! Try some of these recipes:
Slow Cooker Lemon Thyme Butter Carrots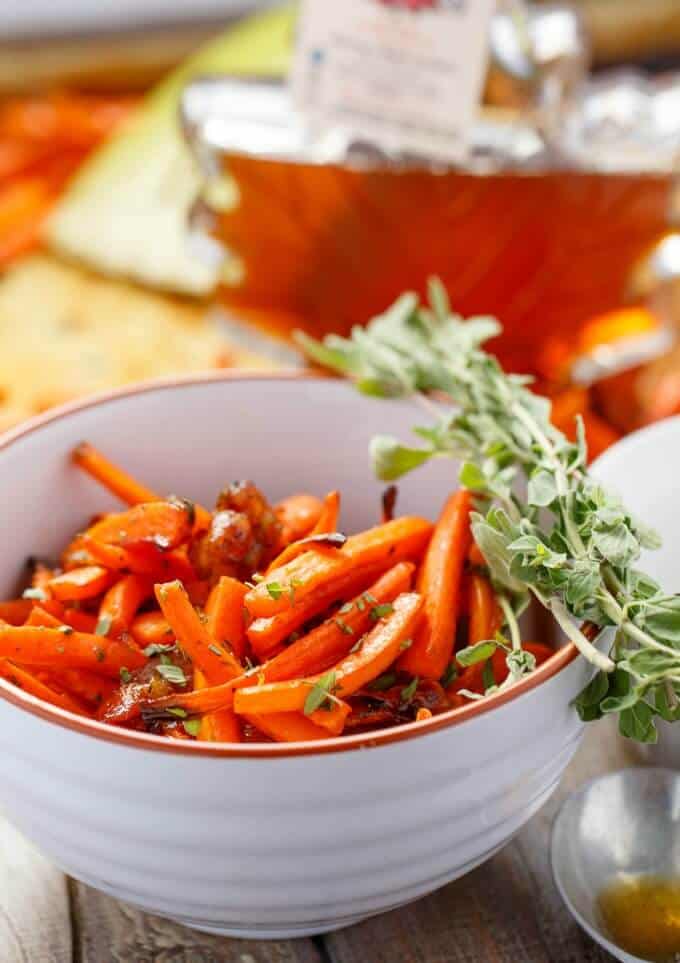 Maple Bacon Carrots