Mother's Day is just around the corner and what better way to surprise mom than with this easy and quick dessert! Roasted pears with white chocolate sauce are totally gourmet without the hassle.
I am all about baking and decorating desserts! Sure, it can stress me out at times, but I feel a real, truly delicious dessert should take some effort.
Don't get me wrong, no-bake desserts are awesome! But they are just not my thing. I cannot get over this idea that a dessert must have some work put into it… Maybe that will change with today's recipe: roasted pears with white chocolate sauce!
While this recipe is not "no-bake" it is very simple and requires little attention. You could make the pears in advance to save time, and if you do not feel like making the sauce, any store-bought version will do (my sauce was on the thinner side but I thought it complemented perfectly here.) Plus, you can customize it how you see fit by adding an array of nuts or maybe some chocolate shavings.
Any type of pear will do, but just remember some are sweeter than others. I found the pears very sweet even without the sauce! I love how roasting a fruit or veggie can transform it so much. And don't feel like heating up your house this summer?! Try grilling the pears instead!
Roasted Pears with White Chocolate Sauce
---
Kacey
Yields 8
Any type of pear will work here, and if you find your sauce is too thin, you can try placing it in the refrigerator to firm up.
10 minPrep Time
20 minCook Time
30 minTotal Time
Ingredients
4 Anjou pears, halved and core removed
1/8 tsp. ground cinnamon
1 tbsp. coconut oil, melted
Random nuts (such as pecans, walnuts, pistachios.)

Chocolate Sauce

1/2 cup (1/4 lb) white chocolate, finely chopped
1/2 cup heavy whipping cream
Pinch of salt
Instructions
Preheat oven to 425F. Add pears to baking dish. Brush each side with coconut oil. Sprinkle cinnamon on skin sides, and place pears cut side down in the oven.
Bake for 15 minutes. Flip pears and cook for another 5-10 minutes, or until softened to your liking. Set aside.

Chocolate Sauce

Bring cream to a very hot temperature (basically scalding, but not boiling) over medium heat in a small saucepan. Place chocolate into a mixing bowl. Pour the cream over chocolate and allow to sit for a few minutes. Stir. As it cools it should thicken.
Pour sauce over pears and sprinkle with assorted nuts if desired.
7.8.1.2
417
https://thecookiewriter.com/roasted-pears-with-white-chocolate-sauce/
These roasted pears with white chocolate sauce will definitely be revisited in this household (and maybe with a milk chocolate sauce…) While the recipe isn't totally healthy, I feel this would be a nice brunch/dessert for Mother's Day and would accompany tea perfectly 🙂
Love these roasted pears with white chocolate sauce?! Try some of these recipes: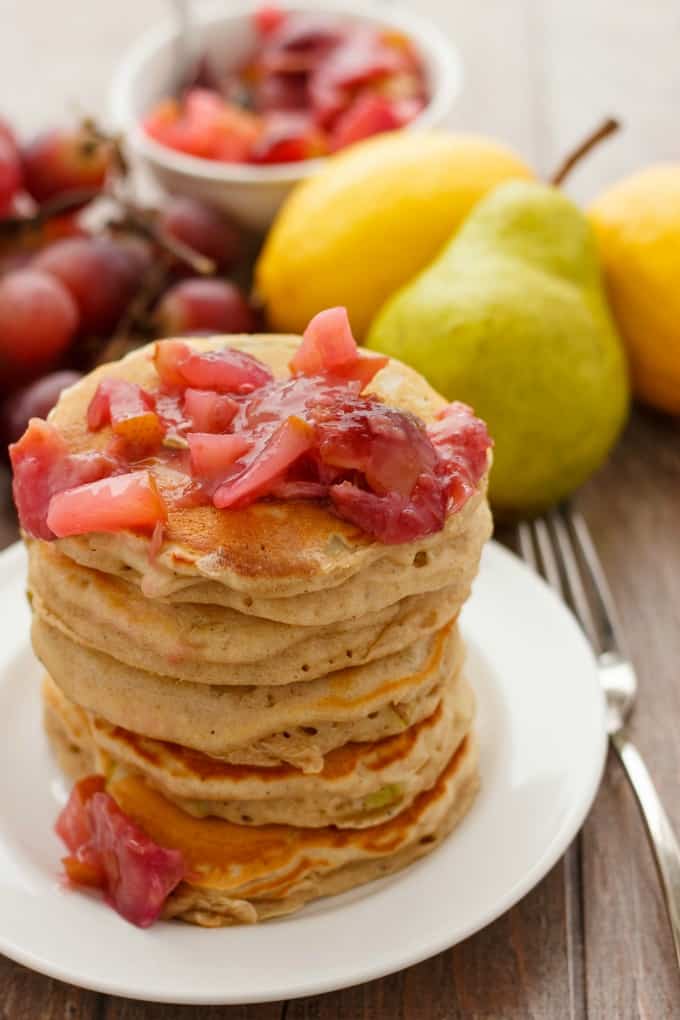 Pear Pancakes with Grape Sauce