Pumpkin pie. My nemesis… But first, before we go onto my ramblings:
Day One: Homemade Pumpkin Puree
Day Two: Homemade Pumpkin Butter
Day Three: Two-Ingredient Pumpkin Cookies
Day Four: Chocolate Chip Pumpkin Cookies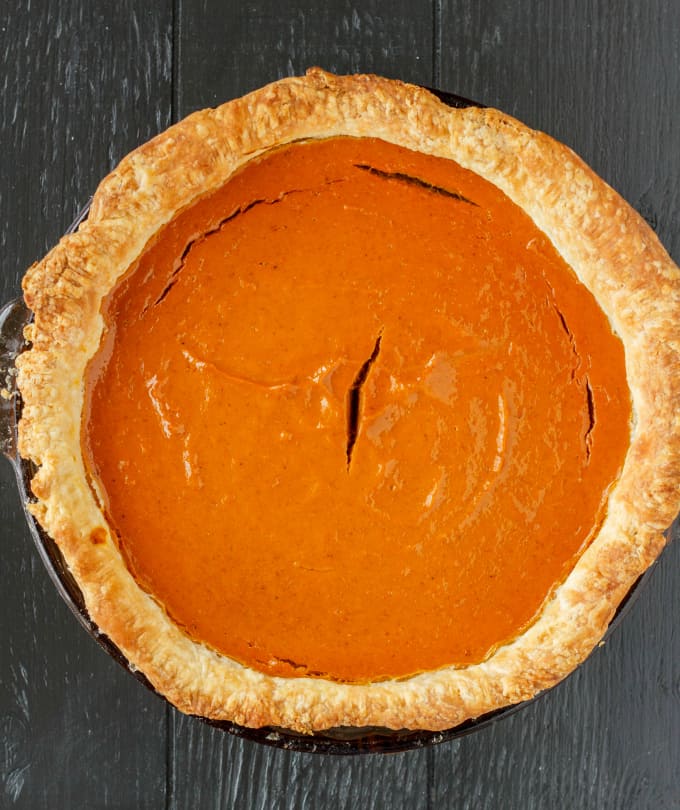 Pumpkin week was a lot of fun, considering my dislike for pumpkins. Working with fresh pumpkin, I came to respect it. Roasted pumpkin in the oven was surprisingly delicious, reminding me a lot like spaghetti squash. I actually really liked it, and could see myself eating pumpkin as a savory side dish. Over the past week I have come to realize my aversion to pumpkin wasn't to pumpkin itself, but to the idea of pumpkin (aka, pumpkin spice.) Don't get me wrong, I love spices such as nutmeg and ginger, but in small doses. The combination of ginger, cloves, allspice, cinnamon, etc. is used to create that "pumpkin" taste we are familiar with, and I can only handle so much.
With today's pumpkin pie recipe, I will state this is my first time ever making pumpkin pie. I have seen many store-bought versions in the past and refused to try them. I won't lie, pumpkin pie has always scared me. The texture doesn't seem appealing, and there was the fact that pumpkin was in this pumpkin pie (surprise!) I just could not try it. But after talking with a friend about how I had never tried it, I thought I would finally break that flaw and try a homemade recipe! I made the pie, had others rave about it, but when I finally tried a bite, I did not see the hype! I love apple pie, and pecan pie, and even coconut cream pie. But it must be the texture of the pumpkin pie that throws me off. I did enjoy making the pie, but the pie itself was left for others to enjoy. Of course, at my Nana's Thanksgiving dinner, they pointed out there was no whipped cream. I had to point back that my sister was in charge of dessert and pawned it off on me last second when she realized she was too hungover from a wedding the night before! That being said, make sure to serve your pumpkin pie with whipped cream!
Now, you may want to cover your crust with aluminum foil for the first 15 minutes so your crust doesn't burn. I tried and tried to keep the foil on, but with my convection oven I was no succeeding! I was frustrated in the end that I shouted "let the crust burn then!" Thankfully it did not, and I am now going to invest in one of those pie crust covers that I thought were a gimmick until I experienced first hand misery! The "tears" in my pie account for the tinfoil falling into the pie at least three times.
Pumpkin Pie
---
Kacey
Yields 1
45 minPrep Time
45 minCook Time
1 hr, 30 Total Time
Ingredients
2 eggs, room temperature
1 3/4 cups (about 1/2 can of 796 mL) canned pumpkin or homemade pumpkin puree
1/2 cup brown sugar
1/2 cup granulates sugar
1/2 - 1 tsp. ground cinnamon
1/4 tsp. ground nutmeg
1/4 tsp. ground ginger
1/8 tsp. ground cloves
1/4 tsp. salt
3/4 cup evaporated milk, room temperature
Pie crust:
1/2 cup butter
1 1/4 cups flour
1 tbsp. sugar
1/4 cup + 2 tbsp. buttermilk
Instructions
Time to make the crust! You can make this in advance, like I did.
Place the butter, flour, and sugar into a food processor. Mix together until the butter resembles large peas (you don't want to over-mix!) Pour in the 1/4 cup of butter milk and toss with a fork. If necessary, add more buttermilk 1 tbsp. at a time. You want the dough to form a ball but without being too sticky (it will be a bit dry.) Place in plastic wrap and store in the refrigerator for at least an hour. I usually leave it overnight and then roll it out when I am ready to bake my pie.
Roll the dough out on a lightly floured surface. Place into a 9-inch baking dish and design your crust. Place back into refrigerator while you prepare the rest of the pie.
In a large mixing bowl, whisk the eggs gently. Add in the pumpkin puree, sugars, cinnamon, ginger, nutmeg, cloves, and salt. Stir until well combined. Add the milk and stir well.
Preheat oven to 425F. Pour the pumpkin filling into the pie crust.
Bake the pie at 425F for 15 minutes. Reduce heat to 350F and continue to cook for another 30 minutes, or until a knife comes out clean. *Note: you can cover the crust for the first 15 minutes at 425F and then remove it to prevent anything from burning. However, after many failed attempts, I just left the crust uncovered.
7.8.1.2
182
https://thecookiewriter.com/pumpkin-pie/
(Crust adapted from
completely delicious
and pumpkin filling adapted from
E.D. Smith
)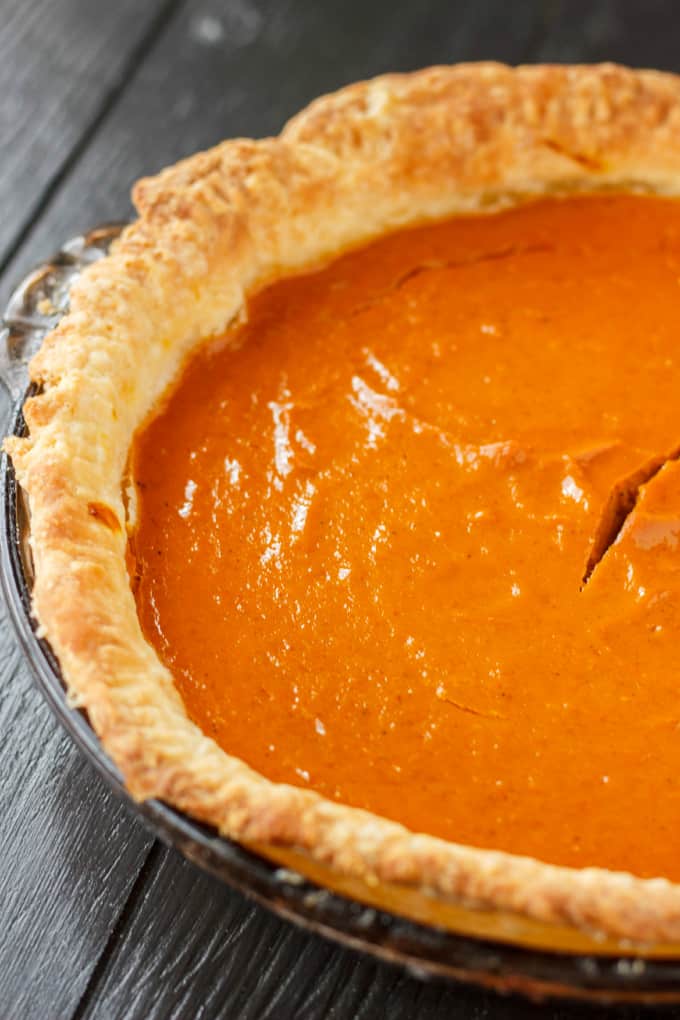 One positive note for me when it comes to pumpkin pie was how easy it was to make! At this point, I used canned pumpkin puree because I had not got around to buying an actual pumpkin. Knowing how easy it is to make homemade pumpkin puree, I know for a fact all my future pumpkin pies will use the fresh stuff!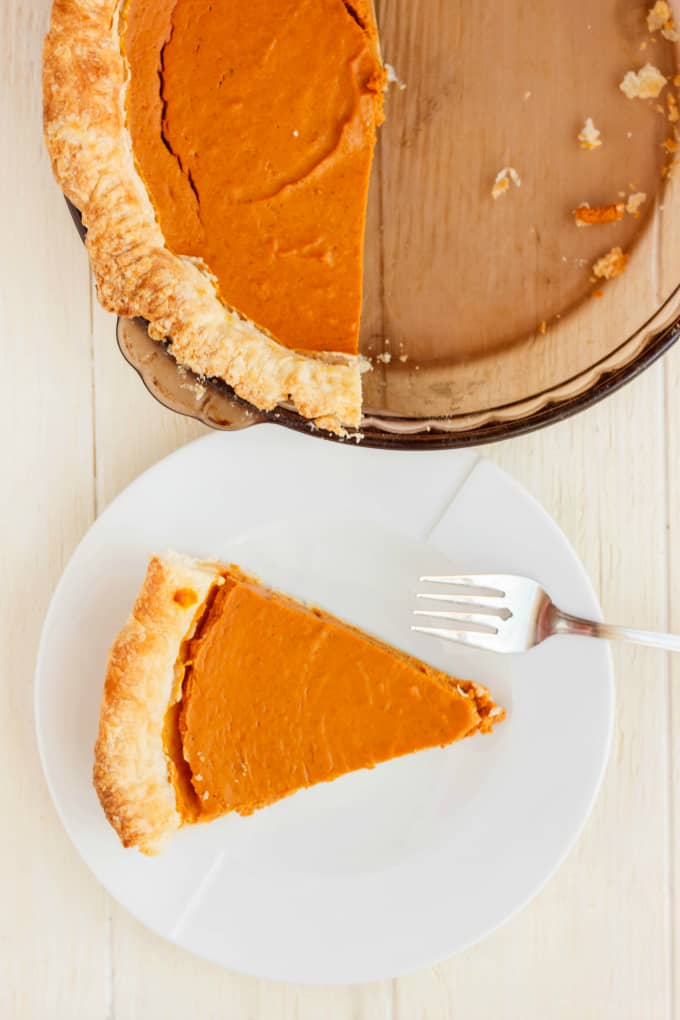 As for the crust, you could use a store-bought pie dough. I had tried this crust recipe previously when I made coconut cream pie and was floored with the ease and deliciousness. It may be my new favourite, for now… Plus, you can make this crust in advance and not have to worry about doing everything at once come pie-assembly day.
Well, that brings a close to another theme week at The Cookie Writer. I do enjoy these theme weeks because you really get to experience the star ingredient. I am sure I will have another theme week come the Christmas season (cookies anyone?!) But for now, the blog will be back to its regular routine. I happened to grab a copy of Helene Dujardin's Plate to Pixel and I am so excited to read through it! I want to improve my photography, and reading seems to be my best bet until I can look into some photography classes (maybe!) I see so many self-taught food photographers out there, that I hope to teach myself some awesome tricks.