Today's pineapple tamarind grilled pork tenderloin is in partnership with Pulo Cuisine: an authentic collection of sauces and marinades inspired by the 7000 Islands of the Philippines. You won't believe how easy this recipe is!!
This is a sponsored post. I was fortunate enough to receive products and/or monetary compensation from Pulo Cuisine. Though products were received, all opinions are my own and I would not recommend a product that I did not enjoy.
Hey everyone!
For my long-time readers, you may recognize the brand I am working with today.
Many years ago I had the opportunity to try Pulo Cuisine and fell in love! Their 5 products, a mixture of cooking sauces and marinades, are nothing like I have had before when it comes to store-bought sauces! Fresh tasting with wonderful ingredients that pair perfectly together, Pulo Cuisine uses no artificial flavours, colours, or preservatives and leaves their sauces vegan (with some being gluten-free!)
Now, you guys know me! I am all about homemade whenever possible, especially when it comes to sauces. So you have to know how much these sauces mean to me (and let's be honest, sometimes I just DO NOT feel like spending the entire day in the kitchen!) While my recipes may not always be quick and simple, I do pride myself on quality ingredients and flavour combinations. I'm happy to say this pineapple tamarind grilled pork tenderloin far exceeded my expectations and required the most minimal prep! Grilling tends to intimidate me, but as of late I have completely revamped myself and this recipe alone is perfect for the beginner cook.
All I say is DON'T OVERCOOK YOUR MEAT!
Easier said than done, however, I have no shame admitting I use meat thermometers. I'm not going to risk destroying a dinner just so I can show how "amazing" my cooking skills are (truth is, I'm a very hesitant cook and make mistakes all the time! I do not consider myself a chef, but a home cook, and like many of my readers, I want to learn!)
With this pineapple tamarind grilled pork tenderloin I wanted to showcase Pulo Cuisine and their amazing line of sauces. No fancy extra ingredients, no crazy cooking steps, just easy and familiar techniques and minimal work 🙂 I chose to marinade my pork tenderloin in their Samal Island Pineapple Tamarind Marinade because pineapple is such a common element in grilled meals. Ever had grilled pineapple? There is something amazing about it and like many fruits, it holds up so well on the BBQ. I grilled some alongside the pork because what is better than pairing a pineapple tamarind marinade with fresh pineapple?!
Which brings us back to the marinade again. Pulo Cuisine's Pineapple Tamarind Marinade is made with quality ingredients: just check out the label! Nothing you won't recognize 🙂 I love how well they transform one of Mindanao's key crops (pineapple!) I'm all about homemade sauces, but if something can wow me and require me NOT to make my own version, then I have to say I'll take that route when time is short 🙂
Since pork tenderloin cooks so fast (and is easy to overcook!) I wanted to pair a quick and delicious sauce with a simple grilling technique. Now remember, grill time will differ depending on the thickness of your meat. If you look at my pictures, my two pork tenderloins differed GREATLY in size. The smaller one was complete in about 10 minutes, where the larger one took upwards of 15 minutes! Just keep an eye on them, rotate when necessary 🙂 Excluding marinading time, this pineapple tamarind grilled pork tenderloin was complete in under 20 minutes and that includes cook/prep time!! You can even marinade the meat in as little as 20 minutes and just baste the meat with the sauce (but feel free to leave it overnight like I did!)
Stay-tuned because this August I will show you another fantastic summery/back-to-school recipe utilizing Pulo Cuisine's awesome line of sauces and marinades (hint hint, slow cooker for the win!)
Pineapple Tamarind Grilled Pork Tenderloin
---
This grilled pork tenderloin is great on its own! Feel free to grill up the extra ingredients to make grilled crostini towers!
5 minPrep Time
15 minCook Time
20 minTotal Time
Ingredients
1.75 lbs (0.8 kg) pork tenderloin, silver skin removed (one tenderloin was 0.3 kg and the other was 0.5 kg)
1 (350mL) bottle Pulo Cuisine's Pineapple Tamarind Marinade

Optional

1 small pineapple, skin and core removed, sliced
1 baguette, sliced 1/2 - 1 inch thick
1 large red onion, skin removed and sliced 1/2 - 1 inch thick rings
4 corn on the cob, husks removed
Salt and pepper
Olive oil (or other high-heat oil)
Instructions
Place pork into a large bag or baking dish. Pour 1/3 of bottle over top of meat, making sure to coat it (adding more marinade if necessary.) Marinade overnight (I flipped my meat halfway through.)

BBQ

Remove meat from fridge 30 minutes before BBQing. Preheat grill over medium-high heat (around 425-450F.) Grease lightly with oil.
Place meat directly onto grill and pour excess marinade over-top if desired (otherwise it must be thrown away.)
Close BBQ and cook for 5 minutes and then flip: cook for another 5 minutes. Keep rotating (trying to get all sides) until internal temperature reaches 140-145F, 10 minutes for my small tenderloin, 15 minutes for my larger cut.
You can use fresh marinade from the jar to baste the meat near the end of cook time for more flavour!
Remove from heat and cover with aluminum foil. Allow to rest 10 minutes before slicing and serve! Drizzle with extra sauce if desired!

Optional toppings

If making little crostinis like myself, drizzle sliced bread with olive oil. Lightly brush pineapple slices, onion, and corn with oil and season with salt and pepper.
Place onto BBQ over medium-high heat. The crostinis won't take long, so keep an eye on them and flip when grill marks appear (couple of minutes.) Corn will take 10-15 minutes, rotating every so often to evenly brown. Pineapple is grilled 3-5 minutes per side, or until grill marks appear. Onion rings take about 5 minutes per side depending on thickness.
Assemble all ingredients onto crostini for a fun summer appetizer if desired (though the meat is great on its own!)
Notes
Grilling all the extra ingredients is optional but really makes great crostini appetizers! You can marinade the meat overnight, or if you are short on time, 20 minutes before grilling will be suffice! I cook my pork to a lower temperature reading (around 140F) and allow it to rest and come up to 145F (no overcooked pork here!)
7.8.1.2
550
https://thecookiewriter.com/pineapple-tamarind-grilled-pork-tenderloin/
If you are looking for a vegan meal for friends or family, my previous Pulo Cuisine post used their Mango Chili Marinade. Vegan tofu sloppy joes are one of my favourites (don't mind the pictures, I SOOOOO need to update them and plan to do so this year!)
This is a sponsored post. I was fortunate enough to receive products and/or monetary compensation from Pulo Cuisine. Though products were received, all opinions are my own and I would not recommend a product that I did not enjoy.
Love this pineapple tamarind grilled pork tenderloin?! Try some of these recipes: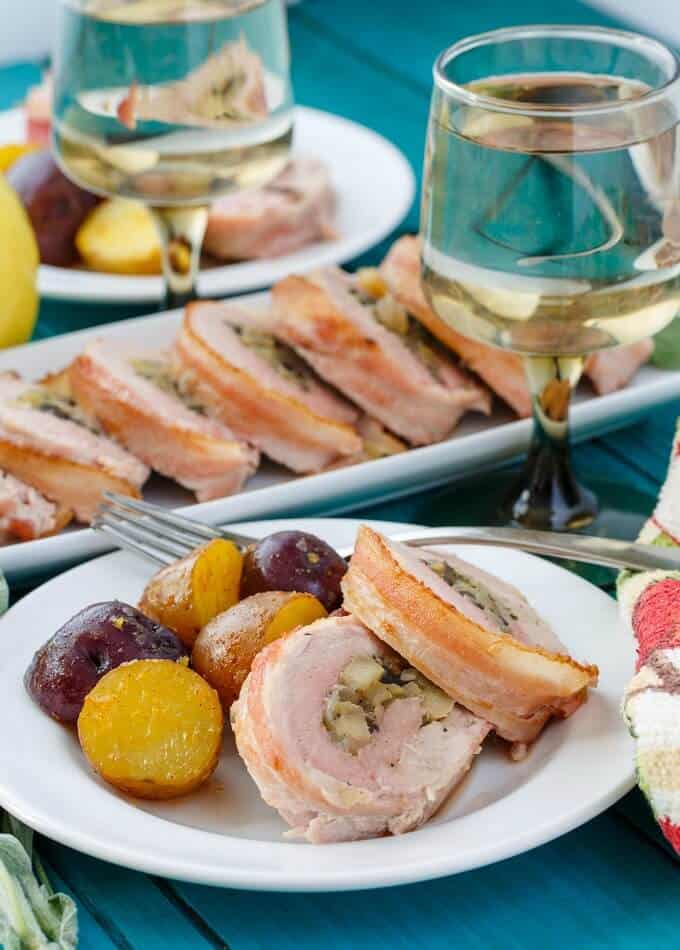 Bacon-Wrapped Apple Stuffed Pork Tenderloin