So chocolatey and peanut buttery, these peanut butter and chocolate stuffed cookie sandwiches are sure to wow your chocolate-loving mom for Mother's Day!
Ohhhh, are these cookies something today!
My mom is a big chocolate lover. Pretty sure she eats it as a meal. It is no surprise that I love it, too, and I have carried on that genetic to my daughter. When I began thinking about Mother's Day recipes I knew at least one recipe had to revolve around chocolate. Today's peanut butter and chocolate stuffed cookie sandwiches fit that bill in soooo many ways.
Chocolate. Peanut butter. Chocolate and peanut butter cookies with chocolate peanut butter spread squeezed between them… Yeah, life cannot get any better!
I used Reese Spread, which is a mixture of chocolate and peanut butter that can be found at your local grocery store (no affiliation.) I thought it was perfect here to compliment the hint of chocolate and peanut butter in the cookies themselves. It also saves time as you do not want to be making a filling and then stuffing all the sandwiches (the most time consuming part in my opinion.)
When it comes to putting the sandwiches together, it all depends on how you want to form them. I made sure to have a bit of extra spread in the middle of the cookie so when I placed the other cookie on top, it attached and held together (because otherwise the cut up Reese's cups would prevent that.) Now that I think about it, I should have just left the Reese's Cups whole and placed one on each cookie… Next time! Then again, I swear these cookies will give people diabetes (I don't mean to offend anyone but with the amount of sugar I eat, I really should be concerned!)
Peanut Butter and Chocolate Stuffed Cookie Sandwiches
---
Kacey
Yields 20
The secret here is to place your Reese's spread accordingly so the two cookies will stick together!
20 minPrep Time
12 minCook Time
32 minTotal Time
Ingredients
1/2 cup butter, room temperature
3/4 cup granulated sugar
1/4 cup peanut butter
1/4 cup melted dark or semi-sweet chocolate
1 egg, room temperature
1 tsp. vanilla
1 1/2 cups all-purpose flour
1/4 tsp. baking powder
1/8 tsp. baking soda
1 tbsp. cocoa powder

Filling

1 jar Reese's Spread
12 Reese's Peanut Butter Cups, quartered and then each quarter halved again
Instructions
Preheat oven to 350F. Line a baking sheet with parchment paper or silicone mat.
Cream together the butter and sugar in your stand mixer for 5 minutes. Add peanut butter, melted chocolate, and mix for another 2 minutes. Beat in egg fully, followed by vanilla.
Sift together the flour, baking powder, baking soda, and cocoa. Pour into butter mixture and mix until just combined.
Measure out 1 tbsp. sized portions using a cookie scoop. Add 12 balls to a pan. Bake for 10-12 minutes. Allow to cool slightly on tray before moving to wire rack. Cool completely.

Assembly

Take one cookie and spoon some Reese's spread on (trying to make it higher in the middle.) Add some Reese's peanut butter cup pieces around the edges and sandwich together with another cookie.
7.8.1.2
419
https://thecookiewriter.com/peanut-butter-and-chocolate-stuffed-cookie-sandwiches/
Getting ahead with my Mother's Day posts! I actually plan to post 5 times this week which I never do anymore just so I can have them up and ready. Then I can relax on my Mother's Day 🙂
Love these peanut butter and chocolate stuffed cookie sandwiches?! Try some of these recipes: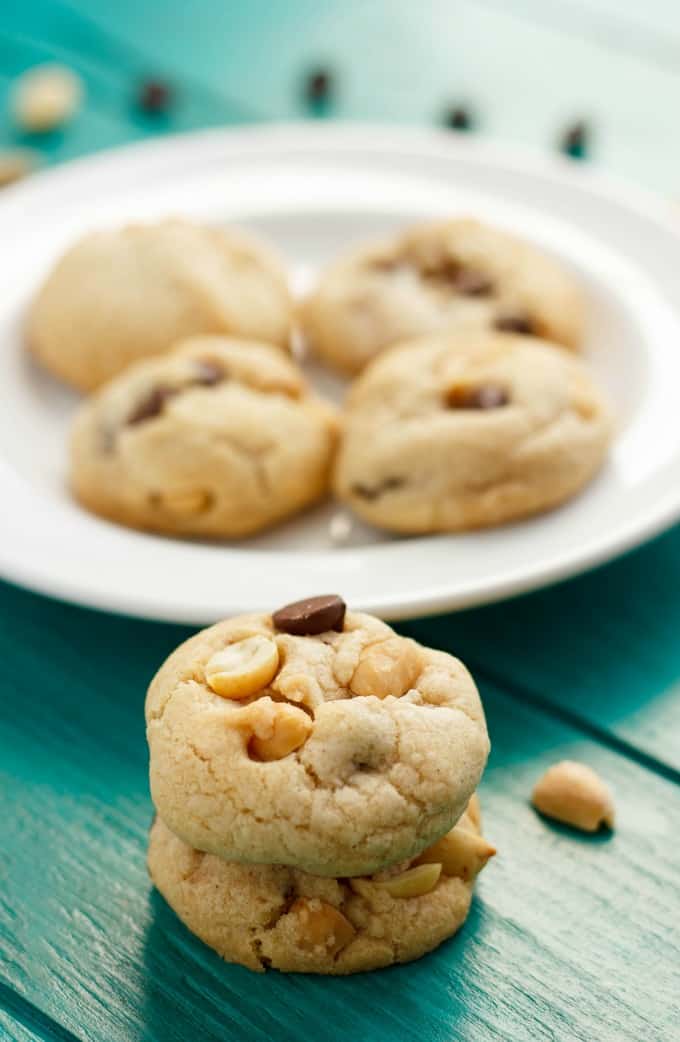 No Butter Chocolate Chip Cookies with Peanuts