Dinner just went gourmet with cheap ingredients! These pan seared chicken drumsticks with vegetables use an easy cooking technique that yields gourmet results!
Chicken drumsticks are soooo cheap and really easy to work with. I know people prefer boneless, skinless chicken breasts, but they are so costly! My husband prefers dark meat so I am happy to provide all the drumstick recipes I can.
Today's pan seared chicken drumsticks with vegetables is actually quite easy, and I call it a gourmet meal using cheap ingredients. Seriously, you are using all cheap ingredients, but transforming them into something completely delicious without going over-budget. And even if you do not like wine or do not have it in your household, you can just sub in more broth to the mixture! Plus, even if you do use wine, you do not have to buy a crazy expensive bottle (I don't drink the stuff so I don't even know what good wine is!)
I have made this recipe a couple of times now and it always turns out so well! I used to add one cup of broth to the mixture but found that was a little too much. As you can see in my photos, even with 1/2 cup broth you still have quite a bit of leftover liquid. Which is good! It would be nice over rice, or just something to dip your chicken into. Personally, I would serve this meal alongside a salad to help cut back on all the fats (but hey, everyone deserves a treat!) My husband does not like salad at all, so it just made sense to have a complete dinner all in one pan! It is so great because these pan seared chicken drumsticks with vegetables are so cost efficient and great for a family dinner!
Pan Seared Chicken Drumsticks with Vegetables
---
Kacey
Yields 4-6
Since we are not draining the chicken fat after searing the meat, the veggies have the opportunity to soak it all in! Serving over rice or paired with a light salad is desired.
15 minPrep Time
1 hr, 10 Cook Time
1 hr, 25 Total Time
Ingredients
8 large chicken drumsticks (between 2 and 3 lbs)
1/4 cup butter
3 medium potatoes, peeled and cubed small
1 large carrot, cubed small
2 celery stalks, sliced small
1 small onion, chopped
3 garlic cloves, minced
Salt and pepper
10 sprigs of fresh thyme + more for garnish
1/4 cup red wine
1/2 cup chicken broth + more if needed
1 tbsp. coarse mustard (optional)
Instructions
Chicken

Place a large cast iron skillet over medium-high heat. Add the butter and wait until it has melted and is bubbling. Season chicken with salt and pepper and add to the pan. Cook for 2-3 minutes (using a splatter screen will help reduce the mess!) When nicely golden, flip the chicken and cook for a few more minutes or until golden. Remove chicken and place into a bowl.

Veggies

Add carrots, celery, potatoes, and onion. Cook for about 5-10 minutes, stirring often. Season with salt, pepper, and add the garlic. Cook for 1 more minute. Deglaze pan with wine and cook for a few more minutes, or until wine has all but disappeared. Combine mustard and broth. Add the chicken back to the pan and pour the broth over top. Reduce to a simmer, and add the sprigs of thyme (leave whole for easy removal as thyme leaves will fall off!) Simmer, over medium-low heat for about 40 minutes, or until veggies are softened to your liking and chicken is cooked through. You do not really need to stir this meal, just make sure the veggies are under the liquid!
In the end, if you want a super crispy skin on the chicken, place pan under broiler and cook until skin is cooked to a crispy state! Remove thyme pieces and garnish with more fresh thyme if desired!
7.8.1.2
378
https://thecookiewriter.com/pan-seared-chicken-drumsticks-with-vegetables/
As much as I deem this recipe a "spring meal," our Canadian weather has decided to go crazy and give us SNOW! I walked the dog in sunshine, and then was met with a blizzard afterwards!! Why?!!? I love winter (and I know MANY do not) but give me my spring temperatures !!
Love these pan seared chicken drumsticks with vegetables?! Try some of these: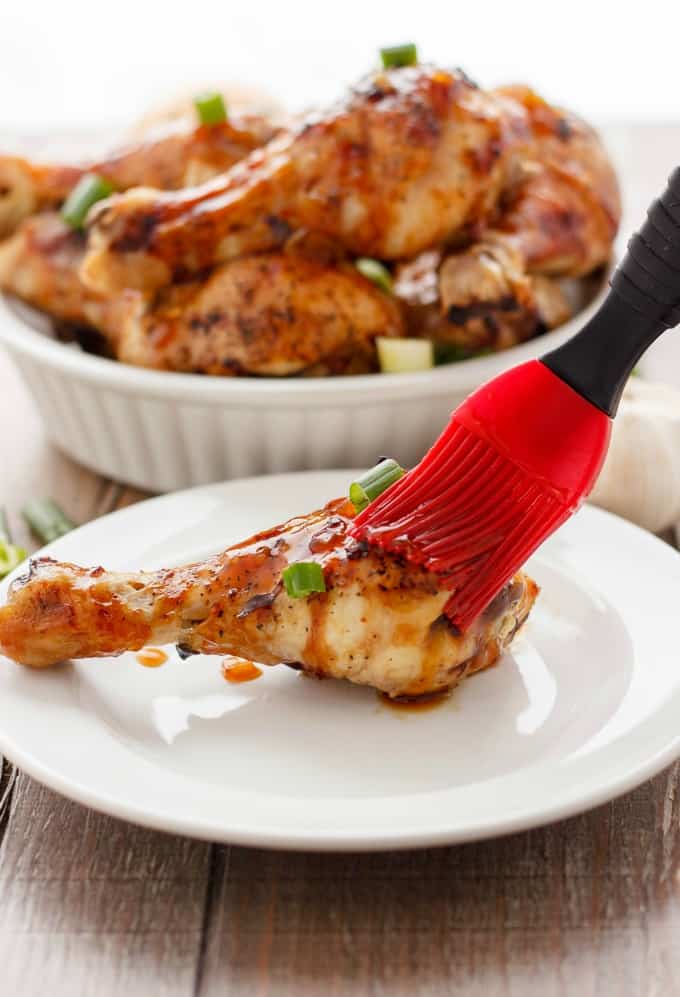 Honey Garlic Chicken Drumsticks