I am jumping on the bandwagon this Canada Day with a no bake strawberry pudding pie!
Let me preface by saying that I had all these Canada Day recipes in mind and achieved about one or two total… You won't believe how busy the last two weeks of school gets for a kindergartner! And now with her almost done school, I will be even more preoccupied! But that's okay because I love having kiddo around and cannot wait to cook more often with her (just not in this crazy heat!)
This no bake strawberry pudding pie was actually made a couple of months ago for Easter… But I made it in anticipation for Canada Day! I mean, we need to make sure these recipes work, right?! That being said, it was quite the hit! My non-pie-loving sister enjoyed this, along with the rest of the family. My Nana mentioned the custard could have been thicker, but both my aunt and sister disagreed. Personally, all up to you! I went the homemade pudding route again, but I really think store-bought would work here. Of course, with homemade pudding, you can easily customize the flavour, such as seen in my birthday cake cookie and pudding pie!
Now, while you do have to bake the crust, I still consider this a no bake recipe. Heck, you can buy a pre-cooked pie crust at the store to make it a true no bake recipe! I, however, still have to get over this hurtle that no bake recipes are okay. I get it. I see why people do it, especially with these temperatures, but I am a baker at heart and that means I want to bake my desserts. Especially cheesecakes! But that is for another day 🙂
I totally deem this no bake strawberry pudding pie the perfect dessert for Canada Day. A vanilla pudding paired with fresh strawberries gives off the perfect representation of our Canadian flag, without being too daunting. Plus, Canada is such a great place that we cannot help but bring out the red and white desserts this coming long weekend 🙂
No Bake Strawberry Pudding Pie
---
Kacey
Yields 6-8
Store-bought ingredients would work perfectly here, especially if you are short on time and are not a fan of making pie crusts!
15 minPrep Time
20 minCook Time
35 minTotal Time
Ingredients
1 9-inch pie crust, pre-cooked (you can use store-bought or homemade!)
1 batch of store-bought pudding, made according to package directions OR homemade recipe found below.

Pudding Filling

1/3 cup all-purpose flour
1/2 cup granulated sugar
1/4 tsp. salt
2 tsp. lemon zest
1 tbsp. freshly squeezed lemon juice
2 cups milk
2 egg yolks, room temperature
1 tsp. vanilla
1 tbsp. butter
1 lb strawberries, halved lengthwise for decorating!
Instructions
Pre-bake your crust and allow it to cool completely (store-bought or homemade is fine but it must be cooked!)

Filling

Whisk eggs in a small mixing bowl until paler in colour. Set aside.
Add the flour, sugar, salt, and lemon zest to a medium-sized saucepan over medium heat. You can omit the next step if you are short on time, but I cooked my mixture for 10 minutes, stirring every so often, to meld the flavours.
Slowly pour in the milk, whisking constantly and making sure to scrape all the flour up! Raise heat to medium-high and add in lemon juice. Cook, whisking constantly, until thicken, 3-5 minutes.
SLOWLY and CAREFULLY pour the hot mixture into the egg yolks, whisking constantly. You do not want to scramble the eggs here! Whisk until all the mixture has been added. Return to pain and reheat until a few bubbles appear.
Remove from heat and stir in vanilla and butter. Allow to cool slightly before pouring 1/3 of the mixture into your pie crust. Create a layer of strawberries on top of the cream. Pour the remaining mixture on top of the strawberries and decorate with remaining fruit!
Allow to come to room temperature before storing in the refrigerator to chill (uncovered!)
7.8.1.2
406
https://thecookiewriter.com/no-bake-strawberry-pudding-pie/
Super busy week to come, but as my daughter finishes her first year of kindergarten, I relish in the fact that we get to spend more time together (until the teenager attitude comes out and that is a different story!) A trip to the zoo and a picnic in the park ends the school year for kiddo! No more packing lunches, woohoo!
Love this no bake strawberry pudding pie?! Try some of these recipes: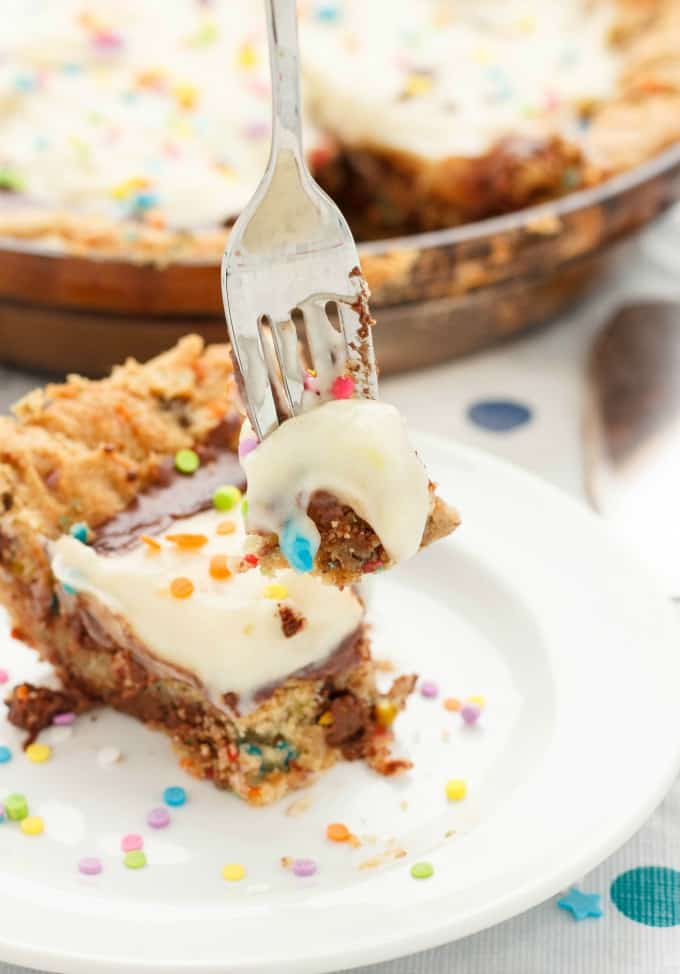 Birthday Cake Cookie and Pudding Pie
Strawberry and Raspberry Jell-O Parfaits with Almond Whipped Cream