Having seen all my previous posts, my readers are going to think I have tried everything on the menu at Milestones! I haven't been there that much but when I do go, I usually enjoy myself (except for the last time when our table reservations for a group birthday were delayed by 45 minutes and the food was the worst I had ever seen it.) Nonetheless, I do really enjoy their food and tend to go for my birthday each year. Now that we are really cutting down on takeout I have all the more reason to find a way to recreate their recipes.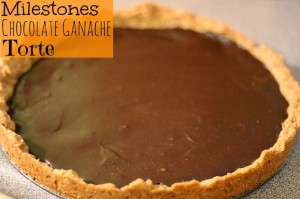 I made this last February for Valentine's Day. The outcome was a delicious dish but an outrageous amount for two people! I mean, one piece of this torte at the restaurant is enough to fill you so imagine trying to eat all the leftovers. The plus side is that you made this recipe yourself AND it costs less than one slice would at Milestones (though a treat is always nice!) I had to buy a springform pan but it had been on my list for some time. And even if I never made any other dessert in this pan, I would say I still got my monies worth! However, my one kitchen gadget I have gone without for ages, and really need to invest in one, is a food processor. I had no problems making this dish without one but it took some extra work.
Milestones Chocolate Ganache Torte with Homemade Caramel Sauce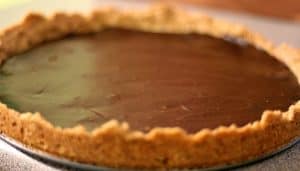 2 cups pecans
1/2 cup sugar
4 tbsp. butter, melted
8-10oz chocolate of your choice, chopped (I used semi-sweet chocolate chips and it was a sweet dessert.)
1 cup whipping cream
1) Preheat oven to 325F.
2) In a food processor add the pecans and sugar. Crush until you have a finely ground powder.
     *If you do not have a food processor, I used a blender to get my pecans noticeably finer. Even without a powder-like consistency, the crust turned out perfectly!
3) Keep the food processor running and add the butter slowly, mixing until you have a solid form.
     *Once again, used the blender but a food processor would have been soooo nice here.
4) Work mixture into a springform pan, making sure to spread the mixture evenly over the bottom and moving up the sides. Depends on how thick you want your crust, anywhere between 1/8th to 1/4th inch thick. Also, the recipes calls for a 10 inch pan but I believe my pan was 8 or 9 inches. You will just have a thicker chocolate layer.
5) Place in oven, uncovered, for 25-30 minutes or until crust is lightly coloured. Allow to cool.
6) Place your chocolate into a medium, heatproof bowl.
7) Over medium heat, add your whipping cream to a saucepan and bring up to a boil. Stir constantly to avoid scorching or boil-overs.
8) Remove from heat and pour over your chocolate. Do not mix until you wait 10 minutes.
9) After 10 minutes has passed, stir until chocolate is melted and combined.
10) Pour into your pecan crust and chill for a minimum of 4 hours, preferably a good 6 hours to overnight.
11) Slice into individual (bite size pieces since it is rich!) and drizzle with homemade caramel sauce.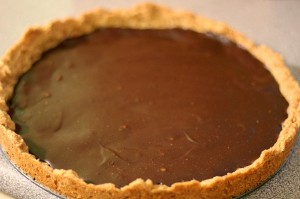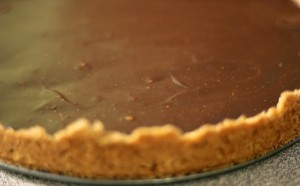 I love love love this recipe! And topped with homemade caramel sauce?! I am drooling now. Funny story, I made this recipe for the first time on Valentine's Day, along with the caramel sauce. The caramel sauce did not work out on my first attempt. I didn't have a candy thermometer and was going on the colour of the sugar water. Yeahhhhh, not a good idea when you have never made caramel before. Before I added the cream and butter I had a feeling the sugar was burnt but I thought, "Hey! Let's dip our finger in here to give it a taste." Instant blister on my finger. Worst pain I have ever felt, the liquid sugar crystallized to my finger instantly! When I told my Mother the story she called me an idiot and I fully deserved it! Thankfully, my second attempt turned out perfect!! I have since bought a candy thermometer and it has made the task less stressful (no more guessing!)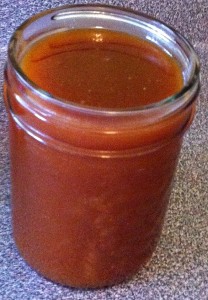 Sorry, I only had this photo taken from my iPhone. I will post a step-by-step in another post of how I went about this delicious sauce (I have used the caramel to make Starbucks Salted Caramel Hot Chocolate!)