Elegant and sophisticated, this maple cheesecake with rainier cherries is quite easy to make after you pit all those cherries!
Easter seems a bit early this year, appearing at the end of March! I am already in full spin on what Easter treats to make and when to post them. For now, I will begin with a recipe I made last month: maple cheesecake with rainier cherries! This was for my cousin's wife's birthday, along with my Aunt's birthday. I had never had or worked with rainier cherries before, but when I found them at an amazing price, I knew I could not pass them up!
They are definitely not as tart as regular cherries. So sweet in fact that I actually reduced my sugar in this recipe to counter-balance everything.
Now, if  you have worked with cherries before you realize that once you pit them, their colours tend to… fade. The cherry topping did not look appealing but tasted delicious! Leaving the cherries whole is a great option, but you just need an extra plate to deposit those excess pits (and some people may feel awkward about that!) Personally, if I knew I was serving this cheesecake today, I would make my topping shortly before the guests arrive so the colours stay nice and bright. But it is taste that matters!
On one final note, I used maple cookies in my crust. These cookies are sooooo good! I think I devoured a box myself… But if you do not have any cookies on hand, just add in more graham cracker crumbs. I add the butter slowly until the mixture just combines (so you may not need all the butter!)
Maple Cheesecake with Rainier Cherries
---
Kacey
Yields 10-15
A subtle hint of maple and the natural sweetness of rainier cherries brings this cheesecake together! The batter is enough for an 8-inch springform pan, but I like to make tall, 6-inch cheesecakes!
30 minPrep Time
2 hrCook Time
2 hr, 30 Total Time
Ingredients
Crust

2 maple cookies (you can omit these and add more graham cracker crumbs instead!)
1 1/2 cups fine graham cracker crumbs (you can buy them pre-ground or make your own)
1/4 cup butter, melted

Cheesecake

3 eggs, room temperature
1 cup sour cream, room temperature
500 g cream cheese, room temperature
1/4 cup butter, room temperature
1/2 cup brown sugar
1 1/2 tbsp. cornstarch
3 tbsp. maple syrup

Topping

1/2 lb rainier cherries, pitted
2 tbsp. maple syrup (I used real maple syrup that was infused!)
1 tbsp. cornstarch
1/4 cup water
Instructions
Crust

You can make the crust in advance.
In a food processor, combine your cookies and crumbs. Add in butter, slowly, until dough comes together and can be malleable. Press into 6-inch springform pan. Bake at 350F for 10-15 minutes, or until crust is nice and golden! Allow to cool completely.

Filling

Grease the insides of your 6" springform pan with butter. Wrap a couple of layers of aluminum foil around the outside of the bottom and sides of the pan. Do not skip this part! Have available another pan that is big enough to hold your 6" springform.
Preheat oven to 300F.
Add the eggs and sour cream into a large bowl and beat well with a hand mixer. In another bowl, add in the cream cheese and butter. Mix with your hand mixer until smooth (no lumps.) Pour this mixture into the sour cream mixture. Beat again until combined and smooth.
Add in the sugar, cornstarch, and maple syrup. Beat until combined, about 2 minutes (you want a nice, soft batter, but you don't want to over-mix either.) Pour the mixture into your pan until it is a couple of cm from the top (you will have extra batter if you are using a 6-inch pan, but if have an 8-inch pan it should all fit!)
Place this springform pan into the larger pan. Fill the larger pan up with hot tap water, just about halfway up the springform pan. Place into oven and bake for 1 hour and 45 minutes, or until lightly brown (note: start checking the cheesecake around the 1 hour 15 minute mark.)
Remove the pan from the oven and transfer the cheesecake out of the water and onto a cooling rack. Leave the aluminum foil on for the first 20 minutes to half an hour. Then remove the foil and continue to cool completely. Refrigerate, uncovered, overnight preferably.
*I used to cover my cheesecake but I find too much condensation appears!

Topping

Combine the cherries, syrup, water, and cornstarch in a small saucepan over medium heat. Bring to a boil, stirring constantly, until the mixture comes together. Remove from heat and allow to cool.
Place on top of chilled cheesecake and serve!
7.8.1.2
336
https://thecookiewriter.com/maple-cheesecake-with-rainier-cherries/
I feel this maple cheesecake with rainier cherries is appropriate right now because spring is sooooo close! We survived walking to school on blistering cold days, so I am sure we are prepared for all those rainy days!
Love this maple cheesecake with rainier cherries?! Try some of these recipes: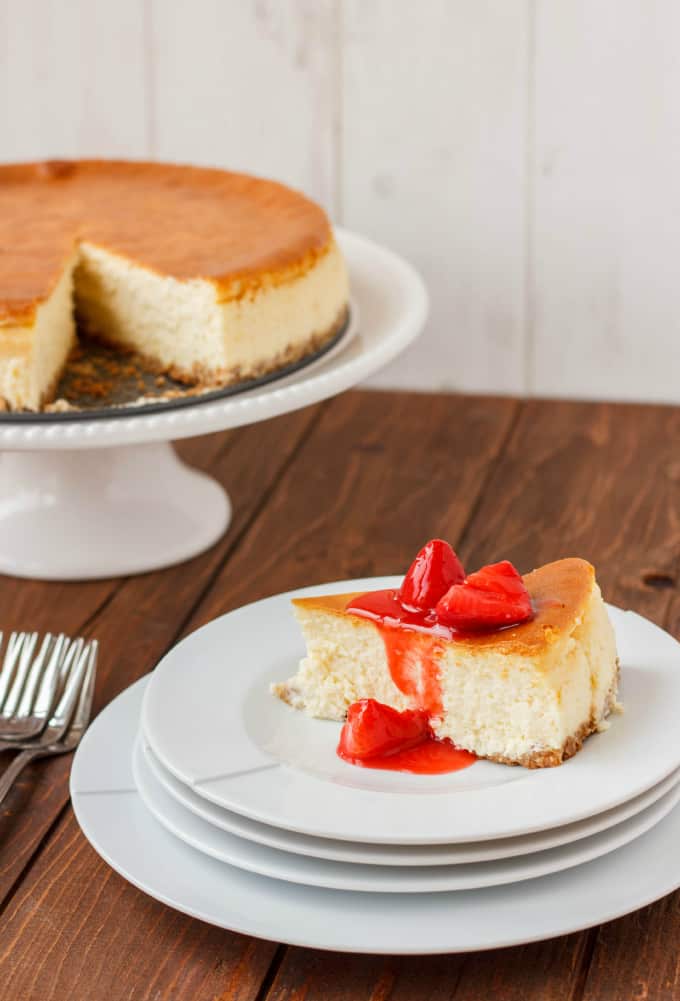 New York Style Cheesecake with Strawberry Topping