A lighter spin on a popular side dish, this lemon and dill mashed potatoes recipes uses freshly squeezed lemon juice instead of milk/cream/butter! Bold in flavours, feel free to customize to your liking!
The photos and recipe for these lemon and dill mashed potatoes have been updated as of January 31st, 2017!
While making the Lemon and Dill Patties last week, I knew I would be recreating the flavours into mashed potatoes. The patties were so tasty but kind of a pain because you had to boil them with the skins on and then remove them while the potatoes were still warm. I figured, why not simplify the recipe by mashing the potatoes.
This lemon and dill mashed potatoes recipe makes enough to be a side dish. I mean, my husband and I devoured this dish on its own with no problem, so best to pair it with an actual meal 🙂 I have been on a dill kick so I sprinkled more fresh dill on top of the potatoes afterwards. You can add salt to your potatoes if you feel like it, but feta cheese is really salty, so taste test first. NOTE: I paired this recipe alongside my blueberry molasses pork tenderloin!
Now, since these mashed potatoes contain no butter, milk, or cream, they are definitely lighter, healthier, but also produce a different texture. Not a bad texture! But not that creamy texture you are used to. Personally, adding in some butter, milk, or even a dairy-free milk would be fine here. But as is, these lemon and dill mashed potatoes are rewarding and so flavourful! That lemon flavour really comes through (and the saltiness from the feta just ties everything together.)
(Inspired from 
Vegetarian: Best-Ever Recipe Collection
)
Not only are these vegetarian and gluten-free, they are a healthy alternative to your regular milk and butter mashed potatoes. I never even thought past the common ground of milk and butter until I tried Nutmeg and Apple Cider Vinegar Mashed Potatoes. Trust me, one of the best flavours for mashed potatoes out there! We actually never make them any other way (until today.) You can easily change these lemon and dill mashed potatoes into a dairy free recipe by omitting the feta cheese. I would advise adding some salt to the potatoes if you vanquish the feta, they will definitely need it.
Love these lemon and dill mashed potatoes?! Try some of these recipes: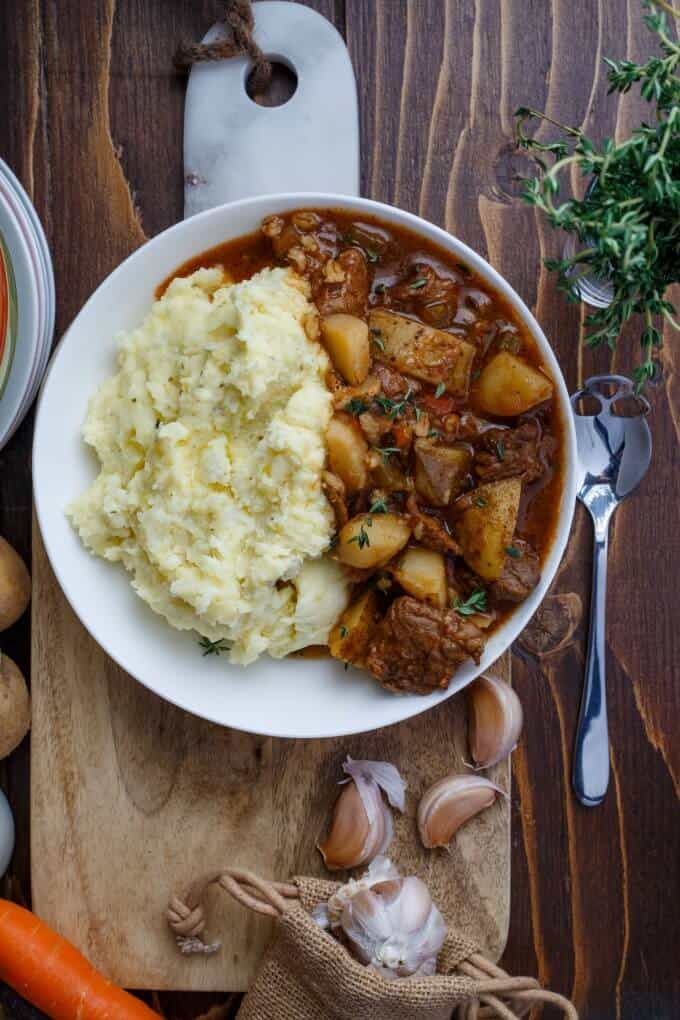 Herb and Garlic Cream Cheese Mashed Potatoes