A blend of frozen tart berries and a sweet filling makes these leftover chocolate buttercream and raspberry crepes the perfect brunch (okay, maybe the perfect dessert!)
I AM IN LOVE!
I decided to revisit my Lindor milk chocolate cupcakes with chocolate buttercream yesterday and in doing so, I was left with extra buttercream… again. I either have not enough, or too much. There is no common ground. I have used leftover buttercream in the past to stuff cookies, but I wanted something different. I figured why not go with a Mother's Day recipe, and that's where these leftover chocolate buttercream and raspberry crepes come into play!
Chocolate and raspberries?! Heck yeah! Not only did I use up leftover buttercream, but I went with frozen raspberries meaning you can make these bad-boys any time of the year without worrying about breaking the bank. I liked the sourness from the frozen raspberries paired with the sweet chocolate buttercream. It took every bone in my body not to eat all of the crepes…
Something I really love about this recipe is how easy it is to make. Crepes are sooooo easy. So easy, I tell you. People get intimidated because they look all fancy and special when really, they are just a glorified pancake. Okay, I would rather crepes over pancakes, but you know what I mean. Whenever we go out for breakfast I avoid crepes because I usually want something savoury and cannot justify spending an arm and a leg on a meal that really should cost nothing at all!
And fun fact: you can use store-bought ingredients to make these crepes. Just pick up a jar of chocolate frosting (or pudding if you feel daring!) and use fresh or frozen berries (but just remember, the tartness from the frozen variety meld so well with the chocolate!) Plus, you can make the crepes a day in advance and prepare all the toppings the day of. Perfect for a quick, Mother's Day brunch!
Leftover Chocolate Buttercream and Raspberry Crepes
---
Kacey
Yields 8
The crepe batter is pretty forgiving as long as you add ingredients slowly and whisk away any lumps!
10 minPrep Time
15 minCook Time
25 minTotal Time
Ingredients
4 large eggs
1 cup all-purpose flour
1 1/2 tbsp. granulated sugar
1 cup milk
1/4 cup water
1 tbsp. melted butter
1/4 tsp. vanilla

Filling

1-2 cups fresh or frozen raspberries
1-2 cups leftover chocolate buttercream
Instructions
Place eggs into a medium-sized mixing bowl. Whisk until paler in colour, about 2 minutes. Whisk in sugar. Add in 1/4 cup of flour at a time, whisking well between each cup to ensure no lumps form. Combine milk and water and slowly pour into mixing bowl, mixing well as you go. Stir in melted butter and vanilla. Refrigerate for an hour or so.
Place a non-stick frying pan over medium high heat (mine was about 8-inches.) Lightly grease the pan with butter and when nice and hot, pour 1/4 cup of batter into the pan. Swirl the batter so it reaches across all edges. Cook for about 30 seconds, or until golden underneath. Flip and cook until golden. Remove from heat and place onto wax paper.
Repeat until no batter remains (I greased the pan every second crepe.)

Assembly

Spread buttercream onto crepe. Sprinkle with raspberries. Fold and serve with drizzled chocolate and whipped cream if desired!
7.8.1.2
423
https://thecookiewriter.com/leftover-chocolate-buttercream-and-raspberry-crepes/
Easy, peasy! Seriously, I wish I had some crepes in front of me right now… Probably for the better that I don't 🙂
I always give food bloggers little, personal nicknames. For example, if they post a lot of drink recipes, they are the "Drink Queen," or maybe the "Grilling Queen." I am starting to see myself as the "Leftover Queen." Can I give myself a nickname? Is that a faux paux?!
Okay, that wraps up two full weeks of Mother's Day recipes! I cannot believe I posted 10 recipes in two weeks! In case you missed any, please take a look through the links below for some awesome ideas 🙂
Love these leftover chocolate buttercream and raspberry crepes?! Try some of these recipes: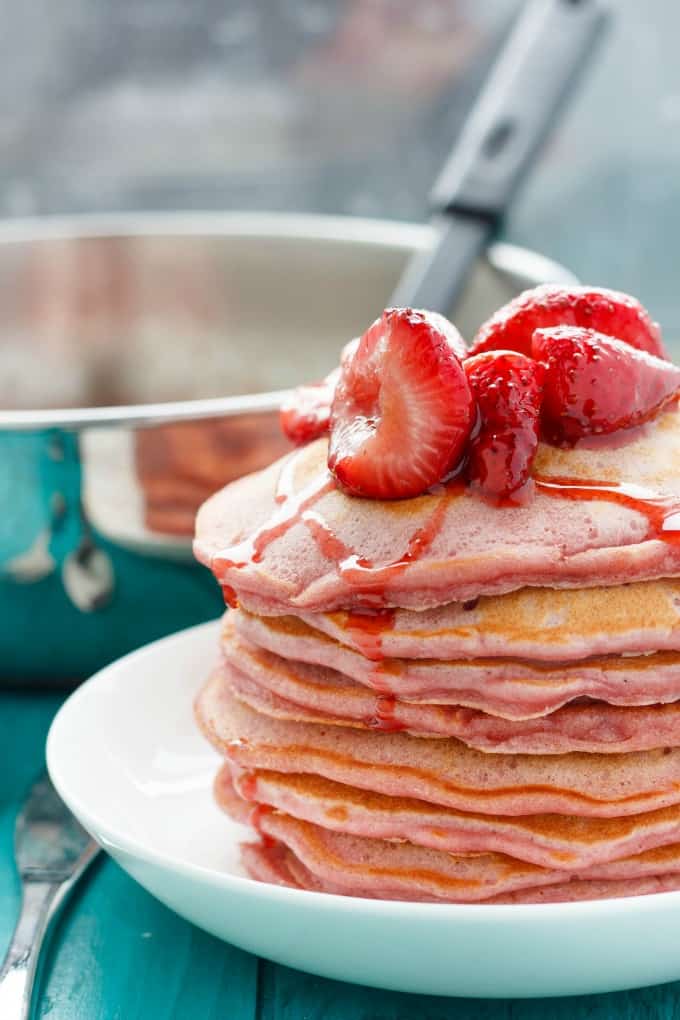 Strawberries and Cream Pancakes