A simple side dish from my childhood, these Greek lemon potatoes are super simple to make (and are vegan, gluten-free, and dairy-free!)
Today's post is sponsored by Knorr. Please take the time to look at their new short film, Flavour of Home, which shares the best flavour of them all (and brings tears to your eyes, so have a tissue ready!) And enjoy one of my favourite childhood recipes: Greek Lemon Potatoes!
The photos for these Greek lemon potatoes have been updated as of January 5th, 2017!
Having made it through this video from Knorr without shedding any actual tears (though I fought very hard!) I was reminded about the best flavour of all and how I have reinvented it to fit into my life now.
In my childhood, when I was growing up with my brother and sister, we were used to food that was plain and simple. Plain and simple is not a bad thing, though for many years I looked at it negatively. My parents are both picky eaters, each in their own way. Because of this, you can imagine our food was quite…  well, simple.
My dad still to this day strains any sauces to make sure there are no dehydrated onions in it because he dislikes them that much! Actually, onions in general are a no-no and we were denied onions as children! I get it, everyone has their own distastes, but onions are so flavourful! He even mentions he likes the smell of them, but it must be a texture thing.
My mom, she is a completely different story! Whereas my dad likes typical meat and potato types of meals, my mom does not like much of anything. It can be infuriating to us kids at times because we all love food and cannot understand how someone can be THAT picky! As we grew, we were able to break away from their habits and create meals that we loved.
So how does my cooking now remind me of home?
Knorr shared some interesting research and it was shown that 80% of Canadians are reminded of childhood by the taste of some foods. Whenever I make meals for my husband and daughter, I cannot help but think back to my childhood and how much these comfort food meals that I grew up with have expanded and evolved from my parents' basic dishes. Shepard's pie? My parents' kept it simple with meat, soup, and potatoes. Spaghetti? Ground beef and strained, jarred sauce (thanks, Dad!) Salad? Oh boy, I cannot even have iceberg lettuce at my age!
But you know what? These recipes were their own.
My mom stated she did want to be making three different meals for three different kids. Basically, say she was making lasagna: My brother did not like cottage or ricotta cheese, so that layer would have to be left out. My sister was pretty easy going, and myself, even before going full vegetarian, did not like meat in my pasta. I wouldn't want to make three different lasagnas either!
And I see this now more than ever when I make a vegetarian meal for myself, and a meat version for my husband and daughter. It can get tiresome! Thankfully, they eat anything and do not need meat all the time, but making more than one version of a recipe definitely reminds me of my parents. My dad wasn't as objective as my mom, and would make everyone their own lasagna (his take of a vegetarian lasagna was basically strained pasta sauce with noodles and cheese, haha! I love how he thought about me though!)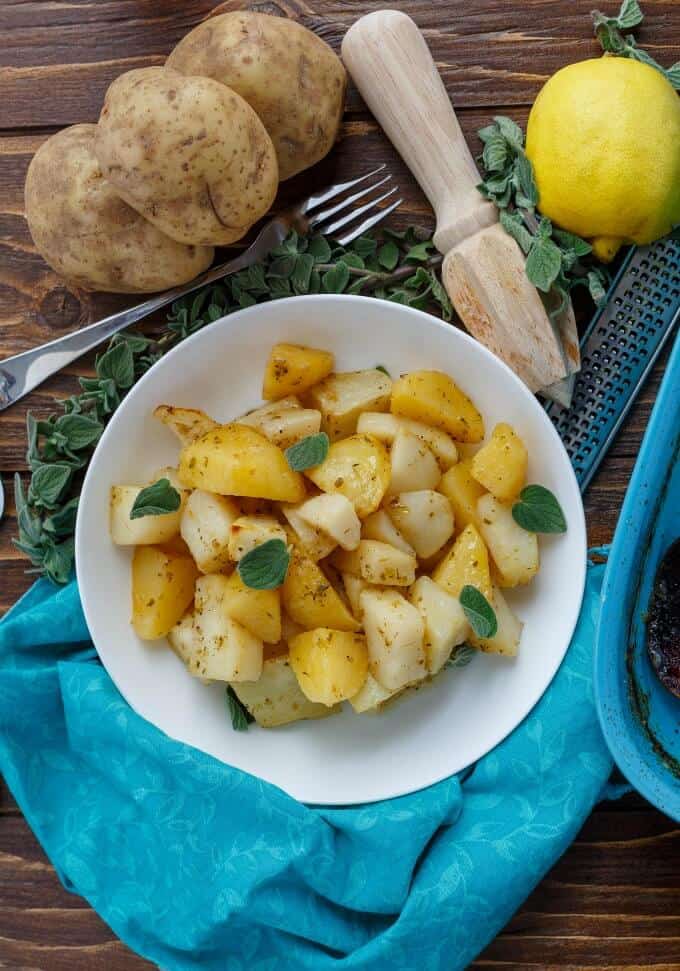 My recipes today are definitely nowhere near my parents' comfort level, but they are really happy as to how far I have come. The recipe I am sharing with you today, Greek lemon potatoes, came to us from my dad's love for them and expressing that love to others. He mentioned to the hygienists at our dental clinic how he loves Greek lemon potatoes, and the one woman shared her family recipe with us! I made them many times for my family growing up, and it is one recipe that has not changed much over the years (I use vegetarian broth instead of chicken broth so I can eat them.) Sometimes, recipes do not need to be changed and it makes me realize that maybe, just maybe, not all my parents' recipes were as plain as I thought!
Another part of the research I like from Knorr is how 74% of Canadians feel that food is always part of life's most meaningful moments and how 76% of Canadians enjoy cooking for the people they love. I cannot emphasize this more. I cook because I love it! Love making my family happy, I love sharing food with others, and I love the stories that come from it.

Knorr Flavour of Home Video and Greek Lemon Potatoes
---
Kacey
Yields 4
15 minPrep Time
1 hr, 10 Cook Time
1 hr, 25 Total Time
Ingredients
3 lbs potatoes, peeled and cut in half, and then cut each half in half again. Waxy potatoes preferred.
1/2 cup freshly squeezed lemon juice (about 3-4 lemons depending on size.)
1 tbsp. lemon zest (about 1 lemon worth.)
Salt and pepper
2 tsp. dried oregano
1/2 - 3/4 tsp. garlic powder
1 cup vegetable or chicken broth
1/4 cup olive oil
Instructions
Preheat oven to 400F.
Prepare potatoes, wash, and pat dry. In a medium-sized mixing bowl. combine the remaining ingredients.
Add the potatoes to a 13x9 inch pan and pour the sauce over top of them (making sure to whisk the mixture so everything combines again.)
Cover and place into oven for 30 minutes. Remove potatoes and stir. Cover again and cook for 30 minutes. Stir again and return to oven, uncovered, and cook until desired softness is reached (I needed about 10 more minutes because of the size of my potatoes.)
Serve with your favourite main course and sprinkle with fresh oregano if desired!
7.8.1.2
273
https://thecookiewriter.com/knorr-flavour-of-home-video-and-greek-lemon-potatoes/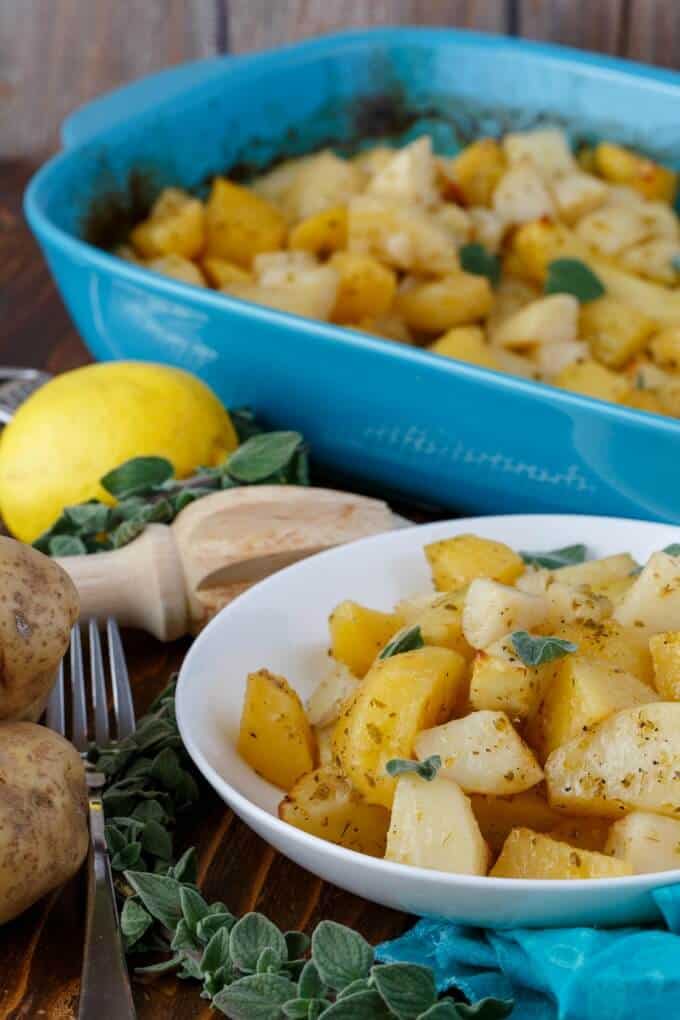 Just a minor change in these Greek lemon potatoes (using vegetable broth instead of chicken,) but my brother said he didn't notice a difference in taste at all! I must admit though, not many of my recipes from my childhood are this easily adapted 🙂
PS. My sister wants to know, Knorr, whatever happened to your Greek Pasta Salad Sidekick?!
This is a sponsored post. I was fortunate enough to receive products/monetary compensation from Knorr. Though products were received, all opinions are my own and I would not recommend a product that I did not enjoy.
Love these Greek lemon potatoes?! Try some of these recipes: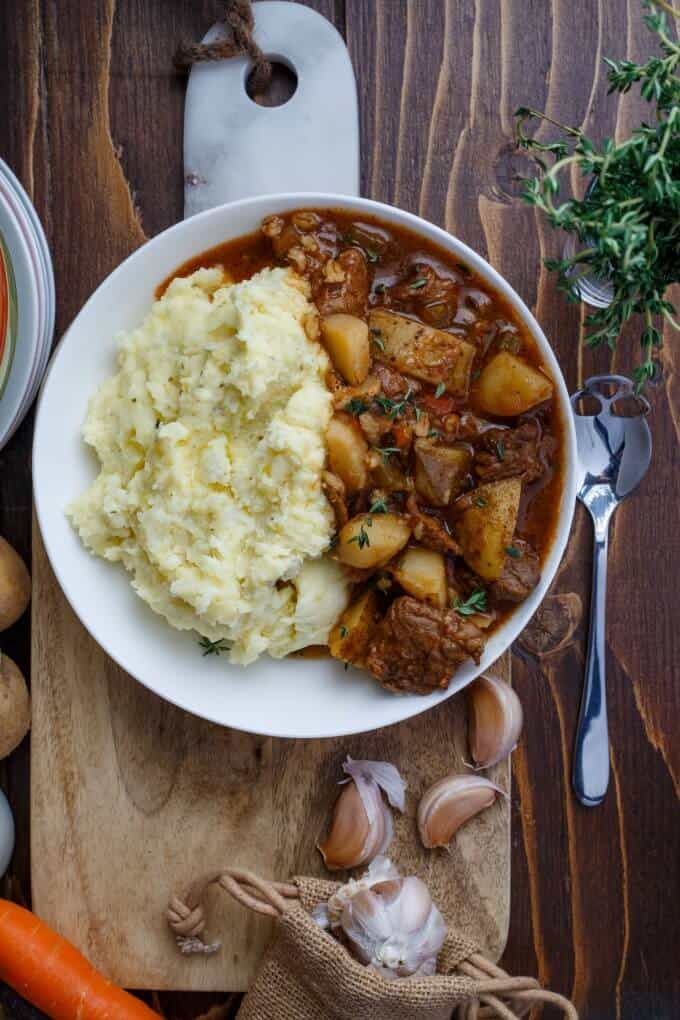 Herb and Garlic Cream Cheese Mashed Potatoes