Our temperatures are beginning to change for the better, but I am still craving hot beverages! This homemade Kit Kit hot chocolate is a simple way to get that chocolate fix into you 😉 
I won't lie and totally admit, the first thing I did before writing this post was look up if Kit Kat is one or two words…
And even after my research it is still a tad confusing.
As you can see from the packaging in my photos, Kit Kat appears to be one word. Since I don't fully understand it, I am going to tip toe around the issue and just use two words 🙂 If I happen to use one word in the post, it is not on purpose!
I ran an event in Toronto last month, and we still have TONS of Kit Kat bars hanging around. Never a bad thing, unless you are trying to cut back on sweets (who does that?!)
This homemade Kit Kat hot chocolate is really easy to make, and you can adjust your sweetness levels accordingly! Want more of a Kit Kat flavour? Add more chocolate crumbs. Craving sweetness? Add more sugar! Personally, we love the recipe as is, but that is what I LOVE about cooking! You can make any recipe your own 🙂
Now, I am trying to get ahead on recipes for the year. I have big plans for my site, which I think will benefit everyone 🙂 I'll talk about it more next week when I will hopefully be launching the new idea. Until then, I will let you know that there will be more Kit Kat recipes to come until I run out of bars! I already have a summer recipe planned 🙂
And on a final note, my new cell phone should be in this week so I will be more active on social media! I have been slacking all around but my current phone has to be plugged in 24/7 or it just dies randomly. I actually had the new phone in hand last week but it died within a day… Not impressed, but hopefully that is all behind us! Until then, let's warm up with this Kit Kat hot chocolate 🙂
Homemade Kit Kat Hot Chocolate
---
Homemade Kit Kat hot chocolate is a great way to warm up this cold season! Also a great way to use up leftover Halloween candy 😉
5 minPrep Time
10 minCook Time
15 minTotal Time
Ingredients
2 (45 g each) Kit Kat chocolate bars
1 tbsp. unsweetened cocoa powder
1 tbsp. sugar (more or less depending on your sweetness level!)
1 3/4 cups milk
1/4 cup heavy whipping cream
2 tbsp. boiling water
1/4 tsp. vanilla
Pinch of salt
Homemade whipped cream, store-bought, or whipped coconut cream for topping
Instructions
Snap Kit Kat into 8 sticks. Reserve 2 sticks for garnish. Place the rest in a food processor and process until a fine crumb forms.
In a small saucepan, add 3 tbsp. ground Kit Kat, cocoa powder, sugar, and salt. Pour in boiling water and heat over medium, allowing the mixture to come together into a smooth paste, stirring frequently. Add milk and cream. Stir and raise heat, bringing it to just before a boil.
When hot, remove from heat and add vanilla. Divide into two cups and top with whipped cream.
Sprinkle with additional Kit Kat crumbs and sticks.
Notes
Add more or less sugar depending on your tolerance. With the mix of whipped cream and Kit Kat crumbs, it should be sweet enough as is!
7.8.1.2
594
https://thecookiewriter.com/homemade-kit-kat-hot-chocolate/
Love this homemade Kit Kat hot chocolate?! Try some of these recipes: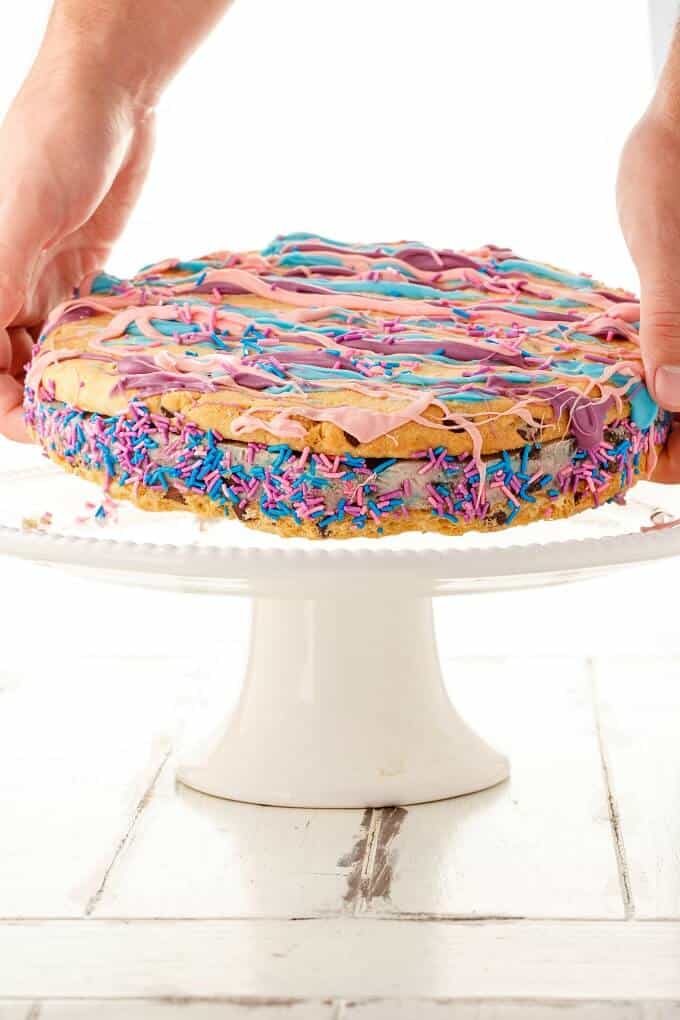 Giant Chocolate Chip Cookie Ice Cream Sandwich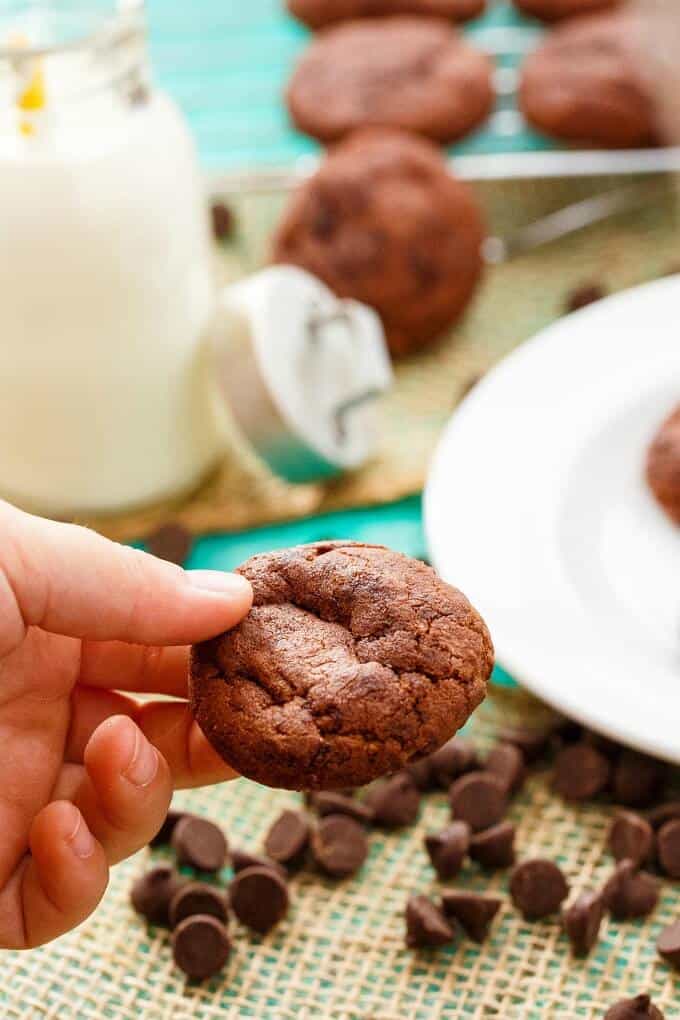 Double Chocolate Cookies with Hershey's Chipits