Cool me down with ice cream any day this summer! This homemade butter tart ice cream is perfect for the sweets-lover in your life 🙂
By now I am going to assume you see the theme with my previous posts 😉
Butter tarts are my go-to when I think about Canadian dessert.
This will differ for other Canadians, especially depending on what province you live in. But for me in Ontario, it is butter tarts! No surprise then that I came up with this homemade butter tart ice cream!
I swear I can turn anything into ice cream! Okay, don't hold me to that, but especially in the warmer months I like to break out the ice cream machine.
Again, this recipe uses leftover butter tarts. Homemade or store-bought both work!
I want to say that after posting three butter tart related recipes, it was really tempting to recreate them all and post one giant butter tart overloaded dessert! Imagine homemade butter tart banana bread, topped with homemade butter tart ice cream, and finished off with butter tart cookies. Bam! The ultimate Canadian dessert! This may still happen…
However, topping some butter tarts with this butter tart ice cream was good enough for me 🙂 And even then, I don't recommend doing it often as this was one SWEET dessert!
As for the homemade butter tart ice cream itself, it is sweet. The best part about homemade ice cream is that you can adjust ratios accordingly. I initially reduced the sugar in this recipe and found it okay for my tastes, but if you are worried, you can reduce it more OR add more cream to balance things out. You can also the amount of butter tarts you add to the ice cream, but then I worry it will lose its butter tart appeal 😉
June is coming to an end and summer officially begins! I'll still be here throughout the summer, but my posting may be irregular at times as I will be spending my time with family 🙂 The goal is to get our pool decking done so we are not walking on gravel and dirt constantly. We enjoy doing things ourselves and even though they take a bit longer (okay, maybe a lot longer!) we are getting the results we want for a fraction of the price 🙂 However, more work means less time cooking so we tend to eat out more (which is still much cheaper than hiring a contractor!)
Homemade Butter Tart Ice Cream
---
Yields 1 quart
A true Canadian dessert, this homemade butter tart ice cream is perfect for Canada Day!
10 minPrep Time
15 minCook Time
25 minTotal Time
Ingredients
2 1/2 cups heavy whipping cream
1 cup milk
1/8 - 1/4 cup granulated sugar
5 egg yolks
1 tbsp. cornstarch
Pinch of salt
1/4 tsp. vanilla
1/2 cup pecan halves, roughly chopped
2-3 butter tarts, roughly chopped, plus 1-2 more for topping
Instructions
Mix together 1 cup of cream and cornstarch. Set aside.
Combine 1 1/2 cups of cream and milk in a medium-sized saucepan over medium heat. Stir in sugar and salt. Stir in one butter tart (don't worry about sogginess, I have us covered!) and continue to whisk frequently until sugar has dissolved and mixture is very hot (but not boiling!)
Whisk egg yolks in a mixing bowl until paler in colour. Carefully and slowly pour the hot liquid from the stove into the eggs, whisking constantly so you do not curdle the eggs. When fully combined, add the mixture back into the pan through a fine sieve. Pick out any chunks of dough and pecans. Add pecans back into ice cream and pour in cornstarch mixture. Bring to a hot temperature again (not boiling!,) stirring frequently. Remove from heat, stir in vanilla, and allow to cool to room temperature (you can stir occasionally to prevent film build up.)
Cover and place into refrigerate overnight. When time to churn, follow the directions on your ice cream machine. In the last 5 minutes or so, add in the remaining chopped butter tarts and chopped pecans. Pour churned ice cream into container and top with additional butter tarts if desired! Store in freezer-safe containers and allow to sit out for 5-10 minutes before serving!
Notes
I reduced the sugar greatly compared to my other ice cream recipes as the butter tarts add quite a bit of sweetness! If you want more sugar, feel free to add in more butter tarts!
7.8.1.2
630
https://thecookiewriter.com/homemade-butter-tart-ice-cream/
Need more butter tart recipes?! Here are my recommendations:
Canadian Maple Butter Tarts from The Rustic Wife
Butter Tarts from Well Plated
Love this homemade butter tart ice cream?! Try some of these recipes: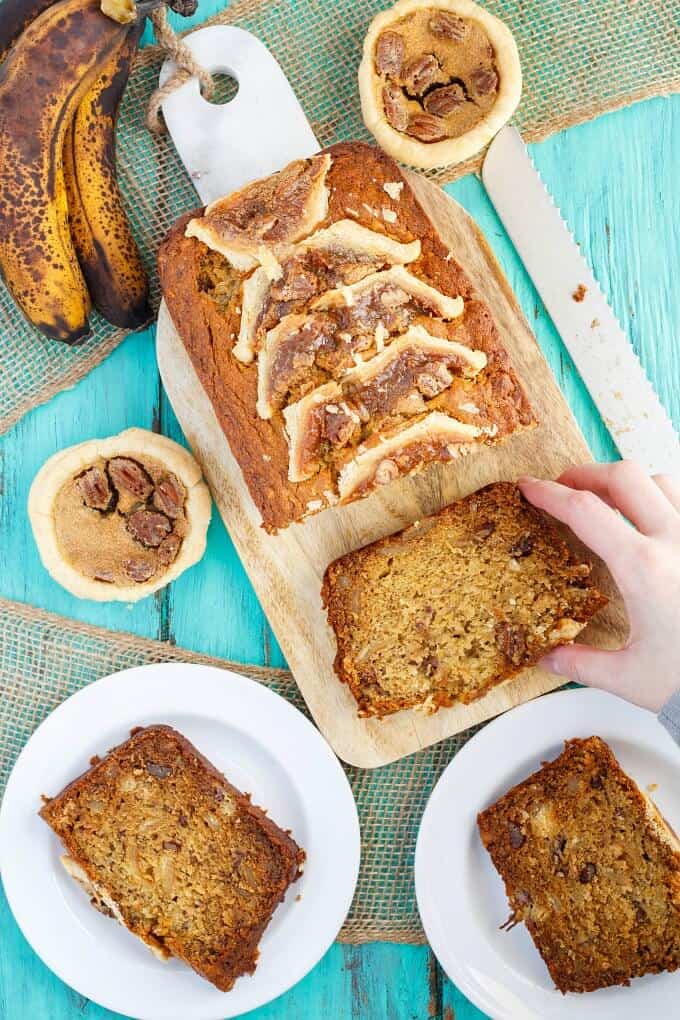 Homemade Butter Tart Banana Bread
Butter Tart Cookies (Semi-Homemade)