You know, as a food blogger, you can't help but photograph your food.
You take the time to prepare your shot, making your food look pretty and appetizing, all the while your family waits patiently for you to hurry the heck up! Yeah, my family has some patience, but when I am cooking for others I feel bad making them wait, so I tend to rush my shots or skip them altogether. I managed to get a shot of this awesome Chickpea, Cucumber, and Avocado Salad we had with our neighbours, but after cooking all day and then photographing all the other food, I was exhausted. I promise to recreate this salad again to prove to you that it not only looks awesome but tastes awesome!
This salad was a huge hit! Melissa, my picky neighbour (just kidding, she lives on the less adventurous side when it comes to certain meals, hint hint, avocados) loved this creation! She dubbed it our new summer salad, and rightfully so. It is packed full of healthy ingredients, including lots of protein, all the while remaining vegetarian and gluten-free. Omit the feta cheese and you have yourself a vegan salad!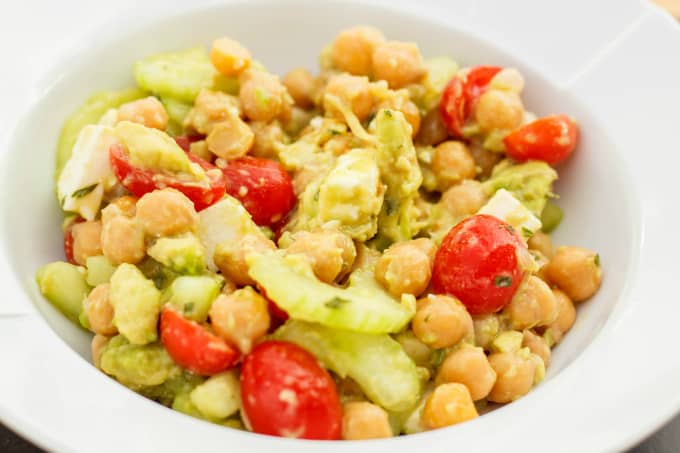 ---
Kacey
Yields 2-4
A healthy and tasty summer salad packed full of protein.
10 minPrep Time
10 minTotal Time
Ingredients
1 large avocado
1 large cucumber
1/2 pint cherry tomatoes, halved
1/4 cup feta cheese, crumbled
19 oz can chickpeas, drained
Salt
Dressing:
2 tbsp. freshly squeezed lime juice (about half a lime)
1-3 tbsp. olive oil
1 tbsp. fresh mint, chopped fine
Instructions
Cut your cucumber in half lengthwise and remove the seeds. Slice into smaller pieces and place into a colander. Sprinkle with some salt and allow the cucumber to sweat for 30 minutes to 1 hour. This will help your salad from becoming watery. Rinse with cold water and pat dry.
While the cucumber sweats, whisk together the lime juice, olive oil, and fresh mint. Adjust olive oil to your desired flavour (how limey you want the dressing.) Cover and allow to sit in the fridge.
To assemble your salad, place cucumber into a large salad bowl. Slice the avocado and cut into cubes. Pour over cucumber. Add in the tomatoes, cheese, and chickpeas. Pour in the dressing and toss until combined. Serve immediately or allow to chill for about an hour for the flavours to meld. Don't wait too long because avocado likes to brown over time!
7.8.1.2
6
https://thecookiewriter.com/gluten-free-and-vegetarian-healthy-chickpea-cucumber-and-avocado-salad/
(Inspired by Kalyn's Kitchen)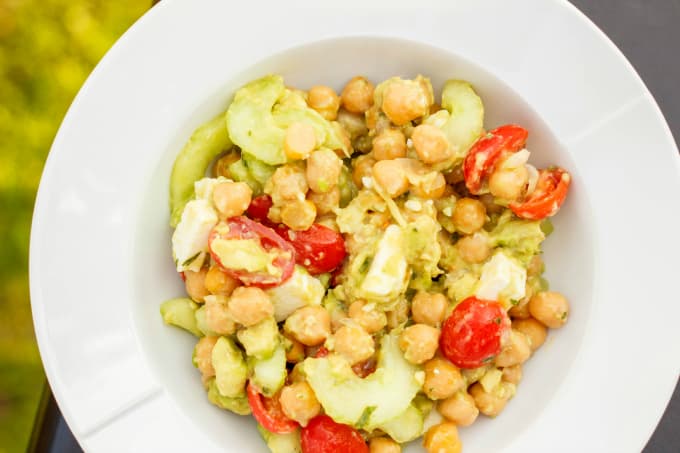 The Chickpea, Cucumber, and Avocado Salad was so flavourful, so light, so perfectly summer! I thought the dressing would be too limey, but personally, after tossing it with the rest of the ingredients, it seemed to mellow out. You can also add extra mint to the salad. I was a little hesitant to add a lot because I had never worked with fresh mint before (shocking!!) but it was not overpowering at all. I actually had Dan pick up fresh mint and cilantro because I was worried I would not like the mint in the salad. However, cilantro would work here as well. I would maybe add some corn to this salad if I was going to add cilantro and make it almost like a salsa/salad combo!