A fun and exciting project that can be completed with your child, this giant monarch butterfly cookie is made with royal icing and no special cookie cutter is required!
What a fun and exciting project I have for you today!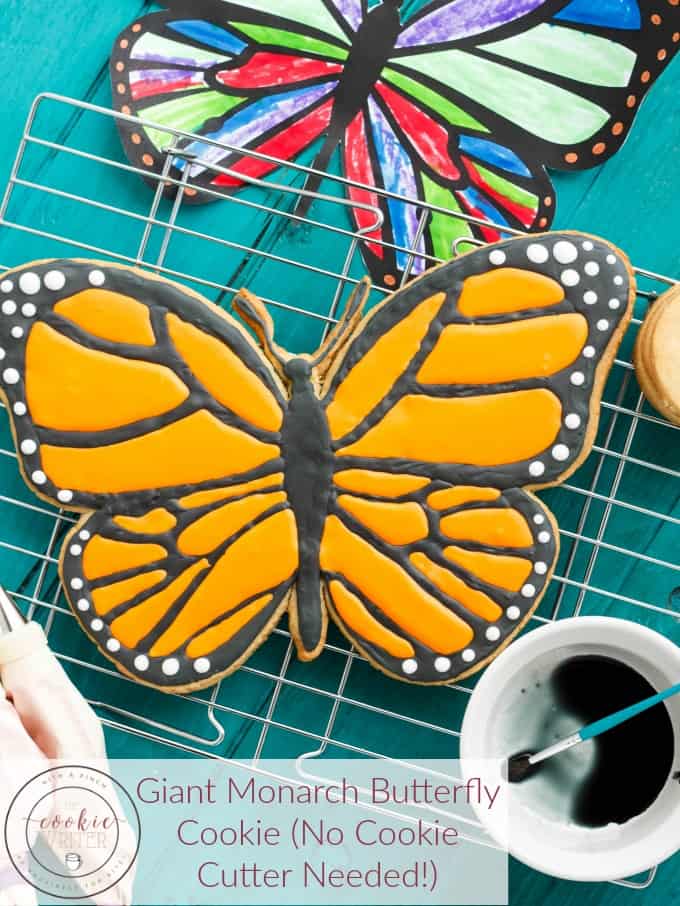 This giant monarch butterfly cookie was made for my daughter's class in relation to one of the books they read at the library. Éowyn loves reading. Actually, it has gotten to the point where if she falls asleep before we read (whether from chilling upstairs or just exhaustion) she will wake up in the middle of the night crying because "we did not read to her." Yeah, her words exactly. Trying to explain that she fell asleep before we could read is like talking to a wall. Now I just make sure to read a book no matter how tired she is!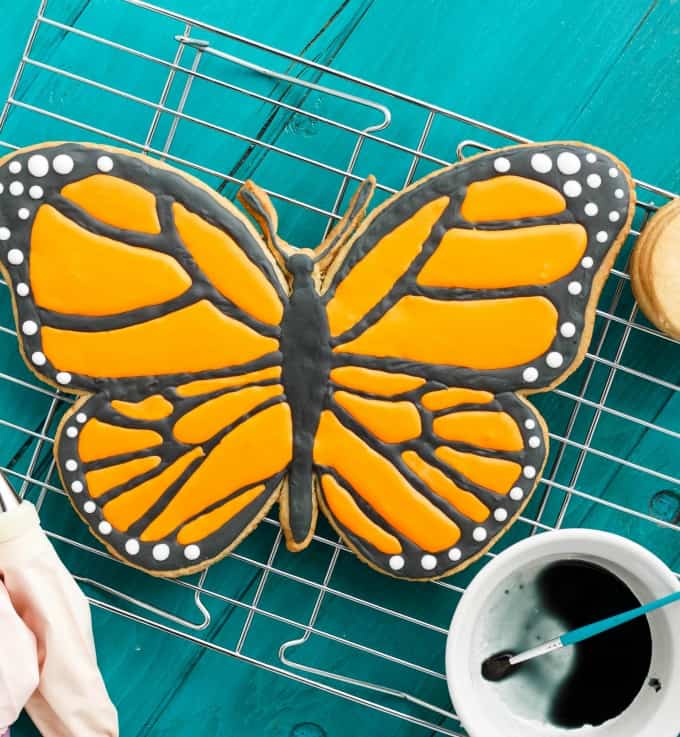 Of the 10 books they read and discussed, Éowyn chose Butterfly Park by Elly MacKay as one of her favourites and decided we should do a cookie based on the book. I personally have not read it, but the artwork looks truly amazing! Plus, what little girl doesn't like butterflies?! Coming up with a cookie idea was not hard, but in all honesty I did not feel like making 16-20 small cookies again, especially when it comes to royal icing. As I have mentioned before, I have a love/hate relationship with royal icing but I won't bore you today with that rant.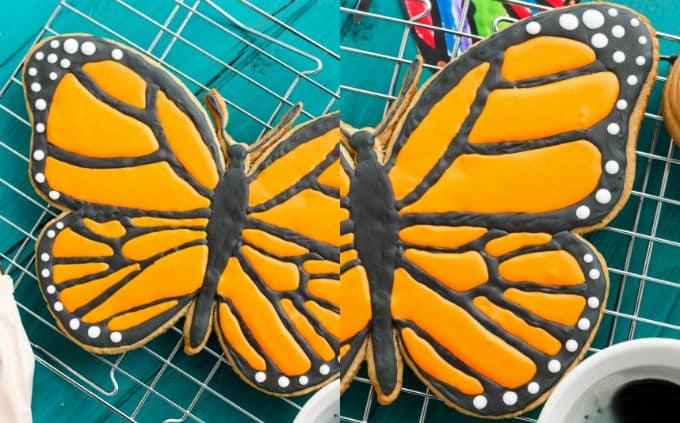 Instead, we decided to do one giant cookie! I had my reservations, but in the end I think this giant monarch butterfly cookie turned out a-okay. I mean, I can see the imperfections but let me tell you, royal icing dries fast and trying to decorate a giant cookie in record time is very, very hard. Otherwise, I had a lot of fun doing this project and kiddo was all eager to help. Best part? No special cookie cutter required! That's right. I actually printed off a butterfly template (found here) and cut it out with scissors. I then placed the paper cutout on top of the rolled out cookie dough, and bam! Perfect butterfly cut out using a butter knife. Not only did we save money by not buying a special cookie cutter, but we put the stencil to good use afterwards by having my daughter colour it to her liking 🙂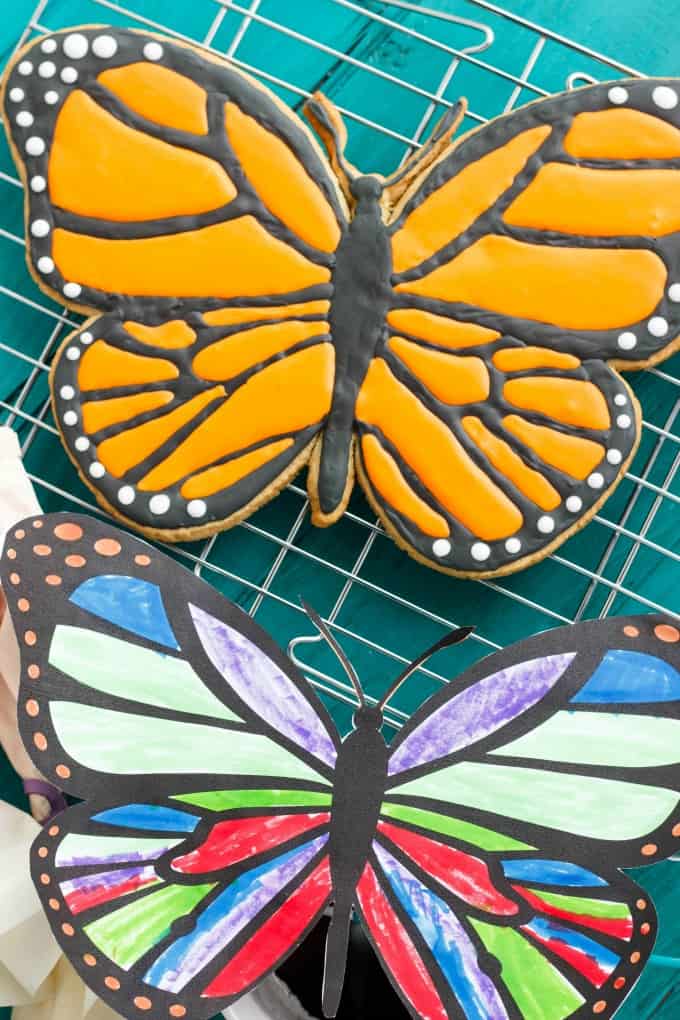 Recipe!
I used my staple sugar cookie recipe that can be found under my royal icing Easter cookies from a few years ago! One batch got me about one giant cookie and about 17 small round cookies, but it all depends on size and thickness of your cookies. You could easily get two giant butterfly cookies from one batch. My cookie needed an extra 10 minutes in the oven because of thickness and size.
For the colours I used Wilton Black, and Wilton Orange with a mix of some Wilton Copper.
For the royal icing, I prefer Sweetopia's version but have been omitting the cream of tartar as of late. She also provides some awesome tutorials.
The butterfly template that I used as my "cookie cutter" can be found here.
I worked in increments. I started with the top left wing with the black, followed by white. Repeated for all other wings. Then waited for the black to dry before filling in with orange so no colours would bleed.
This is such an exciting project for Mother's Day! My mom would appreciate the gesture, but all she would really care about is eating the cookie! And you do not have to do a monarch. Any colour pattern would work here and I look forward to revisiting this idea and doing a steampunk butterfly!
Love this giant monarch butterfly cookie?! Try some of these recipes: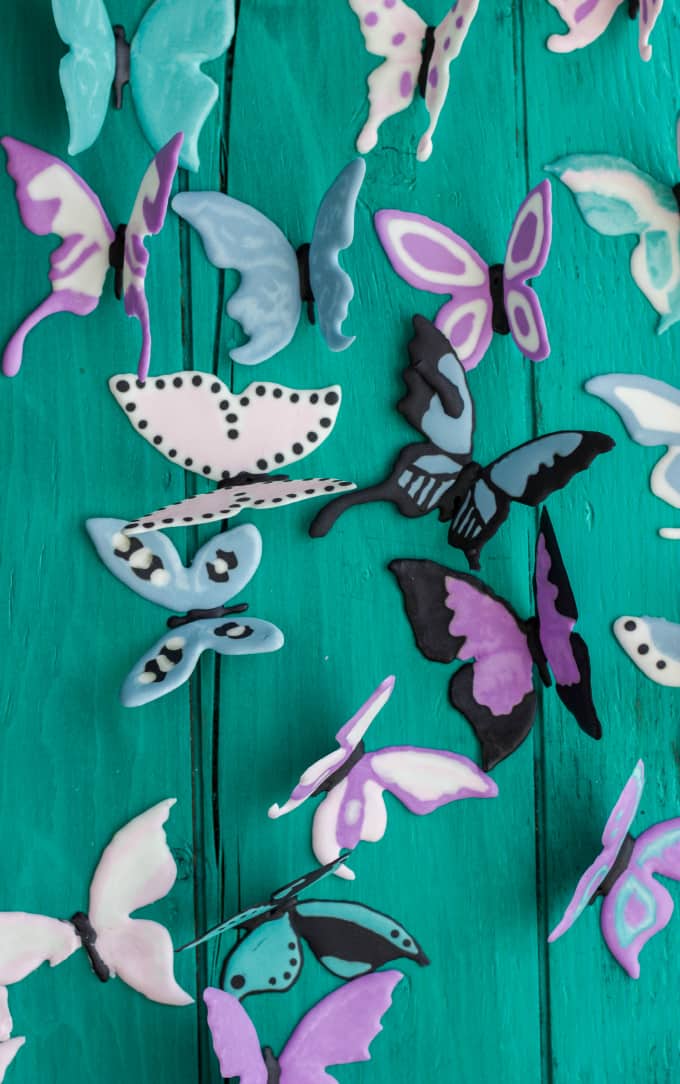 Royal Icing Butterflies Tutorial