Christmas has come and gone. I hope you all had a Merry Christmas! I have made so many cookies I think it is all I am going to taste for the next two weeks. Since I have a couple of other Christmas cookie recipes, I figured I might as well finish it off by posting my go-to sugar cookie recipe. I found this recipe long before Pinterest and even after browsing Pinterest all these years, I have never thought to try another sugar cookie recipe. Why would I when I have the best sugar cookie recipe ever! Okay, that is pretty bias considering I have not even thought about trying another recipe. I just believe there is no reason to keep searching when these cookies have all the goodness a sugar cookie recipe should.
1) Soft, if rolled thick (1/4 inch or thicker.)
2) Crispy, if rolled thin (below 1/4 inch.)
3) Delicious flavour
4) Holds their shape! This is probably the most important factor next to flavour.
5) Easy and even with refrigeration time, quick to make.
6) Makes a TON of cookies, trust me (obviously depending on size.)
Now, why are all these important, except for the obvious? Everyone loves an easy, tasty cookie that looks great. Plus you need to have ample of leftovers to quench those cravings. I never realized it before, but I have seen lots of comments on other sugar cookie recipes stating that they tasted great but did not hold their shape. What looked like a snowman one minute, looked like a giant circular blob the next. Nothing worse than seeing your pretty creations turn into a catastrophic mess. Thankfully this recipe should never yield those terrible results.
Best Ever Sugar Cookies (who hold their shape!)
(Adapted from Food.com)
1 1/2 cups sugar
1 1/2 cups salted butter, softened
2 large eggs
2 tbsp. vanilla
4 cups all-purpose flour
1/2 tsp. salt
1 tsp. baking soda
1 tsp. cream of tartar
1) Add sugar and butter to your stand mixer. Cream until light and fluffy (5+ minutes.)
2) When the mixture seems paler in colour, add the eggs and vanilla. Beat until combined.
3) In a separate large bowl, mix together flour, salt, baking soda, and cream of tartar.
4) With your mixer on low, slowly add 1/4 cups of dry mixture to your wet ingredients. Adjust speed accordingly and mix until combined.
5) Cover the bowl and place in refrigerator for a minimum of 30 minutes (I usually wait an hour.)
6) Preheat oven to 350F.
7) Dust your work surface with flour.
8) Separate the dough into two balls, rolling out one at a time to desired thickness (I like thicker dough for softer cookies.)
9) Use your cookie cutters to create various shapes.
10) Continue rolling dough until all the cookies are cut out.
11) Place cookies on parchment lined baking sheets and bake for 10-12 minutes.
12) Cool on pan for 5 minutes and transfer to wire racks.
13) When cool, decorate with your favourite icing!*
My favourite royal icing recipe is from Sweetopia. Not only does she share her favourite icing recipe, she provides great tips and helpful instructions on how to prepare and use this recipe. I found the icing was easy to use the two times I have made it and even a person with no artistic talent, like myself, can find themselves with awesome cookies (and some really horrible ones, too!) The neatest thing about this recipe is how long you have to mix the ingredients in order to create that stiff, peaked icing.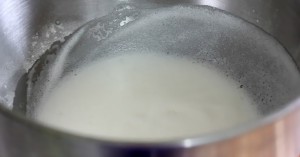 You start with a really runny, goopy mess. As you begin mixing, you will probably become concerned that the consistency isn't right.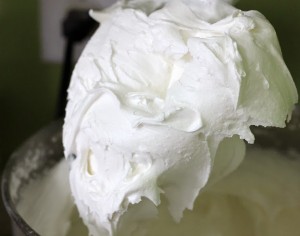 Keep mixing! After 10 minutes you will have this fluffy, scary pile of royal icing. But how will we pipe this onto our cookies?!
You need to add water to the icing until you reach your desired consistency. It sounds intimidating but I assure you, it is not. If you add too much water, then add more icing sugar to compensate. I find separating the royal icing into separate containers before adding the water and food colouring is best but you may have your own methods.
**For helpful information about royal icing, checkout Sweetopia's awesome tutorial here. This is what I used and I will never look back!