With the DIY craze all over the Internet, many people have embarked onto this journey to save money and create something unique. I personally find DIY projects relaxing. In the end you come out with a great product (hopefully!) and feel great about what you have accomplished and how much you have saved. Now while you may save money, time is of the importance in these projects!
This project was easy, cheap and time effective! Take away drying time and the project took between 30 minutes to an hour! I was so into it that I completely forgot to take progress pictures but I will explain my process.
Piece of wood cut your desired length.
*1×4 pine board 8 feet in length (Home Depot)
Minwax Stain- English Chestnut
Paint- Benjamin Moore's Simply White
Black Acrylic paint
Measuring tape
Ruler
Paint roller with paint tray
Cheesecloth
Small paint brushes
Pencil
Vaseline
**NOTE: You do not have to use my technique. I wanted a distressed look. Any stain, paint, application products will do. I prefer to apply my stain with cheesecloth, others use t-shirts. Up to you!

Step 1- Determine the height you want the growth chart to be and cut to desired length. I went with 7 feet in length total (we do have a couple of friends who are incredibly tall!)
*Make sure to cut off an extra 6 inches to compensate for the baseboards. My growth chart starts at 1/2 foot because I needed to place the board six inches from the ground.
Step 2- Sand piece if necessary. Wipe away any excess dust.
Step 3- Stain wood so you have a nice dark colour to show through your distressing technique later on. Let dry recommended time. You may have to apply a second coat. I did two since I found my first coat too light.
Step 4- When dry, apply Vaseline to areas where you want your paint to chip/flake away and expose the wood grain. Do no go too crazy, you want it to look natural. Most people place the Vaseline around the corners and edges. It spreads easily so be careful, some of my areas were a bit more distressed than I wanted but in the end it worked out!
Step 5- Apply your top coat of paint. One coat should be sufficient but apply as many as needed. Just remember, the more coats, the more distressing you will have to do to reach the original wood grain. Allow to dry.
Step 6- Lightly sand off paint where you placed the Vaseline. You will know where it is because the paint will have a bubbled look. Sand elsewhere on the growth chart to give yourself the desired distressed look you are looking to achieve.
Step 7- Wipe down the wood to get rid of any excess Vaseline.
Step 8- Take your measuring tape and measure out the lengths you desire. Use a pencil so you can see all your hard work. I measured out "feet" first then used a ruler to measure out inches and half inches. I preferred the look of extra lines and when measuring my daughter she always seems to be in the half inch range (ie. 36.5 inches instead of 36 inches.)
Step 9- Paint on the lines you have drawn with black paint (or use a sharpie.) Acrylic paint dries quick!
Step 10- You can freehand your numbers but I decided to print off the numbers in a font I liked. I lined the numbers up where I wanted them and used a pencil to trace over top the piece of paper. Make sure to use enough pressure so that the pencil leaves an imprint in the wood. Take off the paper and use a paint brush to fill in the number with desired paint colour. I actually used a makeup brush to get a nice finish.
Step 11- When dry, lightly distress the numbers using sandpaper. Find the perfect spot and hang your new masterpiece!
I love how it turned out! The ideas are endless when it comes to this project. I wanted it to look like an old school ruler but thought that an all wood look would blend in with my dark brown walls. Now if only we could convince girlie to lean her back up against it so we can measure her! At least it looks pretty. You could easily make this as a gift for someone's baby shower. They will be awed when you tell them you made it yourself.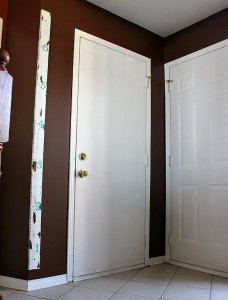 Cost: $5 (I had all the supplies except the wood. The wood might have been a couple of dollars but I rounded up the total project cost based on supplies used.)
Time: 30 minutes to 1 hour (dry time not included.)
Skill: Easy! I even cut the pieces myself!