It can be hard to eat healthy during a really cold winter! All I want is comfort food! Today's cranberry-lentil muffins still contain sugar, but they make for a nice breakfast when cereal just isn't good enough 😉
I would totally be okay if spring decided to pop in early 😉
Winter is not a favourite for many, and usually I do not mind it, but it has just been sooooo cold! Snow would be fine: cold, well, no, haha!
A couple of weeks ago I was doing some recipe testing for an event, and all the recipes are DELICIOUS, however, the dessert just would not co-operate! Finally, after almost 1/2 dozen creations, I got something to my liking and actually feel it makes more sense for the event. Then the event came, and I am sooooo happy to be back to my regular job, haha. I totally understand why I like to work in the comfort of my own home 😉 Jokes aside, it was an experience I would never have otherwise and it is wonderful to see how chefs work in the kitchen.
(Can you spot the muffin with a face?!)
Some of you may see the similarities of today's recipe with my cranberry lentil bread. I mean, they are basically one and the same recipe. Cheating! However, I have had enough interest in a muffin version of this recipe that I decided it did deserve its own post!
These cranberry-lentil muffins are everything you want for breakfast without the hassle of actually making them for breakfast 😉 Great for meal prep in the sense that muffins make great freezer meals! Thaw them out that morning or gently heat in the microwave. Recipes like this one bring me back to when I was making homemade baby food for my daughter. I would have a month's worth of meals in the freezer, and a schedule on the fridge. Every night I would move what I needed from the freezer into the fridge so it would defrost overnight 🙂
Since I mention ALL the time how I hate making breakfast, I don't know why I don't have more recipes like these cranberry-lentil muffins on my blog! Probably because I prefer savoury breakfasts, but even then, just having some muffins hanging around for my daughter on school mornings would be handy… Don't worry, I won't flood the blog with muffins recipes… Maybe, lol.
As you may have already seen, I am working with Lentil.org again this month with a savoury dish for Valentine's Day (Turkey-Lentil Cannelloni.) My goal is to showcase how lentils are great in both vegetarian AND meat dishes. Better yet, they are perfect for families with mixed diets. I am getting into the habit of having extra lentils hanging around in the fridge so I don't have to worry about cooking them that day (not that they are difficult!) They actually hold up very well in the fridge and freezer, so why not just have some extra on hand? Worse comes to worse you throw them into a salad or pasta sauce!
But as these cranberry-lentil muffins show you, lentils  are not just for savoury dishes! Great for masking so people don't actually realize they are eating healthy 😉 Plus, another great recipe to use up leftover lentils in, which is exactly what Lentils.org is trying to showcase 🙂
Cranberry-Lentil Muffins
---
Yields 15
Cranberry-lentil muffins are a great way to start your day! Plus, your kids will never know what is hiding in these 😉
15 minPrep Time
10 minCook Time
25 minTotal Time
Ingredients
1/4 split red lentils, rinsed
1/2 cup brown sugar
1/2 cup granulated sugar
1/2 cup coconut oil, room temperature
2 eggs, room temperature
1/2 tsp. almond extract
1/2 cup milk (or buttermilk)
1 tbsp. freshly squeezed orange juice (omit if using buttermilk.)
1/4 tsp. ground nutmeg
1/4 tsp. salt
1/2 tsp. ground cinnamon
1 1/2 cups all-purpose flour
2 tsp. baking powder
1 cup fresh raw cranberries
Instructions
Add orange juice to a measuring cup and fill with milk until it equals out to 1/2 cup. If using buttermilk, omit this step.

Lentils

Add lentils to a small saucepan with 1 cup water. Bring to a boil (do not add salt!) Reduce heat, cover, and simmer about 5-7 minutes, or until softened. Drain and set aside.

Muffins

Preheat oven to 425F. Line pan with muffin liners.
Add oil and sugars to bowl of your stand mixer. Beat until well combined, about 5 minutes. Add eggs one at a time, mixing until well combined before adding the next. Mix in almond extract.
Sift together flour, baking powder, salt, cinnamon, and nutmeg. Add alternatively to stand mixer with the milk mixture, beginning and ending with dry ingredients. Stir in lentils with spatula. Stir in cranberries.
Fill liners 3/4ths of the way full, reduce oven to 350F, place pan into oven, and bake for 15-20 minutes, or until toothpick comes out clean.
Cool for a few minutes in pan and then gently move to cooling rack.
Notes
Cook time may vary depending on oven (I bake with convection.) Toothpicks are your friend 🙂
7.8.1.2
591
https://thecookiewriter.com/cranberry-lentil-muffins/
Love these cranberry-lentil muffins?! Try some of these recipes:
Cranberry Lentil Bread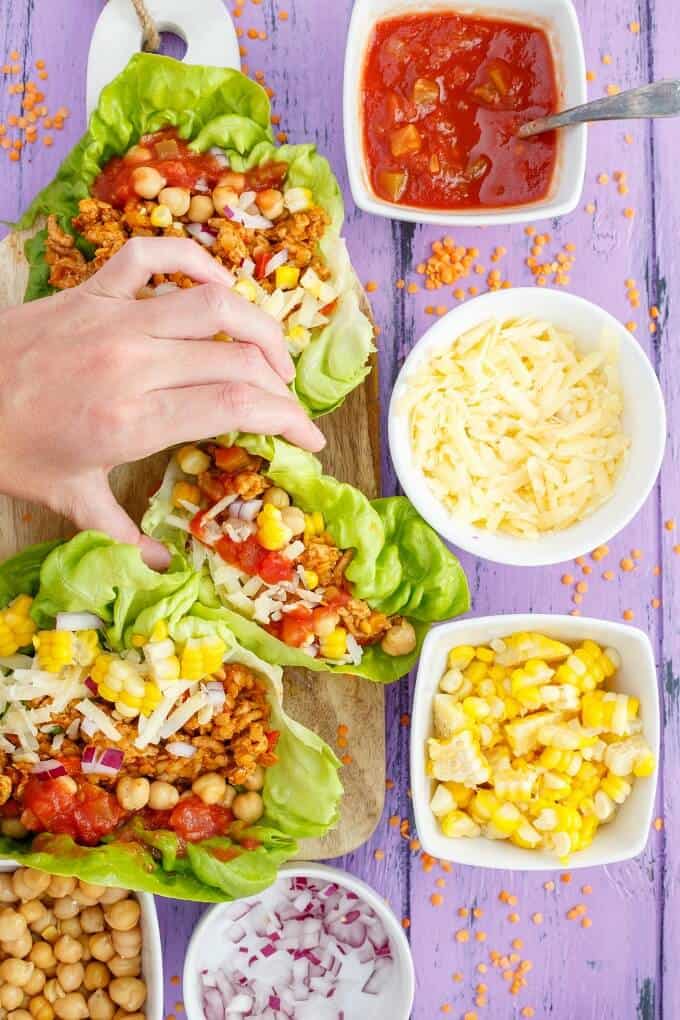 Taco Turkey-Lentil Lettuce Wraps