I have been wanting to try these coconut-lime shortbread cookies for ages, and here they are! Dive into Hamilton Beach's new stand mixers this Mother's Day as we try one out today! #HamiltonBeach
This is a sponsored post. I was fortunate enough to receive monetary compensation and/or products from Hamilton Beach Canada. Though compensation was received, all opinions are my own and I would not recommend a product that I did not enjoy.
I am so happy to share these coconut-lime shortbread cookies with you today!!
They have been on my mind for ages. Coconut, lime, and butter? You cannot go wrong!
I actually first made these cookies during the Christmas season. And my daughter LOVED them. She has been harping me to make them again so I figured they would be the perfect Mother's Day project for us 😉
When our Hamilton Beach Canada 7 Speed Orbital Stand Mixer arrived, Éowyn automatically laid claim to it. And you know what? It works for me! Anything to encourage a healthy relationship with food is an a-okay in my books!
Coming up with recipes was not too difficult. We wanted to focus on Mother's Day, and realized pretty quick that baking and cooking fall into two different categories. Most of the time you have mothers who prefer one technique over the other. However, there are some people (like me!) who love both! I didn't want to leave any mother out, so today's post will be a baking recipe using the stand mixer, and tomorrow's recipe will be a cooking recipe 🙂
Personally, for Mother's Day, I would LOVE to receive these coconut-lime shortbread cookies! And having them made by my daughter? Even better! In this case it was a collaborative project, however, for the most part, she did the recipe on her own (I helped with reading and ratios: looking at you, butter!)
Kids love seeing things mix, and Hamilton Beach's new 7 Speed Orbital Stand Mixer definitely keeps them occupied. I, on the other-hand, look at it more than just a pretty tool that helps speed things up in the kitchen 😉
Having owned many stand mixers over the years (yes, multiple, and I have practically killed my original stand mixer that now resides with my sister,) I know what I want. Like other stand mixers on the market, this Hamilton Beach model comes with a paddle, whisk, and dough hook. Perfect for all recipes. However, the pleasant surprise was finding the pouring shield inside the box. With other mixers, that is a complete separate purchase! Win!
Another win if you don't like leaving your stand mixer on the counter (or just don't have room,) is how relatively light the mixer is. This is great for people who need to do the least amount of lifting as possible, and let's be honest, sometimes age does play a factor. My mom would be happy not to worry about pulling out her back moving this appliance around! Then again, she doesn't like to cook so she would be happy having someone else use the mixer for her, lol. Just because it is light doesn't mean it isn't strong and sturdy. The nonslip feet help keep the mixer in place as it does its job, but I never worried about the mixer moving off the counter for one minute.
The dough mixed up nicely for these coconut-lime shortbread cookies! Using the knob dial is fun and makes me think "old-school." I don't know why, but I really like it! Traditionally on stand mixers you have that lever that you pull or push back to adjust your speed. More times than not I accidentally move it too much, resulting in me having to turn down the speed immediately. I don't mean to pull it that much! But with the knob, you can carefully adjust your speed, making it easier to accomplish the job at hand (my daughter likes the knob as she also always puts our other stand mixer at too high a speed.)
I'll talk more about Hamilton Beach's 7 Speed Orbital Stand Mixer in tomorrow's post. As for the coconut-lime shortbread cookies? DELICIOUS!
I have made these many ways, and find you cannot go wrong. Sometimes I like to add a tablespoon of freshly squeezed lime juice into the batter. It makes it a bit softer, but you should still be able to handle it alright. If you want a really limey cookie, go ahead and add more zest! My daughter prefers the coconut taste, so we keep the lime zest minimal. However, for my love of lime, I add in upwards of one more whole tablespoon!
As you can see from the pictures, we don't really measure our zest out 😉
PS: It is okay to bake in your pajamas 😉
Coconut-Lime Shortbread Cookies
---
Summer flavours are bold here in these coconut-lime shortbread cookies!
15 minPrep Time
21 minCook Time
36 minTotal Time
Ingredients
1 cup salted butter, room temperature
1 1/2 cups all-purpose flour
1/4 cup granulated sugar
1/4 cup confectioners' sugar
1/2 cup unsweetened coconut flakes
1/8 tsp. almond extract
1 tbsp. lime zest
1 tbsp. lime juice (this is optional and will make the dough a bit looser, but still should be fine to work with.)
Instructions
Preheat oven to 350F. Spread coconut out onto a baking dish or sheet. Place into oven and cook for 5-10 minutes, stirring frequently after the 3 minute mark. Cook until golden brown (keep an eye on it: it will burn easily!)
Combine butter, sugars, and lime zest into the bowl of your stand mixer. Beat until light and fluffy, about 5 minutes. Mix in almond extract and lime juice if using. Pour in flour, coconut, and mix until JUST combined.
Line a baking sheet with parchment paper or silicone liner. Measure out one tablespoon-sized portions and roll into a ball.
Bake for 11-13 minutes at 350F. Allow to cool 5 minutes on baking sheet before moving to wire rack.
Notes
I use a cookie scoop as the dough is soft. You can dust your hands in confectioners' sugar if you don't have a cookie scoop (but the dough should still be easy to work with.) For an added twist, cook up an extra 1/4 cup toasted coconut and roll the raw dough in coconut before baking 🙂
7.8.1.2
617
https://thecookiewriter.com/coconut-lime-shortbread-cookies/
Tomorrow is all about the mom who doesn't care to bake (or maybe bake and cook!)
This is a sponsored post. I was fortunate enough to receive monetary compensation and/or products from Hamilton Beach Canada. Though compensation was received, all opinions are my own and I would not recommend a product that I did not enjoy.
Love these coconut-lime shortbread cookies?! Try some of these recipes: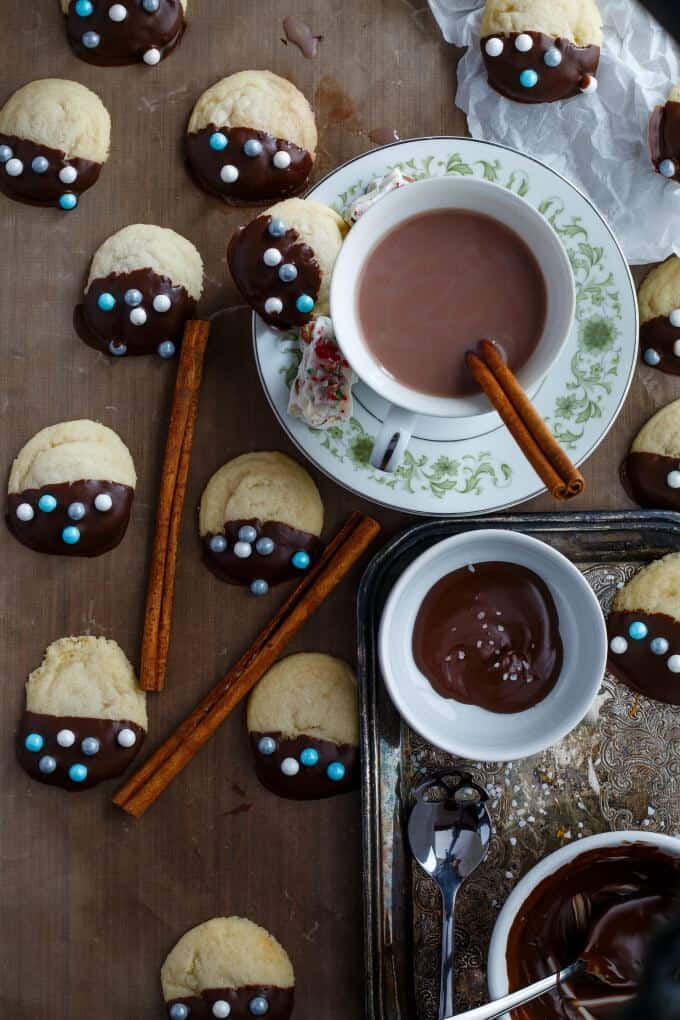 Chocolate Dipped Shortbread Cookies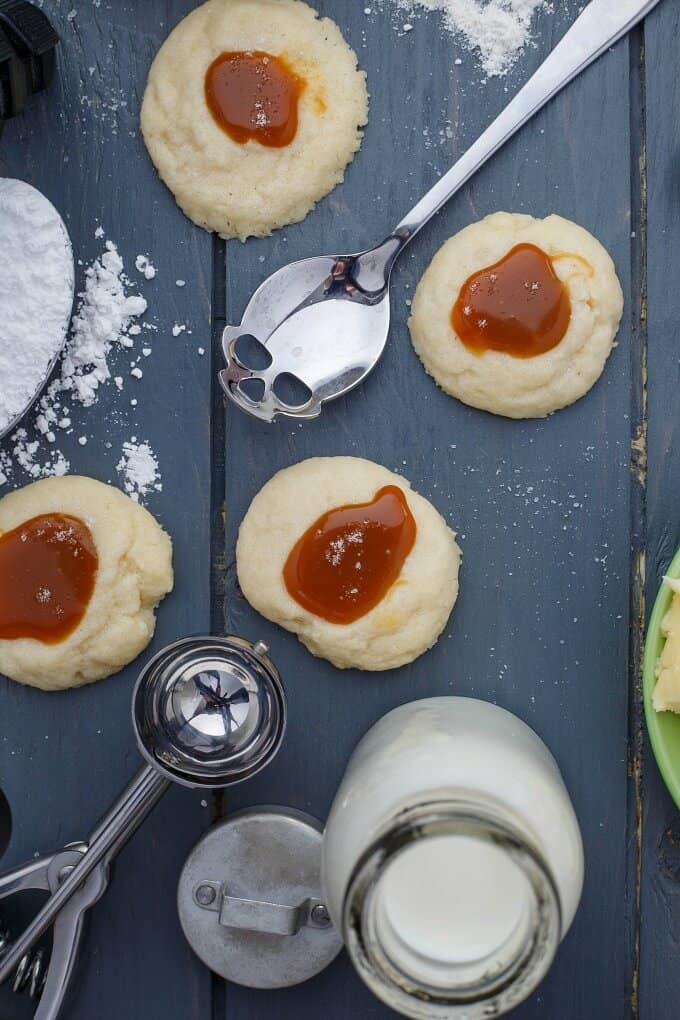 Thumbprint Caramel Shortbread Cookies