Part two of my American Standard ActiClean Self-Cleaning Toilet review is up now! Be sure to check out the first post for complete installation details! #ActiCleanCanada
This is a sponsored post. I was fortunate enough to receive monetary compensation and/or products from American Standard. Though compensation was received, all opinions are my own and I would not recommend a product that I did not enjoy.
Please note that I am splitting this review into TWO parts. The first explains the installation of the American Standard ActiClean Self-Cleaning Toilet, while the follow-up post today features cleaning, ease of use, why this toilet should be in your household, and my final thoughts 🙂
---
Hopefully all my talking in the first post didn't scare you off! When I love something, I tend to get really excited, loud, and keep going on, and on, and on!
When we replaced our first toilet in the main bathroom, it was because of constant problems with the inner parts, water flow, not suiting our needs, etc. At this point it just made sense for a new toilet as we were already journeying into our home renovations (do those EVER end?!)
If you are curious, this was the American Standard toilet we went with. That went in our main bathroom upstairs, leaving our downstairs bathroom with the builders toilet. WHAT A DIFFERENCE! The height is noticeable when you first sit down (in a good way!) and the elongated toilet seat will probably surprise you at first, but in the end, it is VERY hard to go back to older toilets.
With this ActiClean Self-Cleaning Toilet, I was not left with any major surprises as our other American Standard toilet already had the added height and elongated toilet seat. However, if you are going from an older, builder toilet, you are in for a treat 😉
The bowl of the toilet is considered "chair height." These toilets were more common for the elderly and persons with mobility issues. But over the years, it has become common practice to see these toilets in every home as people like how they feel (better on the knees and back!) I feel once you sit on this toilet, you won't be able to go back!
As for the elongated toilet seat, I feel this is still a debate. Elongated toilets add more inches to the length of the toilet and many state they feel it is more comfortable (I really do notice a difference for myself and my husband swears by elongated!) But if you have a smaller bathroom, those extra few inches may start to cramp things up. I'm thinking more of small cottage bathrooms as I don't deem my bathrooms overly large.
But let's talk about the self-cleaning portion of this toilet! It is, after all, the most revolutionary toilet technology in 30 years!
Being honest, toilet talk is still awkward for many. My daughter mentions how she doesn't like going to the bathroom at school, and I don't blame her! Both my husband and I explained that we also hated doing it. But when you have to go, you have to go 😉
The same can be said when visiting a friend's house. The anxiety of leaving any evidence around can be nerve-wracking!
And that is where this revolutionary American Standard ActiClean Self-Cleaning Toilet comes in!
Even at home I LOVE having that handy cleaning mechanism. Located on the tank under a small, flip-up lid, the cleaning cartridge is hidden from prying eyes. Meaning, we get the security of this cleaning system without sacrificing beauty (because let's be honest: after remodeling my house, I want it to look good!)
Once that lid is open, you are greeted by two buttons: QUICK and DEEP. When you push the QUICK button, a 1-minute cycle is activated. VorMax jetted force pushes the cleaning solution throughout the bowl from top to bottom, ensuring a thorough cleaning. After the minute of soaking is up, clean water rinses away the solution, leaving you with a shiny, clean bowl 🙂
The 10-minute cycle follows the exact same method, but the soaking period lasts for 10-minutes. I would say the 10-minute cycle will only be used a couple of times a month, maybe even once a week if things get a bit crazy. The QUICK cycle is probably more of a once-a-week thing for most households. So far we have probably used the DEEP cycle once in our two months use, but we do have two bathrooms so that splits up usage.
Another reason for the lack of cartridge use could be because of the brand new EverClean permanent finish that repels dirt and inhibits the growth of bacteria on the surface. I do find this toilet stays clean amazingly long between deep cleans (AKA, my manual cleaning.) Having a child (and husband!) who eat well means healthy digestive systems which leads to you-know-what! Since the installation of this ActiClean Self-Cleaning Toilet, staining is bare minimum. I am 100% happy going to use the toilet and NOT finding a surprise. And even if I do find anything, the QUICK cycle makes fast work of it!
Now, this is not to say that you will NEVER have to clean your toilet again. When my sister told her boyfriend about this revolutionary technology his exact words were "aren't all toilets self-cleaning?" Buddy, you have much to learn 😉 In all seriousness, he does like to mess with my head!
I try to clean my bathrooms at least once a week. It is just routine and with a small child around, you can bet our bathrooms barely make a week of staying clean (toothpaste in the sink, anyone?!) During this time I give the outside of the toilet a good wipe down. Dust, dog hair, debris, you name it in this household, it is probably attached somewhere to the toilet!
And I'll be honest! Since I am already cleaning the bathroom, I just go ahead and clean the inside of the toilet, too. The CleanCurve rim design omits rim cavity and holes where dirt usually builds up, but I figure if my hands are dirty, why not? However, if you have a relatively clean household with no animals, well, I'll just say I am jealous 😉 In all seriousness, how often you clean your toilet will be based on use.
OH! I will say one handy feature I love (on top of everything else!) is the ability to easily remove the seat for detailed cleaning! Arrrggg, how I hate cleaning around that area when it comes to toilet cleaning. With the push of two easy buttons (you can hopefully see what I mean in the photos,) you can remove the toilet seat and give the bowl rim a good wipe down. Then you can easily snap it back into place.
(Bottom Photo Credit: American Standard)
And another handy feature?! The slow-closing lid! My husband HATED when I would just drop the toilet lid, but I HATED touching it! But I guess guys hate it just as much… The seat actually has a little lip that sticks out so you can use that to lift up the seat. Sooooo handy!
So remember how I mentioned food poisoning in my other post? Well, my husband and I also contacted the flu after that! I swear this household is cursed! My regret? Not installing our American Standard ActiClean Self-Cleaning Toilet downstairs! Luckily I had just cleaned all the washrooms before this bug hit and I could stick my head into a CLEAN toilet! See! Another great reason to have a self-cleaning toilet 😉
"Complaint" wise, I would say my only issue is that the toilet does have some areas where dust can collect. With our other American Standard toilet, the system is flush from tank to floor. Super handy with a hairy dog in the house! But definitely not a deal-breaker! Cosmetic-wise, they already did a darn good job blending in the cleaning system 🙂 None of my guests have noticed the self-cleaning "Top Tank" until I point it out to them. Which I do because I LOVE this toilet! And guests should feel at ease knowing that my toilet will clear away any mess 😉
So where can you pick up your own American Standard ActiClean Self-Cleaning Toilet?! This affordable toilet can be found at Lowe's retailers across Canada for $499 Canadian (and I have already seen it on sale on their online site!!) This is considered a complete toilet kit, but you will need to pick up a water supply line. Extra cartridges are $14.99 but I have found them on sale and in bulk! We have been using this toilet for about 2 months and are still on the first cartridge. Average lifespan is 9 weeks, but once again, that all depends on how often you use it.
Thanks to American Standard's innovation, I can now spend more time in the kitchen (a place I love,) and less time cleaning! Muahaha! And while I won't be replacing my toilets, I am always looking for more ways to upgrade our home (yes, I am talking about you kitchen sink faucet!)
This is a sponsored post. I was fortunate enough to receive monetary compensation and/or products from American Standard. Though compensation was received, all opinions are my own and I would not recommend a product that I did not enjoy.
Love this American Standard ActiClean Self-Cleaning Toilet Review?! Check out these posts:
American Standard ActiClean Self-Cleaning Toilet Installation Review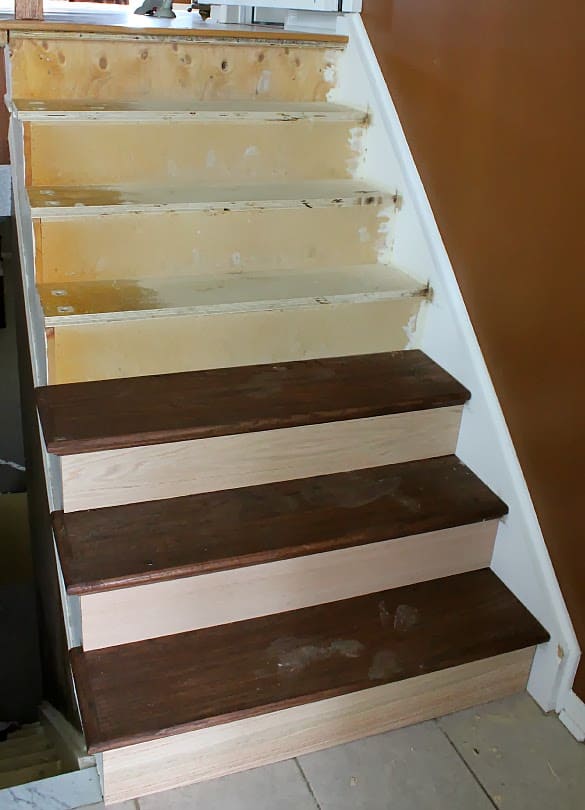 Stairway Remodel Part 1