I'm throwing something different your way today! I have partnered up with American Standard to showcase their new American Standard ActiClean Self-Cleaning Toilet. A self-cleaning toilet?! That leaves me more time to cook 😉 #ActiCleanCanada
This is a sponsored post. I was fortunate enough to receive monetary compensation and/or products from American Standard. Though compensation was received, all opinions are my own and I would not recommend a product that I did not enjoy.
Please note that I am splitting this review into TWO parts. The first will explain the installation of the American Standard ActiClean Self-Cleaning Toilet, while the follow-up post will feature cleaning, ease of use, why this toilet should be in your household, and my final thoughts 🙂
---
I have the coolest toilet ever!
I know I have been slacking on home renovation posts. Since sharing my staircase remodel (and not even really showing the overall end product!) we have completed a ton of upgrades. I have taken pictures along the way, but with the food portion of my site being my priority, I have not got around to sharing these before and afters. Who doesn't love before and afters?!
(First venture into landscaping MANY years ago!)
With nicer temperatures coming, we are already talking about what we have left to do. Pool deck, landscaping, grass, OMG will this ever end?! To think when my daughter was around 2 I was managing all these home renovations, cleaning, cooking dinner, and starting off my blog. Now I am lucky if I find motivation to get actual blog posts up by the end of the week!
(Photo Credit: American Standard)
Thanks to American Standard, I am feeling somewhat sane again! And perfect timing, too, as not long after the installation of this ActiClean Self-Cleaning Toilet I contracted a nice case of food poisoning… Not from my cooking, I swear!! Will this teach me from eating out so often? Probably not! But it was a wake up call! More on that later 😉
Let's be honest: generally when it comes to purchasing a new toilet, it is all about design, water issues/concerns (local laws in regards to water pressure, capacity, etc.) remodels, and just wanting something new. Toilets are built to last. Sure, the internals will go eventually, especially in areas with hard water (like my town!) But the porcelain part? That should not be going anywhere!
(Original builder toilet removal and remodel)
And when that time comes to purchase a new toilet, you begin to feel overwhelmed. I sure did years ago when we bought our first American Standard toilet. Our raised bungalow is over twenty years old now, and while I am a bit unsure if the toilets were original to our house when we purchased the home over 8 years ago, I do know they were nothing special! I fully believe they were the common "builders toilet."
Now, it was not just the vanity issue that got to me, but mechanics and functionality. Thankfully we made the right choice and that American Standard model is still kicking in this household 😉
However, let's move onto the installation of this ActiClean Self-Cleaning Toilet as I am already rambling! Note this is why I decided to do the review in two parts 😉
INSTALLATION:
The toilet arrived in one box. This is considered a "complete toilet kit." Meaning, everything you need (minus the water supply line) is included in the box for easy, DIY installation. This includes the tank, bowl, toilet seat, wax ring, and any covers/bolts, etc. My reasoning for the toilet supply line being sold separately is because of the length (our supply line is close to the toilet, so only a short line is needed, but depending on your bathroom,  you could need a line that is 16 inches or longer!) Basically no one knows how your bathroom is designed except you 🙂
Once everything is out of the box and accounted for, you are on your way to install your new ActiClean Self-Cleaning Toilet! Prepare for some muscle 😉 The toilet is just under a 100 lbs, but we are placing the bowl on first, followed by the tank so that will ease some of the weight.
If you have an old toilet installed, it will need to be removed. Use an x-acto knife to cut through the caulking to help remove the toilet later. Have a bucket, sponges/rags/towels, rubber gloves, scraper/putty knife and a wrench ready. We laid a towel out to place the old toilet on before moving it outside.
Shut off the water supply line (located within vicinity of your toilet.) Flush the toilet to rid of excess water in tank. Remove supply line and the tank (you will need to look for the bolts to disconnect with your wrench.) If you find you still have some water in the bowl of the toilet, soak it up with old rags (wear gloves here! Water in the tank is clean, but water in the toilet bowl could have bacteria.)
Remove caps found on the sides of the toilet and uncover the bolts. Use a wrench to remove the bolts. At this point you should be able to pull the toilet up and away from the toilet flange. Lay the toilet on its side or move outside (the old wax seal will be there so you don't want to attempt standing the toilet upright!)
Remove the old wax from the toilet flange with a putty knife. No need to replace the flange if it is not damaged. Stuff a rag or old towel into the drain to stop any sewer gases from making their way into the house. We actually moved our "old" American Standard toilet downstairs and installed the ActiClean Self-Cleaning Toilet upstairs as that is our main bathroom for guests. So basically had the task of installing two toilets 😉 You can see in the pictures that I am showcasing both bathrooms so don't wonder why my floors change colour all of a sudden!
FUN DISCOVERY!
Turns out either the builder decided to paint the bathroom after the toilet was installed OR the previous owners, who remodeled our "basement" after a flood, decided they did not care 😉
---
Time for installing our ActiClean Self-Cleaning Toilet!
If you removed your old toilet, it is basically the same technique again but in reverse. Apply the wax ring (wearing gloves!!) to the bottom of your new toilet (OR right onto the flange to make it easier to place the toilet without damaging the ring as we found out!) I forgot to take a picture  of the ring, but here is a link to one! Insert toilet mounting bolts into flange.
Lift toilet bowl and lower over bolts (this is where muscle comes into play!) You want to shimmy the toilet back and forth to help the wax ring attach securely.
When the toilet is firmly against the ground, apply "bowl-to-floor knobs" and tighten until set (as my husband likes to yell tell me, don't over-tighten!)
Cover with bolt caps.
Halfway there!
You can now place the tank on top of the bowl and mount it (there are three nuts underneath the tank.)
Reconnect water supply line (we had to grab a new one as our old one downstairs would not reach the "new" toilet.) Turn on water supply and allow tank to fill!
From here you want to make sure your water level matches the water level line inside the tank. Full details on how to adjust the levels are included in the instructions but we were a-okay!
Before installing the toilet seat, we wanted to make sure everything was in working order! You want to prime the toilet by flushing 5 times before use. Has to get the water flowing through the toilet 🙂
Once the toilet seat is installed (I skipped detailed photos here because the instructions actually come with a second booklet just for the seat that is really detailed!), it is time for the "Top Tank."
This is the self-cleaning area (and it blends in so well with the tank that no one will notice it is there!) Flip the unit upside down and locate the orange tabs (they are labeled "REMOVE." Got super excited here and forgot to take some pics!!) Once removed, turn right-side-up and place onto tank.
When you open the lid you will need to make sure the locking knobs are in the "unlock" position to properly have the Tank Top piece sit in place. If they are locked, make sure to unlock them. Once the Tank Top is in place, lock the knobs.
AND WE ARE ALMOST DONE! This ActiClean Self-Cleaning Toilet is not only easy to install, but shows beautifully! Honestly, people probably won't even notice it is self-cleaning until you show them the nifty buttons 🙂
While physical installation of the toilet is complete, we only have the toilet cleaning cartridge left.
Open battery compartment tab and install 4 AA Alkaline batteries inside. Place lid back on. Next, make sure to remove the child resistant cap located on the bottom of the cleaning cartridge. It is a large, circular cap.
(Photo Credit: American Standard)
(Photo Credit: American Standard)
Insert cartridge straight down until it snaps in. Hold down the QUICK or DEEP icon for three seconds until LOW level indicator light goes off. I'll talk about how to use the QUICK and DEEP buttons in the next post 🙂
I know this post is LONG, but I didn't want to leave anything out! The entire point of this American Standard ActiClean Self-Cleaning toilet post is to obviously showcase a one-of-its-kind self-cleaning technology, but it is also here to show you that this project is completely DIY-friendly for homeowners. We know the price of plumbers, and while there are times they are needed, this is not one of them!
Installing this toilet is not any different than installing a regular toilet you buy from the big box stores. Roy, the American Standard technician that I had the privilege to ask some questions to, explains that these "complete" toilet packages that come from stores like Lowes, Home Depot, etc. are made specifically for the home owner. Everything that is needed comes in the box. The idea is to show that the home owner can complete this job themselves 🙂
The second part of my review will be up tomorrow. In that post I will talk more about the design of the toilet, how it self-cleans, what to expect, and why I recommend this toilet!
This is a sponsored post. I was fortunate enough to receive monetary compensation and/or products from American Standard. Though compensation was received, all opinions are my own and I would not recommend a product that I did not enjoy.
Love this American Standard ActiClean Self-Cleaning Toilet Review?! Check out these posts:
American Standard ActiClean Self-Cleaning Toilet Review Part II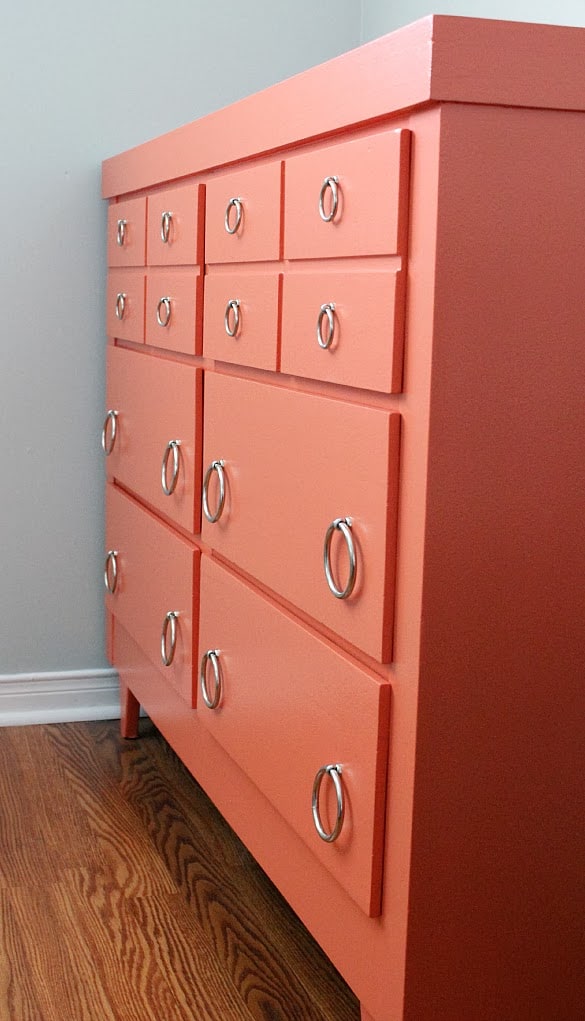 How to Paint an Old, Wood Dresser and End Table + Custom Hardware!