Thanksgiving is all about friends, family and food! I've partnered up with Walmart Canada to showcase a 6-person Thanksgiving dinner under $50! Yes, it is possible! Canadian beef, a slow cooker recipe, a side dish and even a dessert! #SaveMoneyEatBetter
Today's post is very special to me!
When my husband and I moved into our house almost 8 years ago to the day, we had a bunch of hand-me-downs and childhood possessions to fill our home, and even then it was a bit sparse. Being that Thanksgiving was just around the corner, I wanted to host it in our brand new home!
But we didn't have much! No fancy tableware, no serving dishes, etc. That's where Walmart Canada came in!
While I was busy working on my meal plan and getting the ingredients, my sister and husband went to Walmart and found us some cups, turkey essentials (baster, serving plate, etc.) and even a tablecloth! It was enough to make our Thanksgiving dinner feel welcoming without breaking the budget.
So when Walmart approached me with their idea of providing a 6-person Thanksgiving dinner under $50, I knew I had to jump on it! It definitely brought back memories and shows that Walmart is a go-to for dinner essentials (they are the only grocery store out in my small town that carries the cannelloni I love so much from my childhood!)
Today's 6-person Thanksgiving dinner under $50 features a main dish, a side dish and dessert! Everything you need for a delicious Thanksgiving meal for friends and family 🙂
The star of our show is the easy slow cooker pot roast using Canada AAA Angus sirloin tip roast ($21.74). Walmart's Canadian AAA Angus Beef is not new to me (my husband always points out how all our cooking features Walmart's beef these days!) Canadian beef is well known for quality. It makes me feel great to support Canadian farmers and locally sourced food is important to us! This cut of beef was really easy to work with and all prepared for you (wrapped with string!) After quickly seasoning and searing the meat, the slow cooker (also purchased from Walmart MANY years ago) was left to do all the work.
Depending on how you prefer the "doneness" of your meat, the slow cooker pot roast can be completed in as little as 2 1/2 hours. My husband and daughter prefer medium-rare, so I took my meat out to rest when the meat thermometer reached 140°F! Tender and moist, it was the favourite among the 3 recipes.  My only advice is keeping an eye on the cook time (I have a built-in meat probe for my slow cooker so I don't overcook the meat). Every roast will be different (thickness, weight, etc.) so prepare accordingly.
The next recipe for our 6-person Thanksgiving dinner under $50 is the skillet mac N cheese side dish. The potatoes and carrots cook with the pot roast and add so much to the dinner! But the mac N cheese with broccoli was my favourite! I'm the queen of mac cheese and being Canadian, it is not unusual at all to find copious amounts of mac N cheese in our pantries (though, me being me, I prefer the homemade route!)
This one was no exception. Being vegetarian, I was more than happy to eat a bowl (or three!) The broccoli addition provides a nice crunch and a hearty green to the dinner table. It all came together really easily too, especially since I went with Great Value Shredded Old Cheddar Cheese ($5.57) and their Shredded Garlic and Herb Cheese ($5.57). Makes the job go SO MUCH FASTER when you aren't grating an entire bar of cheese! I'm always pawning that job off on someone else in the kitchen.
Flavour-wise Great Value cheeses are great! Love the sharpness of the cheeses and the convenience. I made sure not to let the leftovers go to waste and sprinkled cheese onto everything. My husband said the mac N cheese wasn't too heavy and he could go back for seconds without feeling overly full. Just watch your broiler! The breadcrumbs can burn fast so just sit there and watch. It shouldn't take more than a minute!
Lastly, our dessert: deep dish apple pie!
REALLY happy with this one! I am so bad with pie crusts. They taste good, but never turn out pretty. But the addition of turbinado sugar ($3.97) onto the Great Value Deep Dish Pie Crusts ($2.78) is nice and makes it look so pretty! My daughter said she wants this addition all the time! The dough was easy to work with and I never thought to put my pie crust into 8-inch cake pans, but it worked! And since I like to bake, but do not get to very often, I had the right pan sitting around.
All-in-all I would rate this a very successful dinner! I actually grabbed another roast because my husband and daughter loved it so much! And that mac N cheese… I cannot get enough! I may turn into a giant mac N cheese ball 😉 This Thanksgiving meal has something for everyone with very little work (preparing the veggies ahead of time will help save you prep work the day of cooking). I'm all for adjusting and changing recipes, but these ones will remain as is 🙂
This post is sponsored by Walmart Canada as part of the Walmart Thanksgiving program. In exchange for this post, I have received perks in the form of products and/or compensation. All opinions on this blog are my own.
 Love this 6-person Thanksgiving dinner under $50 post?! Try some of these recipes: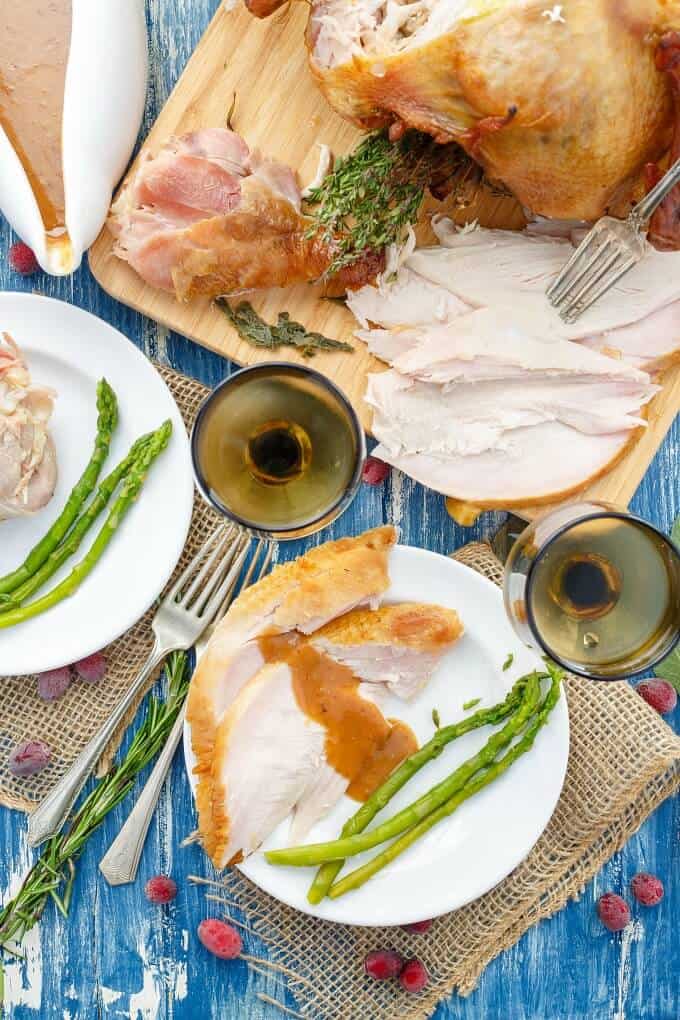 Smoked Turkey Recipe (How to Smoke a Turkey)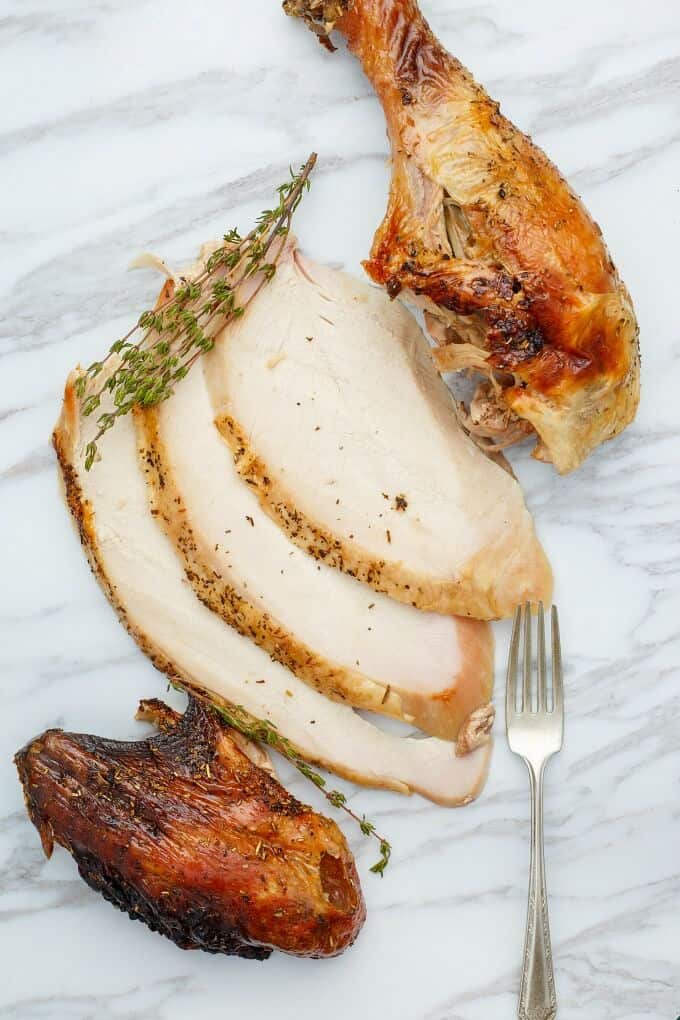 Grilled Herbes de Provence Turkey (Beer Can Turkey)