Summer is all about quick, easy meals. You won't forget the most important (arguably) meal of the day with this one pan egg breakfast with veggies!
Woohoo! Okay, so much has been going on here and I know I have been slacking with blog posts/promotion.
First things first: On the right sidebar you will notice a section for recommendations. Each Monday I will be updating this list and sharing with you my favourite songs, TV shows, movies, and books! I'll probably promote the same show for two weeks as I can only watch so much TV, but the others shouldn't be too hard to change up weekly 🙂 This gives you a more personal feeling when coming to read my blog (and getting to know me a whole lot better!)
This week we see:
Song: The Red by Chevelle. Chevelle is my favourite band in the entire world, dating all the way back to just before high school here. While I have many favourites, I recommend The Red because it is the first song I heard by them and really introduced me to their great music. I finally saw them live a couple of years ago 🙂
TV Show: Psych. Hands down one of the best shows ever. I highly recommend it not only for the humour, but how great the cast is. I do not think there was ever an episode I did not like (and soooo many favourites, inducing the one based off Twin Peaks.)
Movie: Time Shifters aka Thrill Seekers. I saw this movie one late night while staying with my dad and have never forgotten it! I love sci-fi and this fits the bill perfectly (plus, I love me some Casper Van Dien!)
Book: Going with one of my top books: 1984 by George Orwell. Fun fact! Had our daughter been a boy, our son's middle name would have been Orwell. Dystopian literature is my favourite and generally falls into the sci-fi category (but not all the time.)
Okay, onto today's recipe: one pan egg breakfast with veggies! I made this meal for my husband while he was busy filling our garden boxes with soil (another task out of the way!) Not only was it quick and easy, but it was made all in one pot! Well, I guess I did whisk the eggs and milk together in a separate bowl but realistically I classify this as one pot. He was all over it and asked for a second helping 🙂
So not only is this meal great any time of the year, but this one pan egg breakfast with veggies is perfect for Father's Day! Yes, that is slowly sneaking up on us! I feel this meal could easily serve 4, unless of course your father has an awesome appetite like Dan!
One Pan Egg Breakfast with Veggies
---
Kacey
Yields 4
The perfect Father's Day meal that can be made using any veggies you like! I threw in some fresh sage leaves during the cooking process
10 minPrep Time
35 minCook Time
45 minTotal Time
Ingredients
1.5 lbs pre-boiled potatoes, peeled and cubed
7 slices of bacon, cut small (I used half of a 375g package)
1 green pepper, sliced
1 onion, sliced
1 carrot, peeled and sliced thin
2 tomatoes, cored and sliced
5 eggs
2 tbsp. milk
1 tbsp. Dijon mustard
Salt and pepper
Instructions
Add the bacon to a large frying pan over medium-high heat. Cook for 3 minutes. Add in potatoes and cook for 10 minutes, or until slightly golden. Stir in onions, peppers, and carrots. Cook for another 10 minutes or until veggies are nice and brown. Season with salt and pepper.
Whisk the eggs, milk, and mustard. Lower heat to medium and pour in eggs. Sprinkle with tomatoes and allow to cook for a few minutes, or until eggs are cooked through (I placed a lid on top to help cook the top of the dish.)
Slice and serve immediately!
Note: I boil the potatoes the night before to save time and really make this a one-pot dish!
7.5
433
http://thecookiewriter.com/one-pan-egg-breakfast-with-veggies/
And finally, this one pan egg breakfast with veggies was all captured on my new camera and lens!!! Yes, I splurged and bought myself a Canon 5D Mark III and the 100mm Macro Canon Lens (even indulging in the L series.) Best purchases of my life. I love the feel of my new camera and how I am not restrained to my tripod now (so much better in low light situations.) Now I am kind of upset at myself because last month I went ahead and cooked a bunch of recipes for the blog that I planned to post in the summer. However, with the new camera I feel I need to re-shoot all my work!!
Love this one pan egg breakfast with veggies?! Try some of these recipes: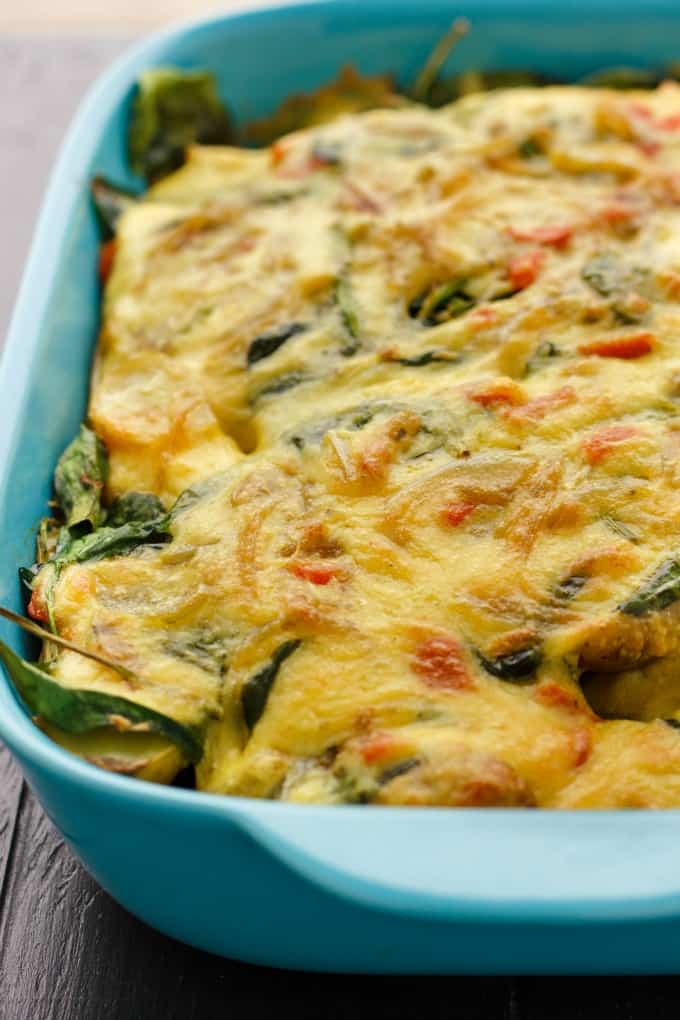 Breakfast Potato Casserole with Hollandaise Sauce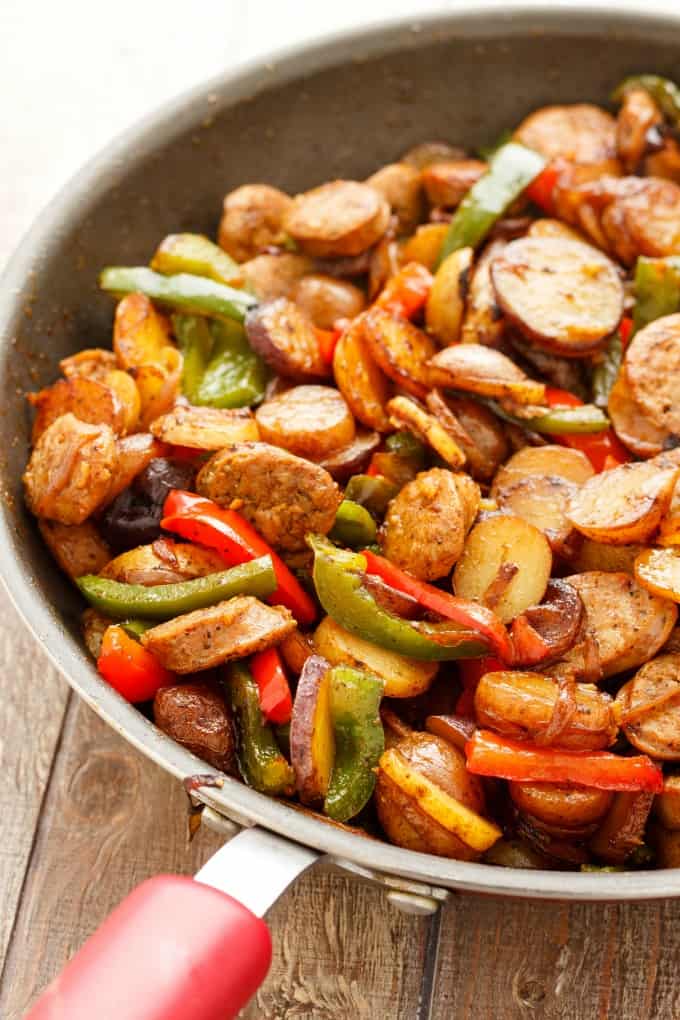 Breakfast Throw-Together Creamer Potatoes with Sausage and Peppers