A fun side dish for Easter or perfect as an entree (not kidding!) these maple carrots with Hawaiian black lava salt are definitely packed full of flavour!
Besides the beef wellington that was the star of the show on Valentine's Day, I knew I needed some awesome side dishes because there was no way I was touching that beef! I always tend to use honey in my carrot recipes, as seen in my honey-glazed carrots with fresh thyme, but I wanted to go a different route. I really liked the idea from Rini at Healing Tomato and figured since I am Canadian that I would embrace the use of maple syrup. These maple carrots were topped with some delicious Hawaiian black lava salt, a decorative salt that my sister-in-law and brother-in-law picked up for me while they honeymooned in Hawaii! I had no idea what I was going to make with it, but it seemed perfect with these maple carrots!
After these carrots sat for a day or two (who doesn't love leftovers?!) I found the taste was even better. I seriously think the next time I make these I will make them in advance so that flavour really comes through. Plus, it will save you time during the holiday season if you can cook somethings in advance! And don't fret if you cannot find the Hawaiian black lava salt: while it adds a nice saltiness with a unique flavour, you can easily add another salt (but seriously, it is a really nice change in the salt department and I cannot wait to experiment more with it!)
Maple Carrots with Hawaiian Black Lava Salt
---
Kacey
Yields 4
Hawaiian black lava salt is a decorative salt that is usually placed on food before serving! You can always use regular salt in your meal if desired!
15 minPrep Time
20 minCook Time
35 minTotal Time
Ingredients
1.5 lbs carrots, peeled and sliced into matchsticks
1 1/2 cups vegetable broth
1 large onion, sliced in half
3 garlic cloves
2 tbsp. maple syrup, or to taste (I used PURE's Chipotle and Lemongrass maple syrup !)
Hawaiian black lava salt
Instructions
In a large skillet, add the vegetable broth and bring to a boil over high heat. Add in the onion and whole garlic cloves. Stir in the carrots. Continue to cook over medium-high heat (should be a rapid boil) uncovered, for 15 minutes, stirring occasionally.
Remove the onion and garlic. Stir in maple syrup (add 1 tbsp. at a time until you reach your desired sweetness.) Cook for a few more minutes, or until almost all the liquid is gone.
Place into serving dish and garnish with the black lava salt!
7.5
193
http://thecookiewriter.com/maple-carrots-with-hawaiian-black-lava-salt/
The maple carrots have been posted, along with the beef tenderloin! What will Thursday bring?! Well, let's just wait and see 🙂
Love these maple carrots with Hawaiian black lava salt?! Try some of these recipes: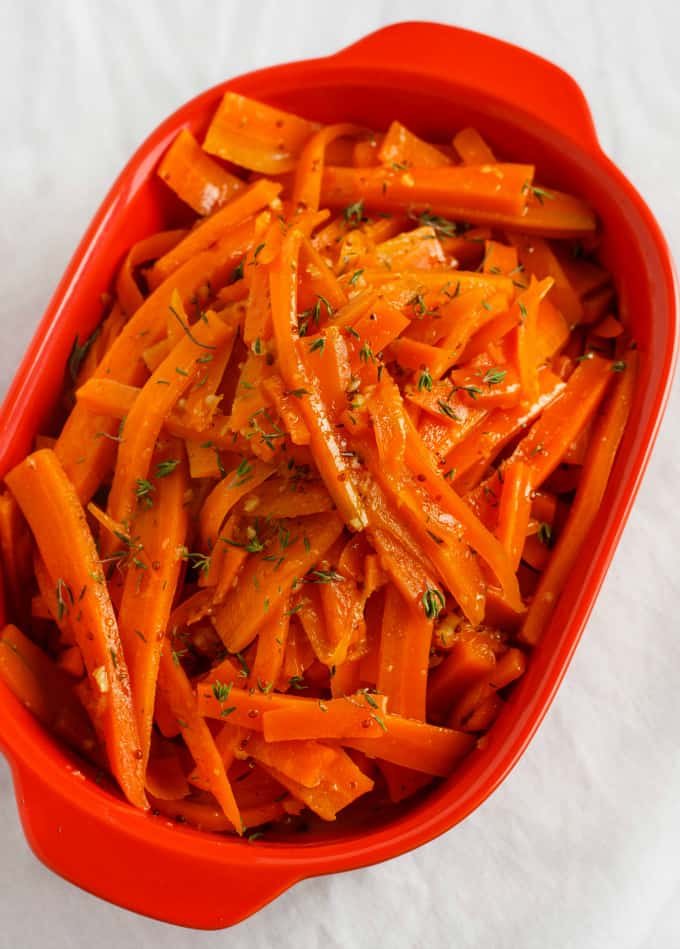 Honey-Glazed Carrots with Fresh Thyme