Chocolate is a top priority in my house any time of the year, so these Christmas brownies (with a balance of mint and chocolate) were a perfect idea for the holiday season!
Christmas is less than two weeks away, and while I have been done my Christmas shopping for a good month, I am still feeling panicked and rushed! So many Christmas parties, events, and just plain holiday bustle going on right now. Thankfully my daughter is on her last week of school before the holidays, which means we get to sleep in a bit! And that also means all her extracurricular activities are at a standstill (we all need a break.)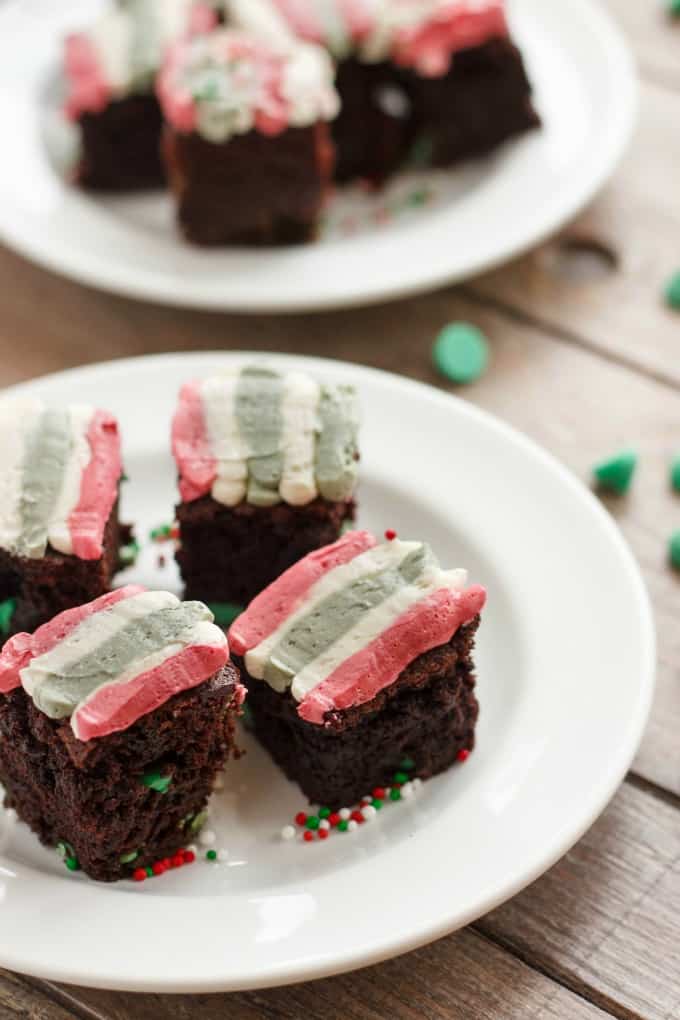 Even though this time of year is pretty hectic, I still enjoy making food/baked goods for people. My cousin asked me a few weeks ago if I could make him a festive dessert that screamed Christmas. I immediately had an idea in mind and while the vision did not come through fully, he still loved the Christmas brownies! I am so used to making cakes or large desserts that I fully panicked when he said it was lunch/brunch for roughly 30 people. This meant bite-sized desserts, and while cookies are a favourite of mine, I wanted something different.
These Christmas brownies are a balance between chocolate and mint. I used green mint chips to subtly add a nice mint flavour, while keeping the brownies themselves traditionally chocolate. The icing was a simple vanilla Swiss meringue buttercream that I would have made mint as well, but 1) sometimes mint can be overpowering, and 2) not everyone loves mint (me included!) However, feel free to make these Christmas brownies mintier if that is your thing 🙂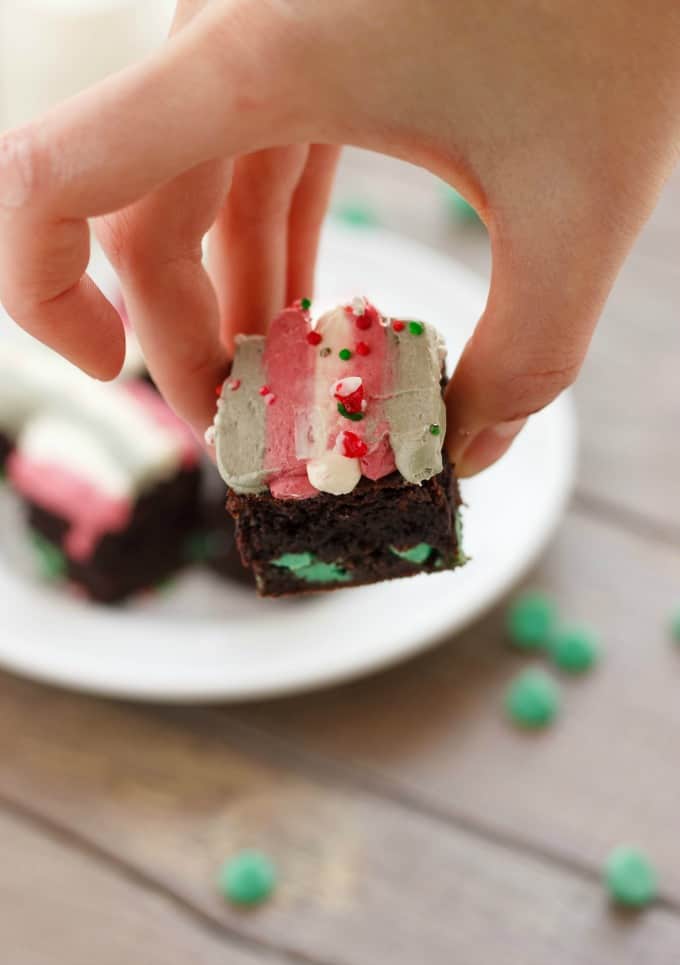 Now, for the design on top, I was totally inspired by these Rainbow Brownies. How cool are they?! I figured I would use the same icing technique and make them Christmas-like. While they came out festive for the most part, my problem lied in the actual brownies themselves (I forgot to grease my pan and some of the brownie fell apart…) Siiiggghhh, sometimes things do not work out according to plan. Let's just be happy that only one portion of the brownies really became a right-off (which we ate out of the pan!) So instead of flipping the whole square of brownies out of the pan and placing the icing across the whole square, I had to cut the brownies into little squares and THEN do the icing individually on each piece… Yes, 10x the work, but it worked! It would have been easier using the technique from the original website, but even this method held up (and if a mistake was made, you could easily wipe off the icing and start again without wasting a ton of ingredients.) I also find with my version you are left with the ability to be more creative in the pattern (I switched up the colours and thickness periodically.)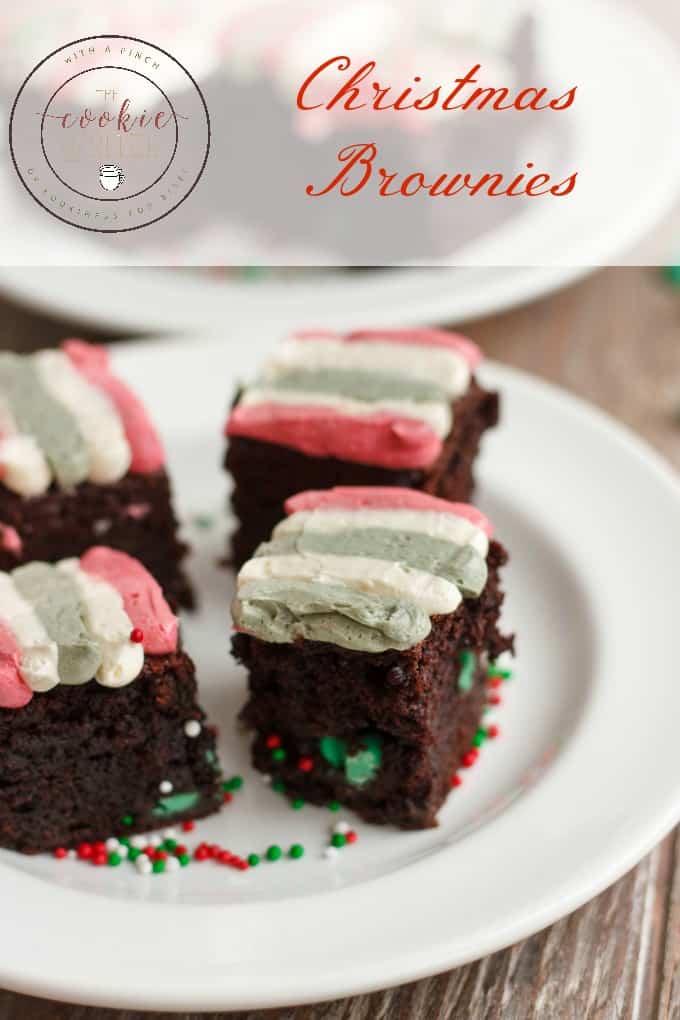 Christmas Brownies (Mint Chocolate Brownies)
---
Kacey
Yields 40-50
This is a doubled brownie recipe, so it will take longer to cook as the brownies are extra thick! If you use a larger, flatter pan, be sure to adjust your cooking time accordingly.
20 minPrep Time
45 minCook Time
1 hr, 5 Total Time
Ingredients
1 cup melted butter
1 cup unsweetened cocoa powder
1 cup granulated sugar
1/2 cup brown sugar
4 eggs, room temperature
1 cup all-purpose flour
1/2 tsp. baking soda
Pinch of salt
2 tsp. vanilla
1/2 cup mint chocolate chips
Topping:
1/2 batch of Swiss meringue buttercream or your favourite frosting
Food colouring
Crushed candy cane (optional)
Christmas sprinkles (optional)
Instructions
Preheat oven to 350F. Grease an 8 inch square pan. Set aside.
In a stand mixer, add the butter, cocoa, sugars, and vanilla. Add one egg a time, mixing well between each. Sift together the flour, soda, and salt in a separate bowl. Pour into stand mixer and add chocolate chips, mixing until JUST combined.
Pour the batter into greased pan and smooth out nicely. Place into oven and bake for about 40 minutes, or until toothpick comes out clean.
Allow to cool completely. Turn out brownies. If the brownies stay intact, add desired coloured frostings into separate piping bags and cut off tip. Alternate colours across the brownies (see link in post for step-by-step photos.) Don't worry about neatness. Once completed, use a large, flat spatula to gently drag across the brownies to smooth out the colours and create a flat pattern. If brownies break coming out of pan, you can do the brownies individually.
7.5
387
http://thecookiewriter.com/christmas-brownies-mint-chocolate-brownies/
(Brownie recipe adapted from
Food.com
 and you can check out my
Swiss meringue buttercream
!)
I totally plan to try this technique again because it has stunning results! Perfect for any holiday, baby shower, or just a day where you want some brownies 🙂 And homemade is not necessary at all! Store-bought works just as well!