When I first made my avocado chocolate chip cookies, I knew I would be making them again because they were so unique and yummy. I know many are scared off by the use of avocados in baking, but you do not taste the avocado in there. They are there as a butter replacement because of their fat content, however, I did sub in some coconut oil to this recipe because the recipe did need a tad more fat to spread the cookies and give them the right texture. Otherwise, no butter in this recipe and with my new and improved changes for a different avocado cookie recipe, there is no flour and less sugar.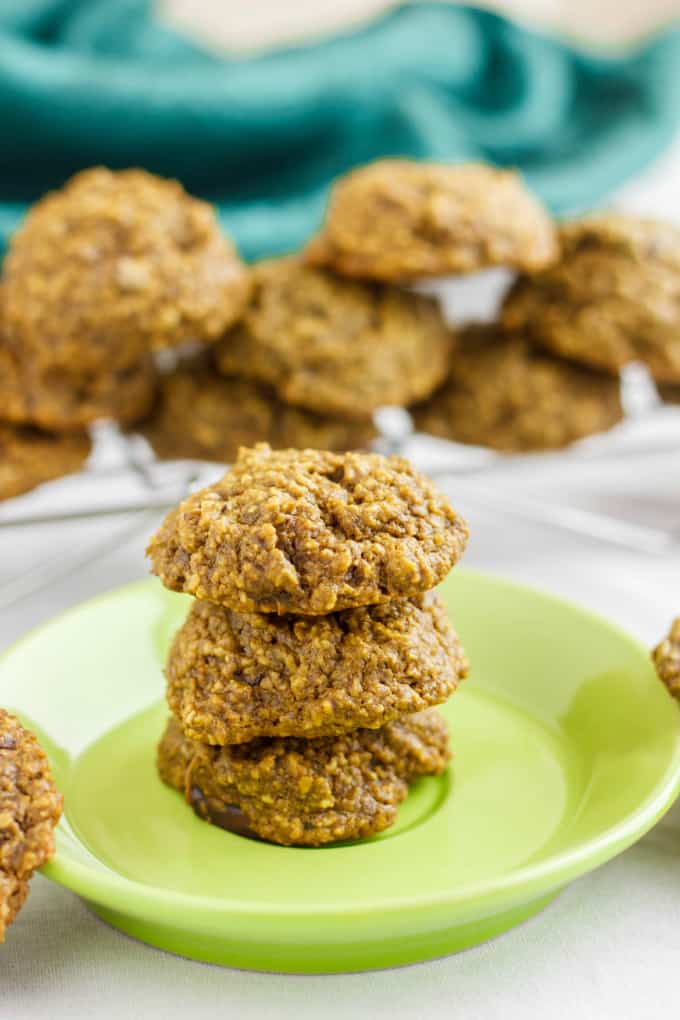 These avocado and matcha chocolate chip cookies are tasty, easy, and healthy. My original goal with this batch of cookies was to make dye-free Grinch Christmas cookies. Sadly, while baking, the cookies lost most of their green colour so I guess you can say they are green-free Grinch cookies! Now, you could add food colouring to them but I have another cookie idea in mind to fix the green issue. For a green avocado cookie, make sure to check out my avocado chocolate chip cookies.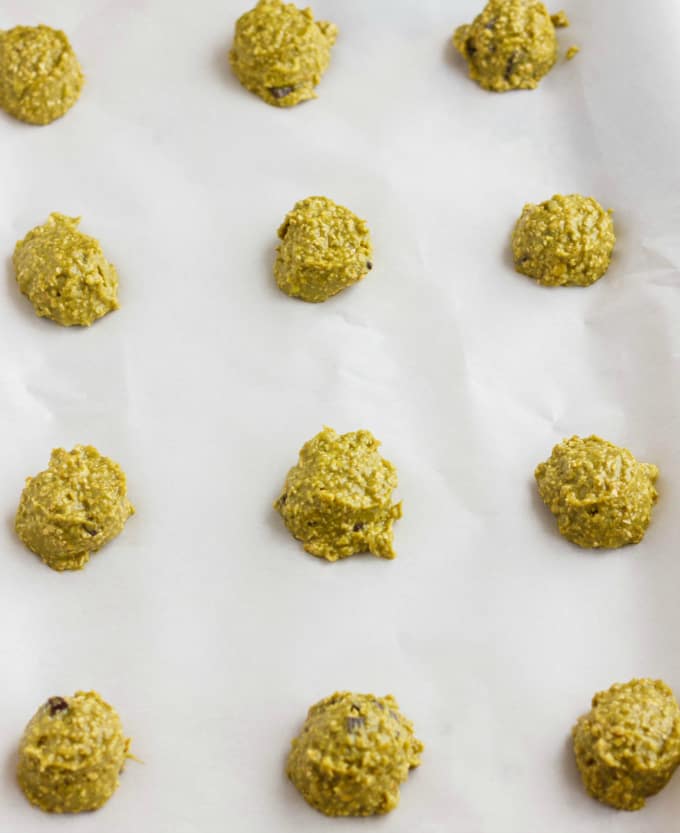 Avocado and Matcha Chocolate Chip Cookies
---
Kacey
Yields 24
15 minPrep Time
13 minCook Time
28 minTotal Time
Ingredients
1 avocado, soft (between 1/4 - 1/2 cup mashed avocado.)
1/4 cup granulated sugar
1 flax-egg (or one regular egg for the non-vegans.)
1/2 tsp. vanilla
1 cup old-fashioned oats (or gluten-free oats.)
1 tsp. baking soda
1/2 - 1 tbsp. matcha powder (based on your preference.)
Pinch of salt
1/8 cup coconut oil
Dark chocolate (or chocolate chips)
Instructions
Preheat oven to 325F. Line a baking sheet with parchment paper.
Slice avocados in half, remove pit, and place into the bowl of your stand mixer. Add coconut oil and mix for a couple of minutes, or until avocados have broken down (will probably still have chunks. I mashed mine a bit beforehand to help with this process.) Beat in the sugar and try to get the mixture pretty smooth. Add the egg and vanilla and mix until combined.
Place the oats into a food processor with the baking soda and salt. Pulse until flour-like in texture. Mix in matcha powder.
With the mixer on, add the dry ingredients to the wet ingredients. Stir until just combined. Mix in the chocolate chips (I broke in chunks of dark chocolate.)
Measure out 1 tbsp. sized balls of dough and place onto baking sheet. Bake for about 13-15 minutes and remove from oven. Allow to cool slightly on baking sheet and then move to cooling rack.
7.5
198
http://thecookiewriter.com/avocado-and-matcha-chocolate-chip-cookies/
(Inspired by my 
Avocado Chocolate Chip Cookies
.)
I knew this time around I wanted to make the cookies gluten-free. These avocado and matcha chocolate chip cookies are exactly that, with a healthy dose of matcha green tea powder. The matcha powder adds a unique flavour, all the while adding more nutritional benefits to this cookie. I only used 1/2 tbsp. of matcha but I can definitely see myself increasing the quantity next time. Just remember, matcha powder has a unique flavour that is not for everyone.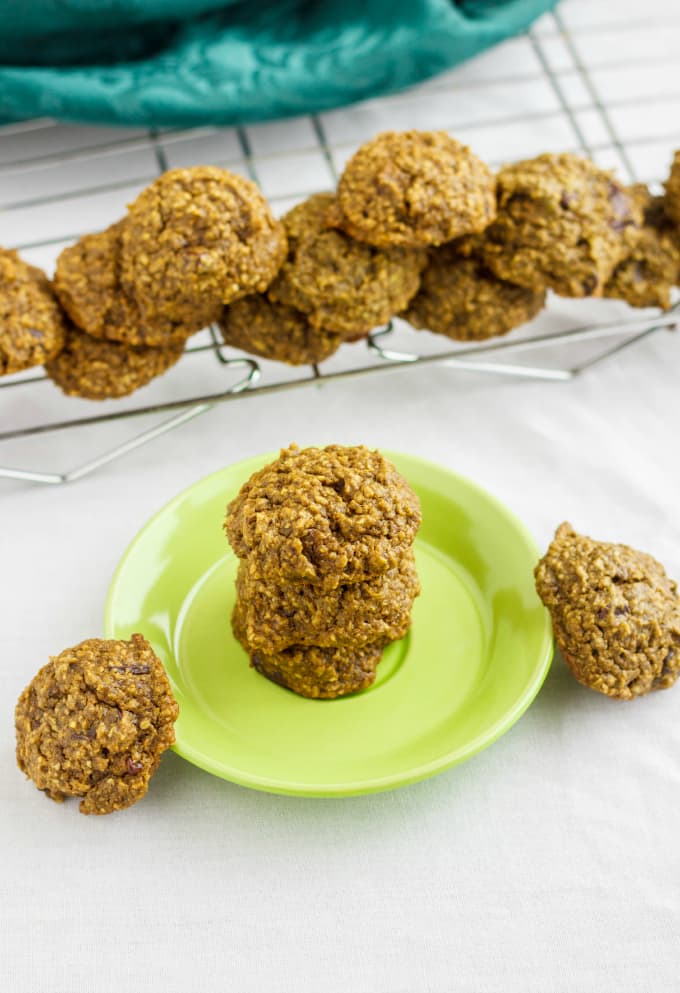 I was  really hoping the matcha powder and avocado green would come through in these cookies, but sadly not. It might be my new oven, but I doubt it. Next time I am adding food colouring to make these cookies greener. I think they could be the perfect, healthy Grinch cookies for Christmas.